The fire hose is back in style.
During the early Civil Rights struggle the fire hose became the symbol of police oppression. Employed against anti-segregation activists, the "peace officers" of Birmingham, Selma, and other Southern cities turned high-pressure instruments of fire prevention against non-resisting civilians who were determined to oppose racial segregation. Although ostensibly "non-lethal," this misuse of technology became one of the symbols of brutal authoritative oppression.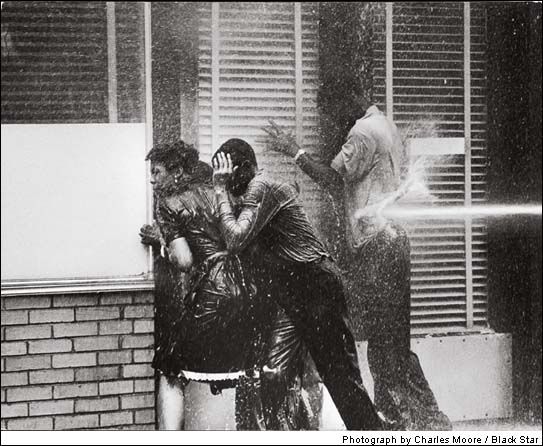 These days, that instrument of intimidation has been replaced by pepper-spray. And yesterday, at U.C. Davis campus, the pepper-spray can may have just enjoyed its Birmingham moment.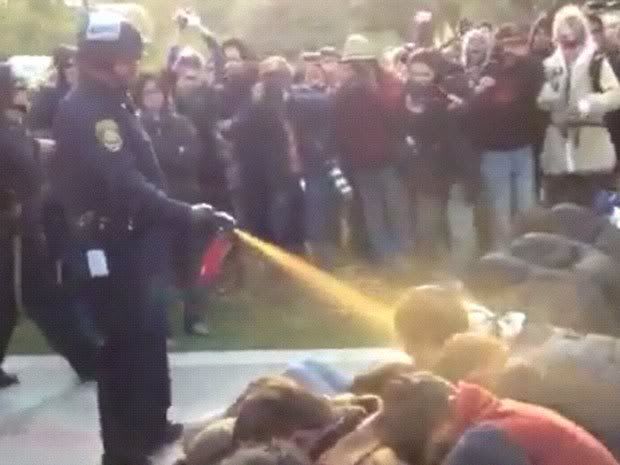 If this image had come from a foreign country, any good American would be appalled. As it is, we increasingly find ourselves within a foreign country - a nation in which a wealthy and entitled minority considers itself above any form of law or decency.
This attack - a painful, deliberate, concerted mass assault upon unresisting people, many (if not all) of whom are paying students at this university - goes so far beyond "reasonable force" that all officers involved, as well as any and all school administrators who ordered or condoned their actions, should be immediately arrested and charged. Resignations should be tendered, and lawsuits filed.
Considering especially that this happened at a state-run, tax-supported college, U.C. Davis should be shut down until all responsible parties are punished to the fullest extent of the law.
The fact that this action was committed largely by UNIVERSITY police - not state or city police - oversteps any and all bounds. These officers are, in theory, held to much more stringent standards of force and behavior than their fellow officers. Their training is presumably lower, and their accountability is higher. Had a university police officer (or most other police officers, for that matter) held down a rape suspect and sprayed his crotch point-blank with pepper spray, that officer would be facing disciplinary action. In this case, the "crime" was far less severe, and the force - which involved holding people's mouths open and spraying pepper down their throats - far more so.
If this is what America has become - a nation in which anyone with a badge and uniform holds an open mandate for brutal and prolonged force - then we should ask ourselves what we have that's worth saving.
A few weeks ago, I wrote an appeal to police officers to consider the effects of such actions upon their own work, image and morality, and then to resist such brutality or the orders that proceed it. If anything, this incident adds urgency to the need to resist such orders and check such violence while there's still a chance to save lives and keep what little remains of the peace.
It is essential for the sake of any stable society that its officers of law remain bound by that law. We The People, regardless of our thoughts about the Occupy protests, MUST oppose such abuses of police power.
For if police and other authorities continue to ignore our laws, then there is no true law or stability at all.
Contact the California Governor's office at: