Ms. Cheesehead and I were enjoying the nice weather on the day before Thanksgiving here in our small city in western Wisconsin, running some political errands. When we finished those, we went to our local co-op to get some groceries, then across the street to a larger supermarket.
We had to stop in to say hi to two of our best recall workers, who have set up a booth on the sidewalk outside of that market. They had a nice lighted "Recall Walker" sign - not nearly as nice as noise of rain's, just some Christmas lights surrounding a United Wisconsin sign. But still pretty nice.
They'd had a pretty steady stream of signers on a fairly busy street. It was about dusk, and a couple of people were there signing aided by a flashlight. At least one car driving past gave us the friendly encouraging "Democrabeep".
With the four of us there, but only one behind the table, a guy walked up from his car parked in the lot. He was greeted and directed to the clipboards. He picked up a pen -

and used it to destroy - tear to pieces - the recall petition for Lt. Governor Rebecca Kleefisch, along with several (empty!) ones underneath it.

Wis. Stat. 12.13 Election fraud. (3)
PROHIBITED ACTS. No person may:
(a) Falsify any information in respect to or fraudulently deface or destroy a certificate of nomination, nomination paper, declaration of candidacy or petition for an election, including a recall petition or petition for a referendum; or file or receive for filing a certificate of nomination, nomination paper, declaration of candidacy or any such petition, knowing any part is falsely made.

12.60 Penalties. (1)
(a) Whoever violates s. ...12.13 (3) (a) ... is guilty of a Class I felony.
You read about this stuff happening, but it's a shock to see it happen in front of you.
What happened next, happened fast. The perp shouted something about Walker, and I think an obscenity or two. One of the workers snatched the clipboard from him, and the one with Walker's petition got pulled too. Someone - I don't know who, hell, it might have been me - yelled that he was committing a felony. (I know I was yelling, but I couldn't tell you what) Ms. Cheesehead tried to grab him. I pulled out my cell phone and fumbled with trying to get it to work as a camera, someone else called 911. People were yelling. Ms. Cheesehead tried, unsuccessfully, to flag down an passing squad. Mr. Perp appeared to be taken aback by the ferocity of the response to his actions.
As the perp went back to his car, Ms. Cheesehead and one of the workers secured the petitions. A local attorney came up and made sure everything was OK. I and the other worker followed Mr. Perp back to his car, I was telling him that he might as well stay because he'd just committed a felony and he might as well wait for the police to come. I also told him that we had photos of him (a lie, 'cuz I was still trying to get my phone to work).
It's funny how hard it is to punch the right buttons when you're in a situation like that. Eventually I got it figured out...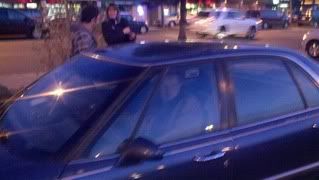 I've also got a photo of the license plate and front of the car, but the local police are taking care of those.
Mr. Perp drove off, just before two squads of our local police pulled up, the first cop a woman in her 30's who made sure we'd given the license number to dispatch (we had).
A routine trip to the supermarket was anything but routine. Statements were filled out. The local attorney signed the petition, expressing his disgust with what he had just witnessed. Perhaps a half dozen other people, some witnesses to what happened, also came up to sign, while the police were interviewing us and we were filling out reports.
It all ended with wishes for a Happy Thanksgiving shared between us, the workers, and the police. I think the police will be back, sometime when they're off duty. We're part of a community, and we all need to look out for each other.

Lessons Learned. Or, maybe things we already knew but just got reinforced.
We've talked about this in the recall training.
1) This happened shockingly fast. Have your phones at the ready, not only for calling 911, but also for photos. I was embarrassingly slow at getting my phone set to take pictures.
2) Have at least two people collecting signatures. We had four present - Ms. Cheesehead and I haven't canvassed yet, but we've done this before and gone through the training. Still, it was pretty tense.
3) The only petition with signatures out should be the one that's currently being signed. Mr. Perp might have destroyed five sheets, but the ones under the top one were all empty. We'll probably be able to tape the top one together... but at worst, we lost only 10 signatures. Not 50-100.
4) Communicate ahead of time with your local police. They know where we are. They were there in 3-5 minutes. God Bless 'em.
So - hey - let's be careful out there.
Thu Nov 24, 2011 at 5:01 AM PT: Thanks to everyone for their comments and suggestions! I just wanted to add two things this Thanksgiving morning:
I think we're good on the evidence. We have multiple witnesses, the license plate, car.
Also, I know that police nationally have gotten some bad publicity, what with Lt. Pike and all. But here, our police have been extraordinary and have been on our side. Please keep this in mind in your comments!
And now, I've got to get going (traveling across state) or I'll miss the first bits of the Packer game! Happy Thanksgiving to all!
Fri Nov 25, 2011 at 3:57 PM PT: Late in this diary's life, but this story was just republished on Facebook by Douglas LaFollette. Wisconsin Secretary of State. Great-grandson of the brother of Fighting Bob, whose quote is in my sig line.