Author Ursula K. Le Guin has written "Ninety Nine Weeks: A Fairy Tale" about what challenges face unemployed Americans. Her story is political and challenges those who ask why unemployed people won't just get a job already.
Her story begins:
nce upon a time there was a poor woodcutter who lived with his wife and their daughter and son in a cottage at the edge of a forest. He loved his trade, and worked hard at it. But most of the land belonged to rich ogres, who kept the forests for their own use. Firewood was so expensive that ordinary people had begun to heat their houses with coal. The woodcutter went from door to door offering timber or firewood, but again and again he was turned away. His wife was lame and could not walk far, though she worked hard and well, keeping the kitchen garden and the house. The daughter and son went to the village school. Young Janet looked after the mayor's wife's babies every afternoon when school was out, and young Bob earned a penny here and there doing odd jobs. That bit of money the children could bring home was all the family had now, and every penny had to go for rent to their ogre landlord. They had no new clothes or shoes, and ate only from their garden. Their life had grown hard, and winter was coming on.
Please take a moment to read the rest of the story over at Book View Cafe… or, glance over the following excerpts.

John the woodcutter could not find work despite looking everywhere. He was too old to learn a new job, people said. Since this is a fairy tale, John chanced upon a beautiful fairy on his way home from job hunting.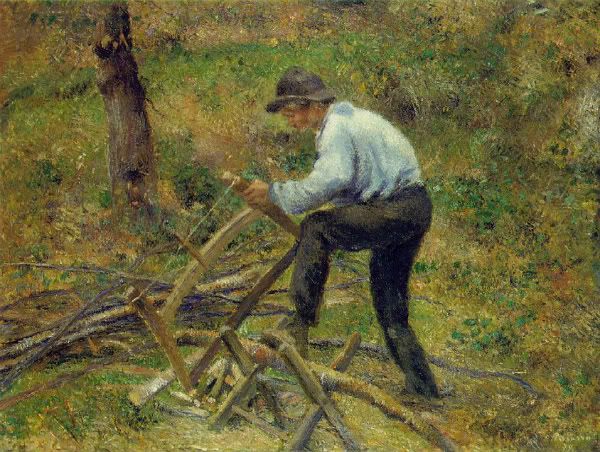 "Woodcutter," she said, "be of good cheer! I am your Gift Fairy, and I will give you and your family enough to live on. You will have food, and can buy shoes for your son and daughter!"
In exchange for the gift, the fairy tells John that he must look for work four times a day, every day of the week. But, he must not work and he must not grow discouraged. If he does, the fairy will no longer give John the gift.
Instead of the gift, John asks the fairy for a job. She shrugs him off.
"That is not my department," said the lady. "The Works Fairies are not functioning at present. All I can offer you is my gift, on the terms I have told you."
John accepted the bargain. Every week a silver coin magically appeared in his pocket. It was just enough for his family to live on. And each day John went into town and asked for work. The townspeople only had odd jobs for him, so he declined all work that was offered him. John did not want to break his deal with the Gift Fairy if he couldn't make enough money to live on. The townspeople started to grumble about John and thought he was just lazy.
Some of the people nodded wisely and said, "What do you expect of people who'll take money for doing nothing?" and others said, "The fairies have no business handing out good money to layabouts and wastrels" …
After months of looking for work and declining the petty jobs people had offered him, John the woodcutter chanced upon the fairy again.
"Lady," he said, "I look for work, I ask for work, but there's no work to be had. And people have lost patience with me, bothering them for jobs, but not able to take the little they can offer."

"You may cease to look," said she, "whenever you wish."

"But that would break our bargain."

"Yes," said she. "By seeking work, you prove that you are a hopeful man, who believes that good people always have enough money. To cease seeking would prove that you have lost that righteous belief. It would show that you are discouraged. The Gift Fairies cannot see discouraged people. You would become invisible to me. You would become ineligible for my gift."
John promised the fairy he wouldn't get discourage and keep looking for work. Then
"Ah, well," said John. "We won't be discouraged, then."
Months went by with a silver coin appearing in John's pocket each week and each day he looked for work like he promised the Gift Fairy. Then one week, the silver coin did not magically appear in his pocket. The fairy had stopped her gift. John, once again, went down the road to look for work and came across the fairy.
The Gift Fairy looked at him silently, as if from a long way off. "John Woodcutter, is it?" she said at last. "I can barely see you. Your ninety-nine weeks are up."

"What ninety-nine weeks?"

She seemed to look through him as she spoke, and her voice came as if from far away. "You had ninety-nine weeks to look for work. You found nothing. You are now officially discouraged."
No matter how much John pleaded, the fairy ignored him. He could no longer be seen by the Gift Fairy. Then to make matters worse, John's landlord, the ogre, came across the woodcutter. From atop his tall black horse, the ogre looked down at John and demanded the rent, which was past due.
"Mr. Ogre," said John, "if we paid full rent out of what the Gift Fairy gave us, we had nothing left for food and clothing. And now she says she has no more to give us at all."

"The Gift Fairy, is it!" said the ogre. "Living off the fairies — I should have known it! Do you realize those fairies of yours are trying to raise my taxes — MY taxes — to pay for your roads, and your damned schools that teach you sedition and irreligion, and your police that should have put you long since into one of the jails I have to pay for with MY taxes? Fairies! Everything that's wrong with this country is the fairies' fault! Get out of my sight before I give you a whipping!" And the ogre flourished his whip at John, then slashed his horse hard with it, and galloped off into the night.
John was broke. Since he couldn't pay for his son Bob's apprenticeship, and he was sent home by his teachers. Janet, Bob's sister, had finished school, but she could not find work as well. Together they sought out and found the Gift Fairy to ask her give for a silver coin. The fairy, alas, could not see them. A fox, who was watching just then, explained to them:
"But since you've never been employed, you're officially entering the work force: and so, you're not not eligible for fairy benefits. You're invisible. It's wonderful," said the fox, snapping at a flea on his flank, "how fairies think, and what they can see and can't see. My opinion is, they've been listening far too much to rich ogres. My opinion is, they'd do a better job at being fairies if they listened to the other ninety-nine percent."
The story ends with Bob and Janet heading home to help their parents pack up what little they still owned because the ogre was evicting them from their home.
The fox shrugs, "Nobody ever listens to foxes".
---
Le Guin continues, however, with "Some Foxy Figures". She looks at the unemployment numbers from the past year. Officially, about 14 million Americans are unemployed. But really, "31 million people were out of work last year," she writes, and "the figures have not substantially changed so far this year."
While the government's official number of unemployed people recently dropped, Le Guin explains that this is mostly because people are falling into the "long-term unemployed" category. The U.S. 'fudges' the unemployment statistic.
"The true rate of unemployment remains between 16 and 25%," she writes. She concludes:
The Congressional Budget Office estimates that every dollar spent on unemployment benefits brings the country $1.90 in "economic growth." A bargain, says the little red fox. (But Fox News would not agree.)
Outside the land of fairy tales, the Job Fairies have been distracted by the austerity ogres. When people like John, Bob, and Janet occupy a place in the townsquare saying there aren't enough jobs for everyone, the ogres send their guards to whip them. When the people dare ask how the ogres got so rich in the first place, a different sort of fox comes to their defense. As with Le Guin's fairy tale, there is no happy ending in sight.