Came across Sara's wonderful idea to create a Kos Katalog for small business owners to share links to ad information on their small business today, so I thought I'd try to chime in with mine....unfortunately, I sliced off the tip of my right middle finger cutting carrots yesterday on a mandolin, so I can barely type...this will be short! I'm Ang, and I own Dorothea's Closet Vintage, a local boutique in Des Moines IA and a website (as well as an etsy shop called ScarletBirdVintage). I have been collecting and wearing vintage clothing for over 20 years, and selling for nearly 10.
I started selling years ago on eBay while working full time at Home Depot, as a single Mom. I eventually developed the eBay business to do well enough to leave HD and work from home. Shortly after I taught myself how to build my own website (allowing me to leave eBay) and months after I found a shop front and opened the local boutique. I curate, restore and relocate vintage apparel and accessories spanning the early 1800s to the 1980s...most of which is sourced through private buys right here in Iowa. I often work with theatres who receive donations of vintage clothing but realize that by using it it will likely be destroyed, so when consigning with me they get a boost to their bottom line in sales and help move along a vintage piece to a new life where it will be safe from wear and tear of stage.
I run the website myself, from sourcing the clothing to cleaning, mending, photographing, editing, researching, measuring to doing the shipping to working with models to doing the social networking. I have one friend who helps me with covering the shop to allow me time for the site work. I have had the pleasure of working with Vogue magazine supplying hats for multiple shoots, V Magazine, Departures magazine, the HBO film Grey Gardens, the film Peacock and recently the television show The Playboy Club. I also have worked with both the museum at the Fashion Institute of Design and the Smithsonian National Museum of American History.
A shot of a client of mine in a dress from my site as she met Obama pre-election....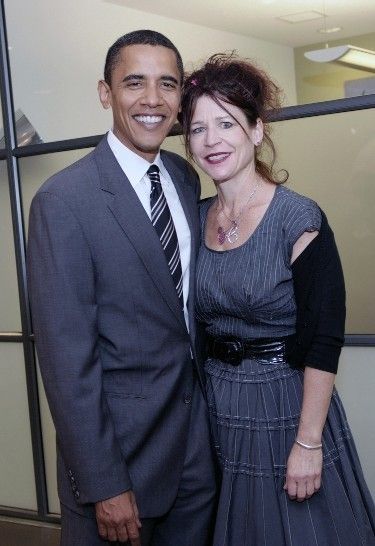 A gown from my site on Dita Von Teese last month.....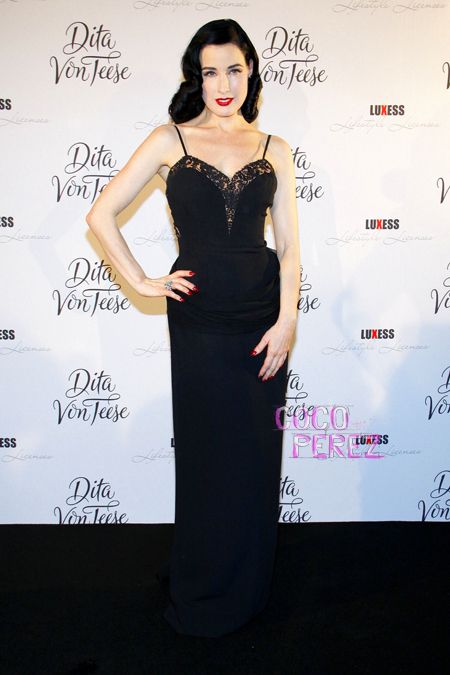 A 1930s dressing gown from the site on Jessica Lange in Grey Gardens....
And in Sept Vogue, 2009, hats from my site on models Karen Elson and Coco Rocha...
I am passionate about recycling these items as well as the story that each one has to tell...whether it be the personal story from an original owner about seeing her Mom wear a gown to a White House event (true story, I have gowns worn by the wife of former head of the FCC, Nicholas Johnson) or an unspoken story like that of the threadbare and worn 1930s dress with years worth of floursack patchwork repairs. I love the history that surrounds and influences fashion design (like the shoulder pads and platform shoes that came into vogue as women stepped into traditional male roles during WWII) as much as I love to work with the pieces themselves. I love knowing that something treasured for so many years will not end up in a landfill or left to rot in a basement but go on to be worn and loved again. I am lucky to get to do this for a living! My site is at dorotheasclosetvintage.com (can't get the link to work!) and I'm ScarletBirdVintage on etsy. Thanks so much for reading and I hope you'll take a look at what I've done!