Welcome to Brothers and Sisters, the weekly meetup for prayer* and community at Daily Kos. We put an asterisk on pray* to acknowledge that not everyone uses conventional religious language, but may want to share joys and concerns, or simply take solace in a meditative atmosphere. Anyone who comes in the spirit of mutual respect, warmth and healing is welcome.
One of the only things (if not the only thing) I agree with the fundagelical set about is that too many of those who celebrate Christmas have forgotten what it's supposed to be about--as witness, for example, some of the more gruesome stories that have been making the rounds of the internets about this year's edition of "Black Friday" (which should, in my opinion, be called "black" not because it's the day on which retailers hope the bottom lines on their balance sheets turn that color, but because, at least for the last several years, at least one person winds up dead while attempting to save a few bucks on a gift that chances are good its recipient didn't really care that much about getting).
Follow me below the swirl to delve a little deeper into what the season is supposed to be about.
Today is the First Sunday in Advent in the Christian tradition. Advent is a period of roughly four weeks of prayer (and fasting, originally, a practice that is still observed in some Christian traditions) and preparation for Christmas. Advent is now celebrated in most traditions as more of a time of expectant waiting, rather than as a penitential season (though usually there are special opportunities for formal penitence during Advent, too). A good thumbnail sketch of the meaning of this season can be found in the prologue to the Proslogion (ca. 1077-78) of St. Anselm of Canterbury. This particular passage is one of the texts for the Office of Readings in the early part of Advent, which is how I first stumbled across it:
Eia, nunc homuncio, fuge paululum occupationes tuas, absconde te modicum a tumultuosis cogitationibus tuis. Abice nunc onerosas curas, et postpone laboriosas distentiones tuas. Vaca aliquantulum Deo, et requiesce aliquantulum in eo. Intra in cubiculum mentis tuae, exclude omnia praeter Deum et quae te iuvent ad quaerendum eum, et clauso ostio quaere eum.

Now, then, insignificant person, get away for a little while from your tasks, and seclude yourself a little from your turbulent thoughts. Throw down now your burdensome cares, and pay a little less attention to your troublesome perplexities. Make a little bit of time for God, and rest a little while in him. Enter into the little room of your mind, exclude everything except for God and those things that help you to seek him and, with the door closed, do seek him. (My translation from the original Latin.)
Last year, I took that advice quite literally. After a bruising summer and a busy fall, by the end of the term, I was down to my last nerve and just about everything--and everyone--was getting on it. I knew that if I didn't get some time away and stop to take stock of things, I was going to lose it. So I scheduled a week-long retreat in a Trappist monastery a couple hours away from my home at the time. Nor was I going as a regular retreatant: I had been accepted to a program that allows retreatants to live more or less as the monks do: getting up at 3 a.m. for Vigils, the first of seven daily gatherings for communal prayer in the abbey church, observing the same periods of personal prayer, reading, and meditation, and helping out during the daily work periods. (It's a lot easier than you think, helped by the fact that the schedule includes a bit more than an hour for a nap after lunch, and also by the fact that everyone goes to bed after Compline, the final communal prayer of the day, at around 8 p.m.) Coffee is always available, too! (And after my first day, I started making a pot before going to bed, with the delay timer set to begin brewing toward the end of Vigils, so it would be ready when I climbed back up the stairs to begin my morning session of prayer and meditation.)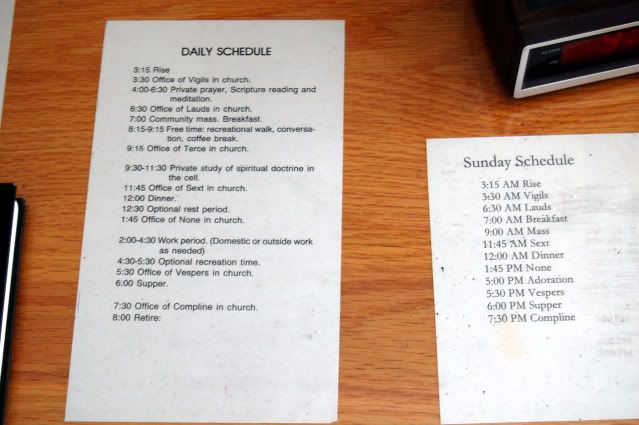 Adding to the peace, quiet, and isolation, on the very Saturday I began my retreat, the Midwest was struck by a blizzard (the beginnings of which you can see in the photograph below, which I shot standing in the main door of the guesthouse at the monastery on the day of my arrival). The area around the monastery got around four to five inches of snow by the time it was over, but the winds were blowing quite strongly (gusts up to 50 mph were reported area-wide), and that caused both near-zero visibility and considerable blowing and drifting of the snow. Immediately after the snowfall ended, the temperatures plunged--such that it was Tuesday, if I remember correctly, before I set foot out of doors except to help with the shoveling. Normally when I'm on retreat at the abbey, I'll go out for a walk around the grounds after breakfast and supper, and sometimes lunch, too, if I'm not too tired. Didn't really want to poke my nose out of the warm confines of my cell (in the monastic sense of that word, not the correctional one!)--and was really glad of the opportunity to luxuriate in it, if that's a word that can reasonably be used of a place that's perhaps ten feet by ten feet and which contains a plain wooden desk and chair, one armchair, one kneeling bench, and one very utilitarian twin bed.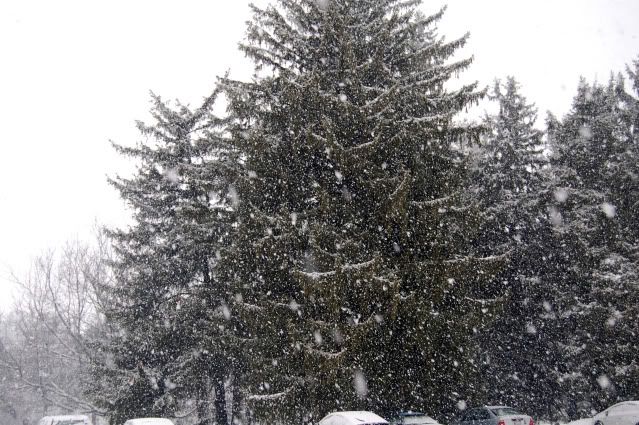 Although the moment I arrived, I'd immediately felt the peace and calm of the place start sinking into me like rain into earth parched by a long drought, as with that same parched earth and the rain, it took a while to quench those empty places inside. By Mass on Wednesday, I was in the groove, as it were. Nearly a year on, I can still remember the deep feeling of peace I experienced that morning. Indeed, I hardly opened my eyes except when necessary to move, sing, and at the greater Oblations (the ritual presentation to the congregation of the sacred species after they have been consecrated at the height of the Mass), the better to "...bask ...in the mercy of peace," as I wrote in my journal at the time.
I grant you, taking a week and trekking to an out-of-the-way monastery to sing Psalms with the monks seven times a day is probably not something that most people would either want or be able to do. But if you can, I can certainly recommend the practice--and it's possible to go for shorter periods, and also to adopt some of the monks' practices outside of the monastery. The routine of the monastery, its seclusion, its privacy, and its tradition of peace and quiet were all certainly helpful--but they are not magic bullets--or even necessary, in any real sense of that word.
What matters is the attitude of the mind and the disposition of the heart. I could have accomplished much of what I did in that week away with the monks in the comfort of my own apartment, though it would have been harder. And that's a good thing, given that I'm now half a continent farther away from that particular abbey (though there are others I could visit that are closer to where I now live). I'm sure I'll get back for another retreat sometime in the future, but I have no idea when that might be. But since I've taken a few of the monks' practices with me, I'm finding that I don't feel the urgent need to get away this year that I did at this time twelve months ago. (It may also help that my new job is less hectic and stressful, at least for now.)
A little further along in the Proslogion, Anselm gives a good approximation of the mindset that's needed:
Liceat mihi suspicere lucem tuam, vel de longe, vel de profundo. Doce me quaerere te et ostende te quaerenti; quia nec quaerere te possum, nisi tu doceas, nec invenire, nisi te ostendas. Quaeram te desiderando, desiderem quaerendo. Inveniam amando, amem inveniendo.

Let me look upwards toward your light, even if from afar, even if from the depths. Teach me to seek you, and when I seek you, show yourself to me; for I cannot seek you unless you teach me, nor find you unless you show yourself. Let me seek you in desiring you, and desire you in seeking you. Let me find you in loving you, and love you in finding you. (My translation from the original Latin.)
Chances are good that, even as with my retreat, things will not go entirely as you plan. There will be blocks in the road, this or that will tug at your consciousness and distract you for greater or longer periods of time. You'll struggle to find--or make--the time needed even just to sit quietly for a few minutes with the television turned off and the computer(s) put away. Been there, done that, gotten multiple T-shirts. Doesn't matter. Because in the words of a splendid bugger (to steal a line from Four Weddings and a Funeral), W. H. Auden:
Though written by Thy children
With a smudged and crooked line
Thy Word is ever legible
Thy Meaning unequivocal
And for Thy Goodness, even sin
Is valid as a sign.

Inflict Thy promises with each
Occasion of distress
That from our incoherence we
May learn to put our trust in thee
And brutal fact persuade us to
Adventure, Art, and Peace.

--W. H. Auden, "For the Time Being: A Christmas Oratorio," 1941-42, from Collected Poems, ed. Edward Mendelson (New York: Vintage, 1991), p. 374
Now, to play us out, here's the Trinity Choir in a performance of the 19th-century Austrian carol "Still, Still, Still":
(It inexplicably goes on for a couple of minutes after they're done singing, which is at about 3:06)