The Israeli army again attacked a protest against the occupation in the Palestinian village of Nabi Saleh in the West Bank. A large gathering of Palestinian, Israeli and international activists gathered for the weekly Friday protest that witnessed the murder of Mustafa Tamimi last week when an Israeli solider shot him in the head with a teargas canister from a distance of 10 meters.
Tweets from the village today say that six Palestinians, 13 Israeli activists and five internationals have been arrested. It is unclear what the charges against them will be. Most likely they will be charged with participating in an "illegal demonstration". Almost all demonstrations in the Palestinian territories are defined as "illegal" under Israeli military law, which states that any gathering of 10 or more people requires a permit.
The photos and video from Nabi Saleh must be seen.
This is a long video of confrontations between the Israeli army and Palestinians from the village taken last September. The soldiers shoots hundreds of tear gas canisters directly at the homes and protesters. Rubber bullets (heavy steel balls with a thin plastic coating that have the capacity to kill and maim) were fired at protesters injuring many, including an innocent bystander, Wa'ed Tamimi, the son of Bassem Tamimi who I wrote about yesterday and who languishes in Israeli detention. You only need to watch a few minutes to get a sense of the power imbalance in this conflict. At about the 14:20 minute mark, the village gets a kick out of one of the soldiers tripping.
Here are some photos of today's demonstration and arrests:

The parents of Mustafa Tamimi participate in memory of their son killed last week.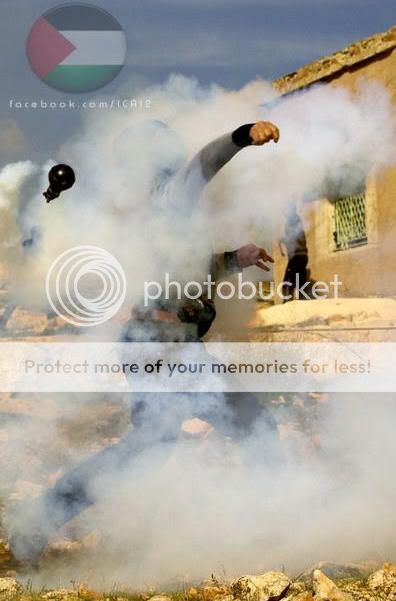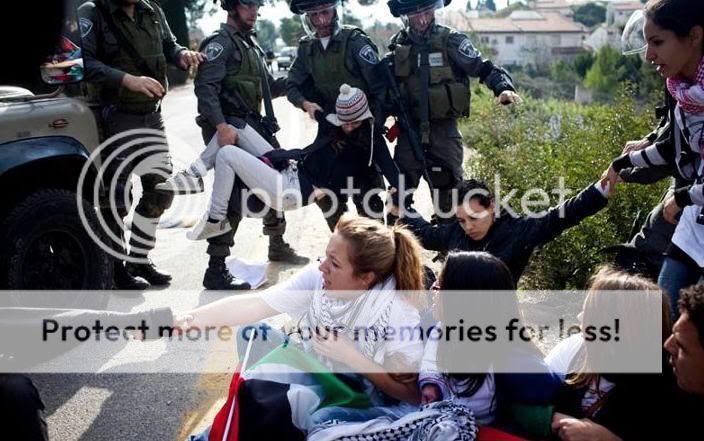 You can sign the Jewish Voice for Peace petition asking the United States to investigate the lethal use of teargas canisters produced here and exported to Israel. These tear gas canisters are lethal. Congress must order the State Department to investigate right away, before another person gets killed.
11:57 AM PT: At least some of those arrested today were charged with "not obeying the occupation." Who obeys an illegal occupation?