The manger scene was on the courthouse lawn without "official approval" as well, but they decided Tebow was a little out of place there beside the baby Jesus, Mary and Joseph.
The statue appeared to be professionally made, pictured a Tim Tebow with arms raised and his trademark eye blacks reading "John 3:16."
Tebow Character Removed; Had Been Placed by Nativity Scene in Public Park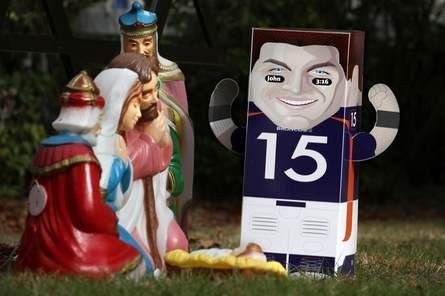 IN A PUBLIC AREA called Millenium Park, adjacent to the Polk County Administration Building, a small rectangular statue of Tim Tebow, "The Mile High Messiah," was placed among the Three Wise Men in a plastic manger display in Bartow.
Buy Photo ERNST PETERS | THE LEDGER
Though Tebow has acquired the nickname "Mile High Messiah" while leading the Broncos to six consecutive victories, the proximity of the cartoonish statue to a plastic version of the baby Jesus apparently offended at least a few local residents.

Nelson said the county received a handful of phone calls Thursday and Friday from citizens unhappy about the Tebow icon. She confiscated the two-foot-tall Tebow effigy, and as of Friday afternoon it rested in her office.

The Nativity scene remained in place, along with a Jewish menorah and displays of Santa Claus and a snowman.
This community has seen controversy before about the courthouse lawn and the Christmas displays. They finally allowed a "Festivus for the rest of us" sign a few years ago.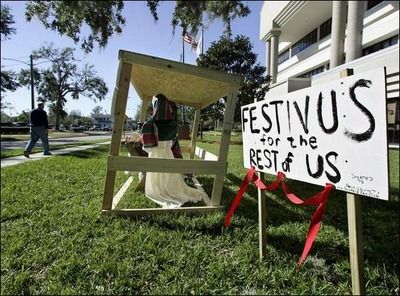 A sign supporting the make-believe holiday Festivus stands next to the Nativity scene at the Polk County administration building. Fans of the comedy TV show "Seinfeld" erected the display -- Festivus is an invention of characters on the show.
PIERRE DuCHARME/The Ledger
Like an episode out of "Seinfeld," fans of the defunct comedy series erected the second covert holiday display within a week at the Polk County administration building.

After a group of grandparents from First Baptist Church of Bartow put up an unsanctioned Nativity scene on public property, the Seinfeld fans placed a sign promoting a made-up holiday.

"Festivus for the Rest of Us" is the greeting on the sign placed next to the manger scene on the lawn of the Neil Combee County Administration Building.