Here in Minnesota, we've got a fun little controversy brewing. Last Wednesday, Senate Majority Leader Amy Koch resigned her leadership position and declared she wouldn't seek reelection. We on the left suspected she was going to run for higher office. We had no idea what was actually taking place behind closed doors in the MNGOP's secret lair.
Koch was forced to resign because she was having an affair with a staffer. But not just any staffer -- a "direct report." This limited the possibilities to four men (dashing my hope of her having an affair with a woman which would have actually outraged the MNGOP).
Next, a seriously unstable first-term State Senator who had decided to run against Rep. Tim Walz (D-MN) called a last minute press conference to address these allegations. Sen. Mike Parry, who Kossacks might recall as the homophobic and racist teabagger who called Obama arrogant and claimed that all homosexuals were pedophiles, employed one of these "direct reports" as a "volunteer" on his campaign.
What's the significance when this emotionally unstable nutjob State Senator abruptly canceled the press conference? Well ... you'll have to go below the fold to find out.
[First off, apologies for the all-caps in the title, but all will become clear as you read on ...]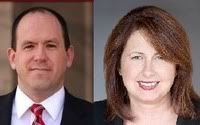 The next tidbit of news I received as the evening progressed and anonymous source after anonymous source confirmed my deduction was that this same person had lost his one "paying" job.
Cal Ludeman, Secretary of the Minnesota Senate, confirmed to MPR News tonight that Senate Republican Caucus spokesman Michael Brodkorb is no longer working for the Minnesota Senate. Ludeman would not say whether Brodkorb resigned or was fired.

Brodkorb was the key contact for Republicans in the Minnesota Senate. He also worked on the message and talking points for Senate Republicans.

In October, Brodkorb stepped down as deputy chair of the Minnesota Republican Party. He resigned so he could serve in a volunteer capacity with GOP state Sen. Mike Parry's campaign for Congress.
Michael Brodkorb arose to infamy/fame via his blog, Minnesota Democrats Exposed. He had been blogging anonymously and was forced to reveal his identity via a lawsuit. And, no, I won't link to his old blog. Brodkorb is a sleaze merchant the highest order. "Mudslinger Mike" got all the dirt on DFLers (MN Democrats) and often from angry DFLers. Brodkorb always put all his titles in all caps as he breathlessly sprayed lies, innuendo, gossip and controversies across the interwebs.
MN "journalists" realized that repackaging Brodkorb's accusations was easier than actually doing their job and often his blogposts became newspaper articles and TV reports with only minor modifications.
Then Brodkorb ran for Assistant Party Chair. He vowed to not take a salary in his new role. And he won.
Brodkorb stopped blogging and his old blog quickly shriveled and has now completely lost its Google-Juice. But why blog when you're the MouthPiece of the party and running the Republican Senate Caucus communications.
So we lefties in MN were all gobsmacked that Brodkorb, married with twin 4 year olds was having an affair with the married (w/ kids) Majority Leader of the Senate. Aside the hypocrisy of two senior figures from the party that advocates family values and the sanctity of marriage committing adultery, there is nothing inherently illegal about sleeping with your boss. Both had apparently advocated for Sanctity of Marriage constitutional amendment while carrying on this affair. Obviously, gay marriage caused them to do it.
Except that today I'm wondering if Brodkorb did commit any crimes while committing adultery?
Did Brodkorb rent a hotel room in which he and Koch committed adultery and submit an expense for the taxpayers of Minnesota or the MN GOP to pay?
Did Brodkorb buy any gifts for his lover and submit expenses for them for the taxpayers or the MN GOP to pay?
Did Brodkorb use a phone to further his adultery that was paid for by tax payers? Did he sext using this taxpayer paid phone?
I'm not an attorney (nor do I play one on television), but I think it would be interesting to see Brodkorb's phone and email records. His MN Republican Senate Caucus email and phone are public records.
But that isn't the only potential jail time Brodkorb might face. Brodkorb quit as Asst. Party Chair, followed soon after by the Chair himself. Now rumors are swirling about cooked books.
Yes, Brodkorb and former MNGOP Party Chair Tony "Taco Tony" Sutton may face jail time for irregularities in the party's books. I figure its a fairly good chance as Brodkorb attacked Tom Emmer and the Teabagger wing of the MNGOP. The Teabaggers are likely to reciprocate and throw Brodkorb and Sutton under the bus but in a much more painful and on-your-permanent-record kind of a way.
-- Photo from City Pages