I am a terrible human being.
This is what has been bothering me. I am a terrible, horrible, and selfish human being.
When folks are gathering up turkeys and food, and school supplies, and toiletries, and doing anything...ANYTHING...including bathing in the Great Lakes in December for charity or to lure business and work to the area...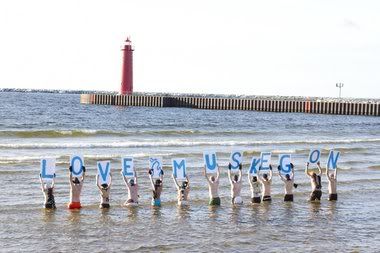 doing ANYTHING to improve the place where they live...when folks do that...THAT's what I associate with What Matters. And when the National Conversation segues with that...THAT's what I associate with what matters nationally. Because I am concerned with the people struggling. The people I see struggling every day. The people I see who don't have enough food. Or NO HOUSE. Or who are living in filth. Or who have inordinent amount of diabetes because their diets SSSSSSSSSSSSSSSUCK because they can only afford shit to eat, or have no place to go to get food. People are KILLING THEMSELVES with BAD FOOD. The people in homes with shattered windows patched with cardboard and masking tape.
THAT, to me, is what is happening right now all around us.
The degree to which there is crisis around us right now, and has been for years, is horrifying. And that's what I associate with The Problem.
But of course this Daily Kos comic set me right...
HA HA HA HA HA HA AH HA HA HA HA HA HA HA HA HA HA HA AH HA HA HA HA HA HA HA HA HA HA HA AH HA HA HA HA HA HA HA HA HA HA HA AH HA HA HA HA HA HA HA HA HA HA HA AH HA HA HA HA HA....
That's SO ME!
I'm SUCH a SHALLOW, BLIND ASSHOLE!
I don't give top priority to this somewhat flimsy issue as a TOP NOTCH voting choice. The disaster I see around me in the faces and lives of the people in my community is so pathetically self centered of an issue when I think about the advanced battery manufacturing plant that broke ground this fall, and two others like it in Holland just 20 miles South, from a Federal subsidy directly from the Obama administration.
No no no...this ONE ISSUE, where I keep hearing progressives on Facebook and Daily Kos and all over the damn freakin' place say this is the last straw, they aren't going to Vote for the President in 2012 because he funded the military for another year.....this is IT. And I'm a total, blind, selfish asshole for feeling otherwise.
Because I'm one ignorant, selfish motherfucker.
I feel such a huge disconnect between what I'm seeing on the ground and obsession du jour of the progressivisism/conservatism crap that I have no idea where I belong ideologically anymore, and it pisses me off. It pisses me of SO MUCH. I'm so PISSED OFF. I can't even explain it I'm so pissed off.
The shit that makes the news, that riles people up, that becomes the center of conversation is almost, ALMOST, never about the poor or the middle class, it's always OUT THERE...it's always SOMEWHERE ELSE. It's always about how we're NOT PROSECUTING the bad guy...even when it's about us it's NOT about US...it's STILL about the RICH FUCKERS...you know what? I DON'T CARE about PROSECUTING the BAD GUY AS much as I care about helping the GOOD GUY. I don't CARE about REVENGE, I don't care about revenge...I DO NOT CARE ABOUT REVENGE...I just want HELP down here. All the PISSING and MOANING about how we haven't prosecuted a single Wall Street Banker is cold comfort ONE WAY OR ANOTHER when the fucking schools and cities are crumbling to dust NO MATTER whether so and so is in prison or not it's not going to help my cousins have a house or food on the table.
It just makes good theater doesn't it? And that's all that really fucking matters isn't it?
Because we have some FUCKED UP notion all of us that one ideology or another is going to win, should win, CAN win, CAN dominate even after two and a half centuries of American civilization shows us this is a long term, ongoing, historical struggle...
But who the fuck cares?
We've always been at war with Eastasia, right? That's the battle that matters.
It's all theater. Some dumbass, one-liner for a cartoonist to quip about and make a quick buck, so that I'm the asshole in this equations.
And maybe I am.
Maybe I am an asshole. A selfish, ignorant, small town, back water, hick, nobody, pissant, white trash asshole.
I don't even care anymore. SO MUCH of this shit has nothing to do with me. It has NOTHING to do with the communities that are struggling. NOTHING at ALL and it occupies so much time. So much energy.
Sometimes I want to drag people here and take them through a tour of the city. Do you SEE THIS? Do you SEE the obesity epidemic from shit food when people have no money? Do you SEE the entire regions with the collapsed houses where children play among rusting nails? Do you see this? The boarded up homes? It's not some academic problem of middle class collapse going on...it's happened. It's already here. The whole city went from $90k homes for working class unionized factory workers to $40k homes and crumbling rental properties in the space of 5 years. Where peoples wages have gone from 50k per year as a factory worker to 18k per year for doing THE SAME WORK...
Good god, where do you LIVE? Do we even inhabit the same universe? And I'm supposed to follow YOU into YOUR concerns as though THOSE are top priority.
Fuck.
I don't even care anymore. I don't even know who's on our side anymore. Maybe nobody. Sometimes it feels like everybody who has any voice at all has NO STAKE in ANYTHING going on. NO STAKE.
Just........