It's a promise, a mythology, a rite of passage --
The belief that "Abounding Opportunity lies just around the next bend."
Indeed, America was built on such beliefs ... even still today.

Wagons Ho!
Albert Whitman & Company
Independent publisher of children's books since 1919
Plot Summary

Two girls move from Missouri to Oregon--one in 1846 and one in 2011. One trip takes five months and the other five days. One trip is in a covered wagon, the other in a car. But both girls will miss their old homes and worry about the long trip. Both girls stop at well-known landmarks and travel the Rocky Mountains. And as each girl reaches her new home, she finds her new room, and her new friends. Wagons Ho! is a unique look at both history and the concerns all kids have when moving to a new home.
--Sesquicentennial Wagon Train -- minnesota.publicradio.org

I've made that journey, twice in my endless search for work. Once to California. Once to Oregon. (with a stint back to the Midwest, in between.)
It is a scary, enthralling time --- when one dares to cast their Fate to the Winds.
Sometimes it works out. Sometimes it doesn't.



And sometimes when 'the Opportunities' run out -- you are left with no other choice but to ...
-- Go where 'the Opportunities' are -- or as the saying went back in the day:
"Go West young man, ... your dreams await you there ..."

Moving around to find work during the Depression: Cleveland Remembers
cleveland.com -- August 02, 2011
I was born during the Depression and my father had a hard time supporting us. We moved from Elyria, where all the family lived, to Cleveland where he was promised a job. It didn't last long, but he was able to get part time work fixing roads with the WPA. He also had an occasional job picking up dead bodies for a local funeral home.

When money was really tight, my mother and I moved back to live with my grandparents in Elyria. [...]


[The Works Progress Administration did construction work around the country during the Great Depression.]

Sometimes your Dreams can turn into Nightmares ...
Soon or later the wells of Opportunity run dry. And then far too many of us are poorly equipped to find -- new wells ...

If only there were a road map ... that shows the way out Poverty-ville ....

Social mobility
Wikipedia
Social mobility refers to the movement of people in a population from one social class or economic level to another.[1] It typically refers to vertical mobility -- movement of individuals or groups up (or down) from one socio-economic level to another, often by changing jobs or marrying; but can also refer to horizontal mobility -- movement from one position to another within the same social level. [...]

Mobility is enabled to a varying extent by economic capital, cultural capital (such as higher education), human capital (such as competence and effort in labour), social capital (such as support from one's social network), physical capital (such as ownership of tools, or the 'means of production'), and symbolic capital (such as the worth of an official title, status class, celebrity, etc.).
[...]

The American Dream Report, a study of the Economic Mobility Project, found that Americans surveyed were more likely than citizens of other countries to agree with statements like

-- "People get rewarded for intelligence and skill",

-- "People get rewarded for their efforts";

[...]

However it also found that "about half" (47%) of the advantages of having a parent with a high income were passed on to the next generation" in the United States. Compared to eight other developed countries studied, (United States, Canada, Denmark, Finland, France, Germany, Norway, Sweden, UK), only the United Kingdom had a higher rate of "passing advantages" to their offspring than the United States.[9][10] The Economist also stated that "evidence from social scientists suggests that American society is much 'stickier' than most Americans assume. Some researchers claim that social mobility is actually declining."[11]

Examples

Popular examples of upward social mobility from America include Abraham Lincoln and Bill Clinton, who were born into working-class families yet achieved high political office in adult life, and Andrew Carnegie, who arrived in the U.S. as a poor immigrant and later became a steel tycoon.

So, it CAN be done. A person with enough determination and luck can find upward mobility ... they can change the die that's been cast for them ...
John Thatcher to his young son: "Change your stars and live a better life than I have."
--
A Knight's Tale

I started out poor in life. I am no longer poor ... after several decades of endless toil.

Today, I find that now "I am an old man, filled with regrets ..."
as the storyline goes.

A soul-weary worker still looking for that next undiscovered valley, where the work is Easy and the Opportunities are plentiful ... where peace and security abound.

Some say it still exists ... somewhere out there ...

Where to Find Bakken Oil Jobs -- 50,000% Increase in North Dakota Jobs 2010-2011
by Patty Inglish, MS, pattyinglishms.hubpages.com

Oil On the Reservation

New Town is a small town in northwestern North Dakota over 380 miles west of the state's fastest growing place, the City of Fargo. Despite it's small size to 2010, the job listings in and around New Town jumped an incredible 746% from June 2008 to January 1, 2010. The local Native American reservation already had some oil wells, but then an Oil Boom struck on the Fort Berthold Reservation that includes the New Town area. [...]

Every Boom has its dark side though.
Not everyone is quick enough, or strong enough, or brave enough ...
to catch the Tiger by the Tail ...

North Dakota Oil Boom Raises Rents, Pushing Seniors Out
by Associated Press, on WashingtonPost -- Nov 14, 2011
by James MacPherson, huffingtonpost.com -- 11/14/2011
WILLISTON, N.D. — After living all of her 82 years in the same community, Lois Sinness left her hometown this month, crying and towing a U-Haul packed with her every possession.

She didn't want to go, but the rent on her $700-a-month apartment was going up almost threefold [$2000] because of heightened demand for housing generated by North Dakota's oil bonanza. Other seniors in her complex and across the western part of the state are in the same predicament.
[...]

"Grandma can't go to work in the oil fields and make a 150 grand a year," said A.J. Mock, director of the Williston Council for the Aging. Many of the seniors who are moving out "have lived here their entire lives and wanted to live here until they die."
Source

Social Mobility is one way out of Poverty -- it should not be the only way.
Far too many of us, simply just cannot pull up stakes -- and Go West.
Far too many of us, are simply just not that Mobile -- we have roots holding us back.

And rightfully so ... "There is more to life, than just money." ... as another storyline goes ...

Moving to find work is unrealistic
Diane Abbott, guardian.co.uk -- 28 June 2010

The Lib-Con work and pensions secretary, Iain Duncan Smith, has floated the idea that unemployed council tenants should be prepared to move home to find work. The unspoken threat is of coercion. Duncan Smith claims he is trying to help the unemployed. But the truth is that his proposal is cruel, unworkable and refers to a world of work that has gone.

The government is currently slashing public spending, a policy that threatens thousands of jobs. Furthermore, there are over a million jobs in the private sector that are dependent on government contracts. So, at a time when jobs will be harder to get than ever, as a result of the government's own deflationary policies, Duncan Smith proposes that people should go chasing around the country looking for jobs. And, more than likely, these will be jobs that offer no long-term security.

It is also important to point out that the places where there may be job opportunities are frequently the areas with the highest house prices and the steepest rents. [...]

But the underlying problem with Duncan Smith's idea is that he imagines a 1950s world of male heads-of-households, where their women and children will pack up and obediently follow them around the country. The truth is that increasing numbers of households are headed by women. These women often depend on fragile networks of friends and families for childcare and support. It is completely unrealistic to expect them to move in search of work.

As much as some would like to chase the Dream -- it is not always feasible. They have Responsibilities. They are Mobility-locked.
Besides, by the time they would "get there" -- the Opportunities would be gone.
Sometimes the pursuit must stop somewhere ...
"... They [Americans back East] were everywhere like locusts and destroyed their enemies with great thundering cannon."
-- Little Crow,
Bury My Heart at Wounded Knee
, by Dee Brown

Every Boom has its dark side. Often a whole cascade of them.
One person's Opportunity, is often another person's Heartache.

What happens when they run out of Boom Towns?
What happens when you go West, and you go West, and you finally run into the Ocean?
What then?

Sometimes we need to find those 'new wells' of Opportunity in our own backyards.
And if they are nowhere to be found, then we should work like hell to create them. To find new niches of Opportunity.

Because the Grass is not always Greener on the other side. And there is a price to be paid, for pursuing the siren's song.
I know, I've paid it.
"The tumble weed has not a care in the world -- because it has no roots, to hold it in place."
--
jamess
, a displaced mid-western worker, forever mired in the land of the dream.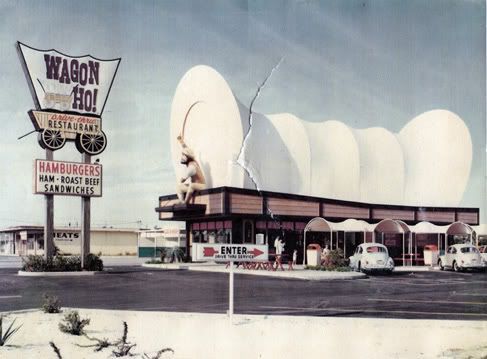 Source

On the plus side, the scenery is nice ... poetic justice, some might call it.