In 2008 the men who call themselves the White House Boys, the ones who were "graduates" of Dozier, were able to place a plaque on the front of the building where the beatings took place. It read:
In memory of the children who passed these doors, we acknowledge their tribulations and offer our hope that they have found some measure of peace.



May this building stand as a reminder of the need to remain vigilant in protecting our children as we help them seek a brighter future."
The building: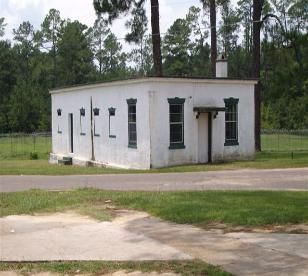 I was very angry when I heard that a Democratic state senator said he would try to get the plaque taken down because it annoyed the people of the town.
A Florida Democratic state Senator, Al Lawson, denied he had ever heard any complaints. To his credit he later expressed concern. But here is the worst part. While he was later speaking at a Chamber of Commerce meeting in Marianna, someone in the audience asked that the plaque that was put up to seal the White House be taken down.

He agreed to try to get it taken down. That is to his shame.

The Times reporters said that 11 days later a boy was "kicked and stomped" by other inmates, then he was placed in isolation. He was denied the right to call the abuse hotline.

If I were to meet Al Lawson, a Democrat, face to face I would ask him why in the world he would agree to take down a plaque which vowed no more abuse to Florida's children.
We used to hear stories when I was in junior high and high school. There were boys who had come back to school after being at the Dozier School for Boys in Marianna, Florida. I am ashamed to remember how many of us shunned them, not believing things they told us. After all, they had been at reform school, we said among ourselves. We really did not believe the things we heard whispered.
It's really hard for me to believe that after all the investigations through the years it could still be ignored by many governors. One of Florida's most well-known governors, Leroy Collins, investigated and said things were okay. In fact word is he said he agreed with some of the policies.
In 1968 Governor Claude Kirk showed much concern, and said he was going to investigate more. Nothing happened.
Here is an article from the newspaper once called the St. Pete Times and now known as the Tampa Bay Times. It is from 1968. It is devastating, yet it took 43 more years to get the abuses done and the school shut down. It is not a pleasant read.
Hell's 1,400 acres: a story published March 31, 1968 in the St. Petersburg Times
Here, friends, are 605 of your delinquent children. If they weren't Really Bad when they got here, chances are they're learning. Learning to sniff glue, gasoline and shoe wax. Learning to steal cars and break into groceries in a more professional way. And sometimes learning about sodomy and other perversions.

The school is divided into junior (grades 1-6) and senior (7-12) campuses. They used to be white and Negro campuses, and are a quarter-mile apart as required by a segregation-minded Florida Legislature. The school has been fully integrated since Sept. 14, 1967. This was accomplished with relatively little difficulty, although some staff members quit as a result.

It is the first truly integrated living experience for most of the children. Marianna, a town of 7,000 people 70 miles northwest of Tallahassee and just south of the Alabama state line, has its schools integrated – and little else.

The boys school classrooms are disaccredited, mainly because the youngsters attend only half the time. The rest of the time, they must work. There are 42 job classifications at the facility, ranging from messenger and clerk to barber and farm worker.
They once had a psychiatric facility, but they had to close it for lack of funds. Then the more severely disturbed were locked up.
Now the unit is used for detention. There are 10 small "quiet rooms" where some of the most severely disturbed children are kept locked up. The tile room has a bunk, a bucket for a toilet (emptied once a day), a peephole in the door and an opening to slide the food through.

"The boys can lie on the bunk, read or stare out the window.
They were sent there supposedly for their own good. Here is another article from the St. Pete Times/Tampa Bay Times from 2009 when another investigation was in full swing.
For their own good: a St. Petersburg Times special report on child abuse at the Florida School for Boys
For 109 years, this is where Florida has sent bad boys. Boys have been sent here for rape or assault, yes, but also for skipping school or smoking cigarettes or running hard from broken homes. Some were tough, some confused and afraid; all were treading through their formative years in the custody of the state. They were as young as 5, as old as 20, and they needed to be reformed.

It was for their own good.

Now come the men with nightmares and scars on their backsides, carrying 50 years of wreckage — ruined marriages and prison time and meanness and smoldering anger. Now comes a state investigation into unmarked graves, a lawsuit against a dying old man. Now come the questions: How could this happen? What should be done?
They were sent there for varied reasons. This one is tragic.
In the late 1950s, a 13-year-old kid who slicked back his long hair like Elvis stood in front of a judge in Tampa. A car had been stolen from the neighborhood. Someone said they saw Willy Haynes driving it.

Willy didn't know how to drive, but the judge didn't know that. Here was a boy who grew up in a little house off Columbus Avenue, in Six Mile Creek, a scrappy neighborhood on Tampa's eastern edge, where a poor kid learned early how to protect himself. When the judge warned the boy to behave or he'd be sent to reform school in Marianna, Willy surprised the court.

Why can't I go now?
There is much more to his story. This is not an easy read either.
There was yet another story from the St Pete Times/Tampa Bay Times.
100 years of hell at the Dozier School for Boys
Who was hired to work there?
In the past two years, one guard came to work reeking of alcohol and was referred to counseling. Another came in high on cocaine and marijuana. And another admitted to being a habitual drug abuser after he came to work high and was sent to the emergency room.

In 2005, the school hired James Edge. Three years before, the 265-pound man with a snake tattoo on his leg was arrested for domestic battery and violating a protective order. According to his wife's sworn complaint, Edge wrenched her arm behind her back, fracturing her shoulder.

Edge is the same officer involved in the May 2008 scuffle in which a boy's ear was split open. The following month, records show, he bloodied a boy's nose and slammed him against a fence, cutting his thumbs. Then Edge was fired. Officials now say they are investigating his hiring.

Guard Arthur Edmon Jr. posted photos on his MySpace page in which he makes obscene gestures and poses on a cash-covered table (caption: "f--- u haters"). He also posted a homemade rap video of friends dunking a basketball and pointing a gun at the camera.

Guard Frank Bernaldo has a MySpace page that contains sexual images and language and the following biographical nugget: "I like to go hunting but not for animals, only for people who piss me off."
It took involvement by the Justice Department but in June of last year, the school was finally shut down.