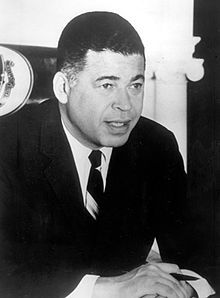 Senator Edward Brooke (R-MA) started his first term in the United States Senate on this day, January 10, 1967. In doing so, he became the first African-American Senator to be popularly-elected since the days of the post-Civil War Reconstruction Era.
Over the past 140 years, only six African-Americans have served in the United States Senate. Since the adoption of the 17th Amendment in 1913 - and one which allowed for the popular elections of Senators -- only two others, Carol Moseley Braun and Barack Obama (both from Illinois) have achieved that honor. Two more - Hiram Rhodes Revels in 1870 and Blanche Kelso Bruce in 1871 - were elected by the Mississippi State Senate. Roland Burrris (D-IL) was appointed by the Governor of Illinois in 2009 to serve the remainder of then-Senator Obama's term.
African-Americans represent roughly 11% of the population and, today, they remain completely unrepresented in the U.S. Senate. Since the passage of the Civil Rights Act of 1964 -- and as much progress as the country has made in race relations -- it is a stark reminder of the long ways it has to travel to achieve some measure of racial equality.
A native of Washington, D.C., Edward Brooke graduated from Howard University and Boston University School of Law. He served with distinction in the U.S. Army during World War II. Elected as the first African-American Attorney General of any state in the country, he went on to win election to the U.S. Senate in 1966, garnering 62% of the vote in Massachusetts. In 2004, he received the nation's highest civilian honor - the Presidential Medal of Freedom.
In his two terms in the U.S. Senate from 1967-1979

Although Brooke supported the Republican Party, his stances were often contrary to the official party line. He typically adopted a liberal agenda with regard to social issues. During his two terms in the Senate, Brooke backed affirmative action, minority business development, and public housing legislation.
He also favored extending minimum wage standards to unprotected jobs held by unskilled workers, providing tax incentives to companies with management training programs, and increasing operating subsidies for commuter rail services and mass transit systems. At times Brooke even broke party ranks to work with Democrats in the Senate and the House. For example, Brooke and House Majority Leader Thomas (Tip) O'Neill of Massachusetts recommended a swift increase in Social Security benefits in 1972.

---

Edward Brooke pictured on the cover of TIME magazine, February 17, 1967. Seeking a third term in the U.S. Senate in 1978, he would lose to his Democratic opponent, Paul Tsongas. Among the factors that contributed to his defeat was his strong support for women's rights and the issue of choice, a position strongly opposed by MA Catholic bishops. Sketch source: TIME Archives.
Why do I bring all of this up? In addition to the obvious historic nature of Senator Brooke's election, there is another reason. Until a few decades ago, there existed several moderate and, yes, even liberal Republican legislators and elected officials in the tradition of President Teddy Roosevelt (R-NY). Most of them believed in necessary social programs for the vulnerable amongst us and, importantly, in
governing
the country. In addition to Brooke, this list included Governor Nelson Rockefeller (R-NY), Senator Charles Percy (R-IL), Senator Jacob Javits (R-NY), Senator Mark Hatfield (R-OR), Senator Jim Jeffords (R-VT), and many others. It is no coincidence that the virtual disappearance of this kind of politician has led to a coarsening of our political discourse, resulting in gridlock and paralysis. Progress has been halted on many issue fronts, foremost among them the critical issue of Climate Change.
It is extremely rare that I praise Republicans but in the larger picture, Senator Brooke's achievements are not to be minimized. I am reasonably sure that President Barack Obama would be the first to acknowledge that he didn't get to where he is solely on his own merit. Numerous others -- Frederick Douglass, Abraham Lincoln, Harriet Tubman, W.E.B. Du Bois, Paul Robeson, Ralph Bunche, Jackie Robinson, Rosa Parks, Martin Luther King, Jr., Dick Gregory, John Lewis, and Jesse Jackson, to name a few -- made crucial sacrifices for decades at great professional and personal expense and paved the way for his historic election in 2008.
Surely, Edward Brooke deserves some mention on that long list.