Lately, we have been hearing a lot of this:
"Why vote!? It's the Supreme Court, stupid!"
NO, it WAS the Supreme Court, stupid. I base that off of the simple fact that Democrats helped immensely to create the Roberts court in the first place. The damage is done. Citizen's United is now a painful reality that will be with us for quite some time, unfortunately.
There are very limited options to undo the damage and one of them is by legislation; legislation that will not pass because nothing qualitatively important ever really passes the Senate without being watered down or killed because of the abuse of the filibuster. Fairly recently, despite the heroic activism of labor lawyer Tom Geoghegan and David Waldman at Open Congress, Democrats voted to keep the filibuster at the beginning of the 112th Congress. This is the only time this vote can be held with a simple majority vote; otherwise it takes 2/3rds according to the Senate rules to change them. They failed to do so.
Not only did Democrats vote to keep the filibuster, they rejected all rule changes from Senators Jeff Merkley and Tom Udall to change the "sleep at home while filibustering" filibuster into a real one like you saw in Mr. Smith Goes to Washington. This was their way of telling you that the unprecedented abuse of the filibuster by Republicans didn't really bother them that much. They felt 60 votes was a convenient excuse to get your money, and it was and still is. Many people are not aware of this so the DSCC takes advantage of it. The excuses they give about keeping the filibuster are "what if we need the filibuster in the future?"
Yeah, what if a dangerously radical RW SCOTUS is confirmed? What if an unprecedented decision based on Santa Clara County vs. Southern Pacific Railroad stating corporations are people is added onto by a radical RW SCOTUS so elections can now almost literally be bought? As I mentioned above, enter Citizen's United.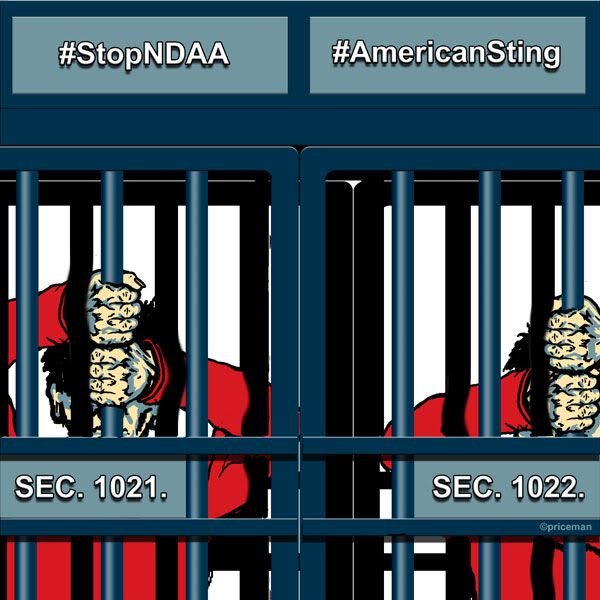 That's right; the defenders of vague language in the NDAA have quite a dilemma ahead of them as well. The Santa Clara County vs. Southern Pacific Railroad decision exemplifies that point. Why? Interpretations matter and the wrong interpretation can be the difference between a representative democracy and a corporatist state or a police state in the case of the NDAA.
As legal analyst and lawyer Jeffrey Toobin made clear, the Santa Clara County vs. Southern Pacific Railroad decision was literally based on vague language that was muttered and written down as the law of the land by the court reporter even though it wasn't the actual decision.
Leaving things open to a disastrous interpretation can destroy representative democracy and leave US citizens with little or no rights. This is proof that no creative legalese excuse to defend this administration on the NDAA can excuse the NDAA. Obama's signing statement interpreting the NDAA is over when President Obama's presidency is over. After that, the NDAA could be used to detain American citizens depending on who is interpreting it just as the 2001 AUMF language was which the NDAA codified.
Some say, "But there's a signing statement with the NDAA!" Hooray? I say nay! Vague legal language is also the problem with the SOPA. You might be asking why Democrats are to blame for the Citizen's United SCOTUS decision. It's simple. With precision, they failed spectacularly to use the filibuster they said they needed in the future, back then in the past to block Samuel Alito's appointment. Why should we believe them anymore? Alito was one of the 5 versus the 4.
Now a more radical Republican Congress is going to kill the filibuster for real next time they take over. Democrats had the chance to bust the filibuster and pass real qualitative legislation that solves problems, but they didn't. Plenty of Democrats voted for cloture and the actual confirmation of Justice Alito, and so I say so much for using the filibuster for Democratic purposes. Democrats failed on that.
The Roberts court was created because of that failure. Bye bye democracy. It's done.
It wasn't always this way as Democrats have used the filibuster before to block many damaging nominees looking to turn this country into a corporatist state on the SCOTUS as well as the lower courts at one time. That is, of course, until the sellout deal to create the Gang of 14 was made.
The Democrats had been using the filibuster to prevent the confirmation of conservative appellate court candidates nominated by President George W. Bush. In the Republican-controlled 108th Congress, ten Bush judicial nominees had been filibustered by the minority Democrats. The ten Bush appellate nominees who were filibustered were Miguel Estrada, Priscilla Owen, Charles W. Pickering, Carolyn Kuhl, David W. McKeague, Henry Saad, Richard Allen Griffin, William H. Pryor, William Gerry Myers III and Janice Rogers Brown.

As a result of these ten filibusters, Senate Republicans began to threaten to change the existing Senate rules by using what Senator Trent Lott termed the "nuclear option" and which Republicans tended to call the "constitutional option." This change in rules would eliminate the use of the filibuster to prevent judicial confirmation votes.
(Funny how it's always these unrepresentative Gangs of sellout Senators that pass radical RW justices and judges. These Gangs also create what turns out to be literally lobbyist written policy in this country like the Gang of Six and corporate Romneycare/Heritage Foundation care/1994 Dolecare.)
Big bad scary Senate Majority Leader Bill Frist scared the pants off of Democrats with his threat to go nuclear and eliminate the filibuster altogether. And Bill Frist never had the 60 votes used to whine to his constituents about within his fundraising letters. Imagine that! And yet still, Harry Reid was still so very scared he just didn't know what to do. So another undemocratic unrepresentative deal was pushed through by sellout Democrats and Republicans via the Gang of 14 agreements.
The Gang of 14 signed an agreement, pertaining to the 109th Congress only, whereby the seven Senate Democrats would no longer vote along with their party on filibustering judicial nominees (except in "extraordinary circumstances," as defined by each individual senator), and in turn the seven Senate Republicans would break with Bill Frist and the Republican leadership on voting for the "nuclear option." As the Republicans held a five-vote Senate majority (55-45) in the 109th Congress, the agreement of these Senators in practical terms prevented the Republicans from winning a simple majority to uphold a change in the interpretation of Senate rules, and prevented the Democrats from mustering the 41 votes necessary to sustain a filibuster. While thwarting the goals of their respective party leaderships,[2] the group members were hailed as moderates who put aside severe partisanship to do what was best for the Senate. At the same time, some of the Republican members of the Gang of 14 faced political firestorms from the conservative base due to their participation in this agreement.

Three of the filibustered nominees (Estrada, Pickering and Kuhl) having withdrawn, in the 109th Congress, five of the seven filibustered nominees (Owen, McKeague, Griffin, Pryor and Brown) were allowed to be confirmed as a result of the deal brokered by the Gang.

The Gang became active again in July 2005, attempting to advise Bush on the choice of a nominee to replace retiring Supreme Court Justice Sandra Day O'Connor. On November 3, 2005, the group met to discuss the nomination of Samuel Alito to the high court, but came to no conclusions, noting that the hearing process had only just begun in his case. On January 30, 2006, the members of the group unanimously supported a cloture vote in the Alito nomination, providing more than enough votes to prevent a filibuster.
Senator John Kerry and the Liberal Lion Ted Kennedy made an attempt to filibuster, but 72 sellout Democrats voted for cloture and the filibuster was then defeated. Those that voted for Alito and those sellout Democratic Senators in the Gang of 14 created the Roberts court in the first place.
The ACLU was also right on opposing the Alito nomination and it had only opposed a SCOTUS nominee two other times in its entire history.
The American Civil Liberties Union (ACLU) formally opposed Alito's nomination. The ACLU has only taken this step two other times in its entire history, the last time being with the nomination of Robert Bork who was rejected by a 58–42 vote in the Senate.[28] In releasing its report[29] on Alito, ACLU Executive Director Anthony Romero justified the decision saying that "At a time when our president has claimed unprecedented authority to spy on Americans and jail terrorism suspects indefinitely, America needs a Supreme Court justice who will uphold our precious civil liberties. Judge Alito's record shows a willingness to support government actions that abridge individual freedoms."[30]
And now President Obama's record shows a willingness to support government actions that abridge individual freedoms. The ACLU was right about Samuel Alito and they are sadly right about President Obama now that the NDAA is signed.
There could have been some efforts to stop the nomination of Roberts as well. And though then Senator Obama voted against Roberts's nomination, he attacked "Democratic Advocacy Groups" for criticizing Senator Leahy's support of Roberts.
This was what then Senator Obama said about it referenced in one of his first diaries on Daily Kos.
I was deeply disturbed by some statements that were made by largely Democratic advocacy groups when ranking member Senator Leahy announced that he would support Judge Roberts. Although the scales have tipped in a different direction for me, I am deeply admiring of the work and the thought that Senator Leahy has put into making his decision. The knee-jerk unbending and what I consider to be unfair attacks on Senator Leahy's motives were unjustified. Unfortunately, both parties have fallen victim to this kind of pressure.

I believe every Senator on the other side of the aisle, if they were honest, would acknowledge that the same unyielding, unbending, dogmatic approach to judicial confirmation has in large part been responsible for the kind of poisonous atmosphere that exists in this Chamber regarding judicial nominations. It is tempting, then, for us on this side of the aisle to go tit for tat.

But what I would like to see is for all of us to recognize as we move forward to the next nominee that in fact the issues that are confronted by the Supreme Court are difficult issues. That is why they get up to the Supreme Court. The issues facing the Court are rarely black and white, and all advocacy groups who have a legitimate and profound interest in the decisions that are made by the Court should try to make certain that their advocacy reflects that complexity. These groups on the right and left should not resort to the sort of broad-brush dogmatic attacks that have hampered the process in the past and constrained each and every Senator in this Chamber from making sure that they are voting on the basis of their conscience.
Yeah habeas corpus, one of the principles this country was founded upon, is "complicated." It's not a black and white issue as to whether due process and the Geneva conventions apply?
John Roberts thought the Geneva Conventions shouldn't apply and that Hamden's Habeas petition should not be honored. Those meany liberal advocacy groups knew this about Roberts, but our President didn't.
After reviewing Hamdan's habeas petition, Judge James Robertson of the United States District Court for the District of Columbia ruled in Hamdan's favor, finding that the United States could not hold a military commission unless it was first shown that the detainee was not a prisoner of war.[10][11][12]

On July 15, 2005, a United States Court of Appeals for the District of Columbia Circuit three-judge panel of Arthur Raymond Randolph, John G. Roberts, Jr. and Stephen F. Williams, unanimously reversed the decision of the District Court.[13]
Luckily this was reversed in the SCOTUS decision Hamdan vs Rumsfeld but as you can see those so called crazy liberal advocacy groups knew this about John Roberts when he was on United States Court of Appeals for the District of Columbia Circuit. They knew he was involved in reversing the correct decision on Hamden from the initial district court before he was overruled by the SCOTUS (which is why he recused himself once he was confirmed). So all of those liberal advocacy groups knew what they were talking about, and then Senator Obama sure as hell didn't.
This is what President Obama also said in his Daily Kos diary:
A majority of folks, including a number of Democrats and Independents, don't think that John Roberts is an ideologue bent on overturning every vestige of civil rights and civil liberties protections in our possession. Instead, they have good reason to believe he is a conservative judge who is (like it or not) within the mainstream of American jurisprudence, a judge appointed by a conservative president who could have done much worse (and probably, I fear, may do worse with the next nominee). While they hope Roberts doesn't swing the court too sharply to the right, a majority of Americans think that the President should probably get the benefit of the doubt on a clearly qualified nominee.
Talk about tone deaf, Obama goes on to downplay any effort for a filibuster of Roberts's confirmation which was basically one of the two only chances to have stopped Citizen's United. We know this, because in 2008 he won the White House and the Congressional majority that was Obama's excuse for Democrats confirming two RW radical SCOTUS Justices in his diary. And yet we still got Citizen's United. FAIL.
Hell former Republican Senator Arlen Specter put up more of a fight than many Democrats did on the Alito and Roberts nominations. How embarrassing.
There's plenty of precedent for this: In 2004, Arlen Specter warned President Bush that a Supreme Court nominee who didn't consider Roe to be settled law would probably face a filibuster. In response, conservatives threatened to rip his chairmanship away. And I don't mean "conservatives" as in Rush Limbaugh. I mean conservatives as in leaks from then-Senate Majority Leader Bill Frist's office. Specter quieted down real fast after that, and he helped bring the anti-choice Roberts and Alito in for a smooth landing. (Later on, of course, Specter defected from the Republican Party rather than lose to a Republican primary challenger, but that's an argument against certain types of primary challenges, not threatening committee chairmanships to induce more party loyalty.)
There were no threats regarding committee chairmanships from Harry Reid whom was coached by President Obama to let the traitorous Lieberman keep his seat on the Homeland Security Committee(war with Iran any second now) and back into the Democratic caucus after the 2008 election. This also played a role in watering down every major piece of legislation enabling Ben Nelson and other Conservadems. This kills the 60 vote excuse.
I predicted then that it would become legislative moral hazard and I was right. It also has something to do with the 2010 mid-term losses despite the utter BS people spout around here about these mythical progressives who stayed home(like the mythical progressive Ron Paul supporters on this site who don't exist).
Progressives wanted Obama to listen to Christina Romer on the bigger stimulus that was needed, a real bank rescue with pre privatization (temporary nationalization) for access to banks balance sheets to see if they were legit instead of fake stress tests, and real financial reform unlike fake financial reform that gets a D at best (BTW any poster who denies this has to explain why everyone is running around with their hair on fire wondering our exposure to the Euro meltdown). We also wanted some accountability for Wall Street executives who blew our economy up instead of excuses and lies from our government about how everything was legal (Sarbanes Oxley was violated).
The President and too much of our Democratic majority were tone deaf and didn't use their power like Bill Frist and GWB did for Republicans (proven) in their time. And so now there probably won't be any significant retirements any time in the next decade from the SCOTUS in order to make that 5-4 difference on our side. I'll let comedian Lewis Black explain why at 6:48 of this video.
"The good die young, but PRICKS LIVE FOREVER!"
The outright damage from this Roberts court could have been averted. That battle was lost in the 109th Congress and Democrats didn't even want to fight that battle for the most part. We are all suffering because of this. Anyone who makes excuses for this in the comments or made them in the past are also responsible.
So I'm sure some will find some creative ways to tout the now disgraced politifact achievement list, but you can't throw the SCOTUS in anyone's face. After all, when something could have been done about the Roberts court, Democrats dropped the ball. Senator and now President Obama should have been vocally supportive in the filibuster he took part in, because by speaking against it he undermined this filibuster. That made the gang of 14 stronger.
So I wouldn't try to win over any progressives who are aware of these facts. The general public probably doesn't know who the 9 SCOTUS Justices are because they are too busy in their lives trying to survive the Robert Rubin-ite Obama, Bernanke, Geithner, Summers, and Goolsbee economy. They won't respond well to being condescended to on that front(especially since this argument is flawed as I have shown) so I wouldn't advise taking this tactic with voters either.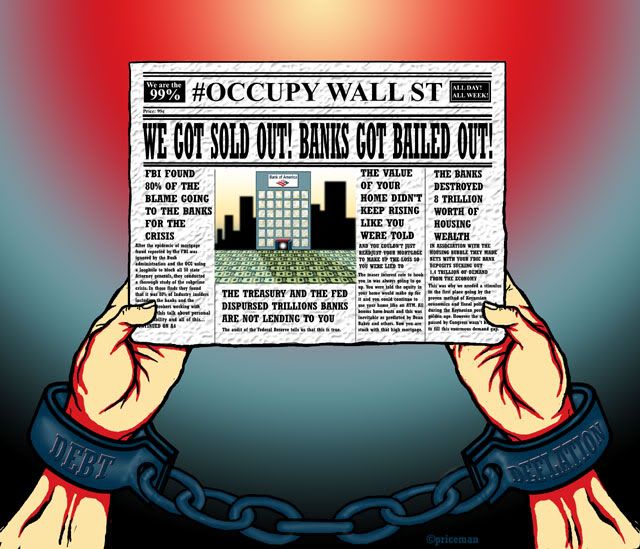 Voters do know the economy sucks though and that no one has been prosecuted on Wall St. They got sold out. Banks got bailed out. That's a clear message from OWS that will forever be relevant.
That's going to be a big problem for this administration that was real condescending when Paul Krugman among others warned of these circumstances and pointed them out. So keep that in mind when lecturing voters on the SCOTUS this campaign season. That ship has now sailed for a long time. There's no reason to condescend or pretend otherwise.
That's not even going to be the issue in this campaign. The lack of jobs as well as income inequality is going to be the issue. Therefore the tax cut mountain that this president has placed his flag on top of in this flawed arena of debate is really not helpful for the 99%.
The author of the definitive economic paper on the housing bubble agrees.
Dean Baker, co-director of the Center for Economic and Policy Research and one of Obama's most vocal progressive critics, told TPM that the President's policies will have only a minimal impact on inequality, and argued that there's more he could do to reverse the growing gap between the rich and poor.

"His policies are really trivial," said Baker. "Yes, it would be good to maintain the estate tax and get the top tax rate to the Clinton era level, but the vast majority of the story was in before-tax income, not changes in tax rates. Here Obama has been as bad as [George W.] Bush."

Baker proposed a financial speculation tax to limit high incomes resulting from "shuffling paper," breaking up the largest banks and ending "too big to fail" subsidies, and reducing the value of the dollar to make U.S. exports more competitive.

snip

"Obama should at least be able to say this even if Congress may block the steps needed to get the economy back on its feet," Baker said.
Given the debate that ensued in my last diary involving after-tax income, economist Dean Baker's point highlighted above is more relevant than ever. The White House's proposed trivial policies won't create jobs and does nothing about income inequality. That's where his policies are indeed as bad as GWB as Dean Baker said.
Anyone who excuses the White House's latest jobs panel proposals doesn't really understand demand side economics with regards to income inequality and unemployment. Arguing about the percentage dispersed out of a shrinking revenue pie due to high unemployment is a flawed exercise when it comes to full employment. Full employment is the goal and that only comes with priming the fiscal pump and ignoring deficit hysteria propaganda that is proven wrong by Japan's example among others.
Japan is the champion nation in terms of budget deficits and government debt relative to GDP. Many have long argued (wrongly) that this is because holders happen to have addresses in Japan. Nonsense. A sovereign government that issues its own currency makes interest payments on its debt in exactly the same manner whether the holder has an address at the South Pole or on Mars: a keystroke to a savings deposit at the central bank. What matters is whether the country issues its own currency.
So what to do instead?
For starters, how about actually acknowledging this economic reality? How about demanding that we have the right kind of economic debate on that front? Otherwise we are going to be stuck inside an idiotic tea party federal family budget metaphor this president agrees with.
This is of course compounded onto Obama's lack of understanding(like those defending his latest proposals) that with high unemployment there's not a significant enough tax base on the stimulative demand side of things to make enough difference with tax cuts; precisely going by the tax base that actually spends their money in the economy.
The President still likes to spout deficit hysteria rather than even say the words "more stimulus." As a whole, D.C doesn't get it and has mostly sold all of us out while bailing out Wall Street. They'll do it again when the next crash comes, too. Playing progressive dress up wearing these social security threatening inadequate tax cut solutions won't even begin to make enough of a dent in this jobs crisis.
So if you want to try something to GOTV, try getting President Obama and this Congress to at least start speaking in terms that acknowledge actual reality. That's always the first step.

12:07 PM PT: Mea culpa on one thing I got wrong. Then Senator Obama did vote against the confirmation of Alito and I never said he didn't vote against cloture.
However, this certainly wasn't a rallying cry and didn't help Ted Kennedy in this effort which he and John Kerry were leading against the Gang of 14
"Mr. Obama did seem to express some reserve about using the filibuster process, which in common parlance refers to a procedural Senate maneuver requiring 60 votes to end debate and proceed to a vote.

"I think that the Democrats have to do a much better job in making their case on these issues," then-Sen. Obama said. "These last-minute efforts using procedural maneuvers inside the Beltway, I think, has been the wrong way of going about it, and we need to recognize because Judge Alito will be confirmed that if we're going to oppose a nominee that we've got to persuade the American people that, in fact, their values are at stake and frankly I'm not sure that we've successfully done that."

He added that "there is an over-reliance on the part of Democrats for procedural maneuvers and mechanisms to block the president instead of proactively going out to the American people and talking about the values that we care about. And, you know, there's one way to guarantee that the judges who are appointed to the Supreme Court are judges that reflect our values and that's to win elections.""
So that didn't help, but I admit when I get things wrong as I did. Everything else is verified.