Today would have been his eighteenth birthday...January 24. But on his birthday he sleeps forever on a windy hillside in the Blue Ridge Mountains he loved so much.
It was the Christmas holidays in 2010. Reed was sixteen years old, and about to turn seventeen. He was taking a break from his cancer treatments to visit us. He had been having neck and ear pain, and it was getting harder for him to ignore and fight through the pain. He came to me a few days before Christmas and wanted to talk. "Pawpaw, I can't do this any more. I am going to tell them to stop the treatments."
We talked for a good long while, because I wanted to make sure he understood the gravity of his decision. It was clear that he did when he commented, "I so wanted to be eighteen." He knew the monster growing in his body was going to take his life, and that he did not have much longer.
"I so wanted to be eighteen," he said.
Feeling my very soul being ripped out, I assured him that any decision he made, Mimi and I would support. He was very close to his grandmother and called her, "Mimi." When I talked to his mother, she cried of course, but understood. She had studied to be a social worker in college and is a strong supporter of Hospice. She knew the past several months had been a losing battle, because there were metastases in his brain and lungs.
He wanted to be a chef. He always wanted to be a chef. When he was six, he would stand on a stool so he could reach the stove and make his favorite recipe, Cajun blackened fish. The recipe is best with Redfish, but he also liked to use Tilapia. It takes a very hot cast iron skillet to make Cajun style blackened fish, and I kept telling his mother the kid was going to burn down the apartment. Fortunately, no one paid any attention to my concern, because he only got better as time went on.
He wanted to cook our Thanksgiving dinner when he was 15. He was doing well with his prosthetic shoulder, but was still getting chemotherapy. We went to his favorite supermarket. He liked that store because of their wide selection of merchandise, the head butcher would talk to him and he could get the exact cuts he wanted.
On the way home from the supermarket, he wanted to stop at the hardware store. When I asked why, he said he needed a blowtorch. "Why," I asked, "Do we need a blowtorch?"
His quick reply, "Pawpaw, you can't make crème brûlée unless you have a blowtorch!"
How many fifteen year old boys do you know that can even pronounce crème brûlée, much less make it?
We had a great dinner and dessert that day. After dinner, he sat down beside his Mimi and took her hand for a while. She asked him, "Are you going to cook for us again next Thanksgiving?" With that, he buried his face in the pillow on the arm of the couch and did not answer her. He knew then that it was touch and go whether he would have another Thanksgiving.
As things turned out, he did not come up for Thanksgiving the next year, but did come for Christmas. He prepared Christmas dinner for us. This is him in our kitchen, doing what he loved best. This was his last Christmas dinner.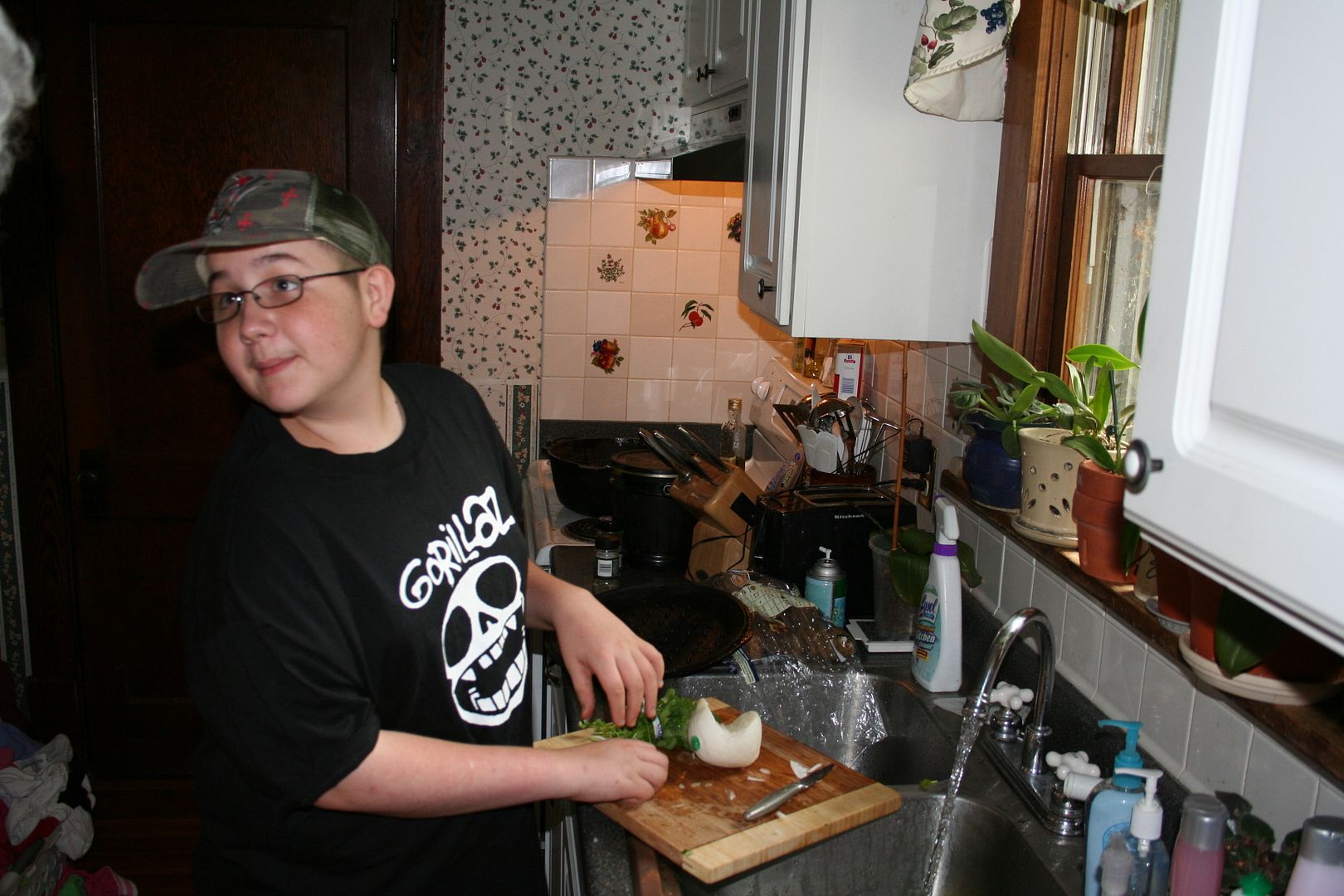 THE BACKSTORY:
I had sent him to culinary arts camp at a cooking school every summer. He came home from the week at chef's camp the summer of 2007 complaining of pain in his right shoulder. He thought it was from chopping too many vegetables and was a touch of bursitis. He took some ibuprofen and went back to Birmingham.
Here he is at chef's camp with his mentor, Chef Richard.
He was staying with his father in Alabama because his mother was having trouble with cancer and her own treatments. In late 2007, a few weeks after we buried his uncle in the National Cemetery, he called me from his father's house in Alabama. His shoulder had been continuing to give him trouble and finally went to the doctor. He said, "Pawpaw, we just got back from the doctor's office and they think I may have cancer."
That was on a Tuesday. Wednesday morning, he went back for a biopsy of the large lump on his right shoulder. He called me late on Wednesday evening saying the test results were positive for Ewing's Sarcoma. Thursday I drove to Alabama with his mother, who by that time was too sick to drive. She and his father took him in for his first chemotherapy treatment at the University of Alabama Medical Center on Friday morning. Within the space of four days, he went from a happy kid with a sore shoulder to a chemotherapy patient.
The tumor shrunk some and a few weeks later, on his fourteenth birthday, he had major surgery that removed his right shoulder blade, most of the bones of his shoulder joint and a lot of muscle tissue. The bones were replaced with a titanium structure.
Reed was optimistic, because he had been told that if they get all the tumor on the first surgery, there is a good chance of recovery, something like 70 percent. If there are metastases after that, the odds in favor of the patient plummet. He continued the treatments, but a few months later developed spots on his lungs. That was terrible news, because I knew what it meant. His parents continued to be optimistic, but his odds worsened as treatments continued. He developed a number of spots, including one in his brain, for which he received radiation.
Reed continued to cook. He loved cooking and had appeared on television in Birmingham demonstrating his recipe for Tilapia with spicy mango sauce. One of his favorite recipes is in a cookbook for cancer patients. On one occasion, he was invited to an upscale seafood restaurant as a guest of the owner. When he got there he was surprised when they presented him with a white chef's jacket and hat, and invited him to the kitchen to help cook.
After Christmas 2010, he went home and told the doctors he wanted to stop treatments, as he had told me he would. His oncologist was understanding and agreed with his decision. He had a bucket list of things he had wanted to do. One of those was to go to New York to eat at some of the better restaurants. He did go, but by the end of his first day, he said he was tired and wanted to go home. He had a hospital bed in his bedroom and never got up again after that.
I went down to Birmingham several times. Our dear friend and fellow Kossack Oke sent one of SaraR's quilts to him. I took it to Birmingham. His sister, his mother and I spread that quilt covered with hundreds of loving signatures over his frail body. I have cropped out his face at the request of his mother. She felt he would not want anyone to see him as he looked the last week of his life.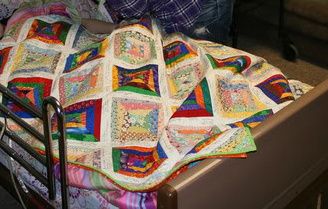 This kid with the blood of the Highlands in him loved wearing a kilt. When he was four he said he felt like, "A manly man," when he wore his kilt. One of his favorite things was going to highland games. This picture was taken when he was about three or four-years-old, marching in the Parade of Tartans at the Grandfather Mountain Highland Games. He is carrying his toy bagpipes.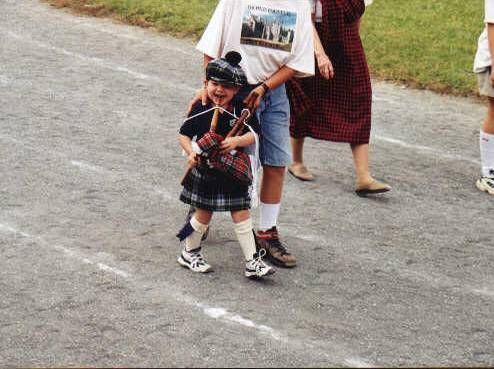 The pipe major played for him. The piper is an old family friend who has piped several memorial services for our family, and was my youngest daughter's first piping instructor. The tunes piped for Reed were Amazing Grace, Highland Laddie and Mull of Kintyre.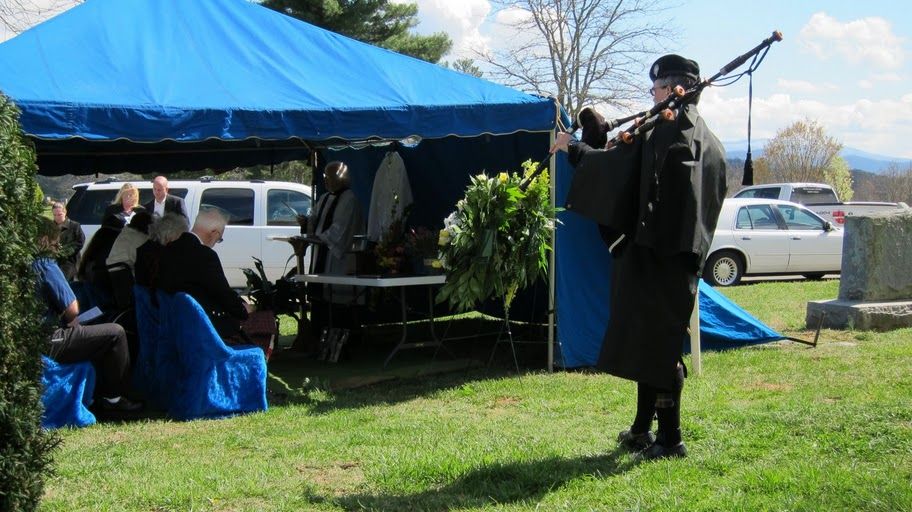 This is the Royal Scots Dragoon Guards playing Highland Laddie. The piper played it as a slow air, a lament. Appropriate for this son of the Highlands whose Celtic heritage goes all the way back to the Picts.
The piper also played Mull of Kintyre, which had been played for his uncle at his burial service at the National Cemetery. This is a song about going home for the last time.
Our dear Kossack friend, glescagal sent the flags that flew over her brother's grave in Scotland. Those same flags flew over Reed, and last September, his beloved Mimi.
He does not yet have a stone. He left us on March 27 last year and he does not have a stone. I went to the florist, got a wreath for his birthday and placed it on his grave.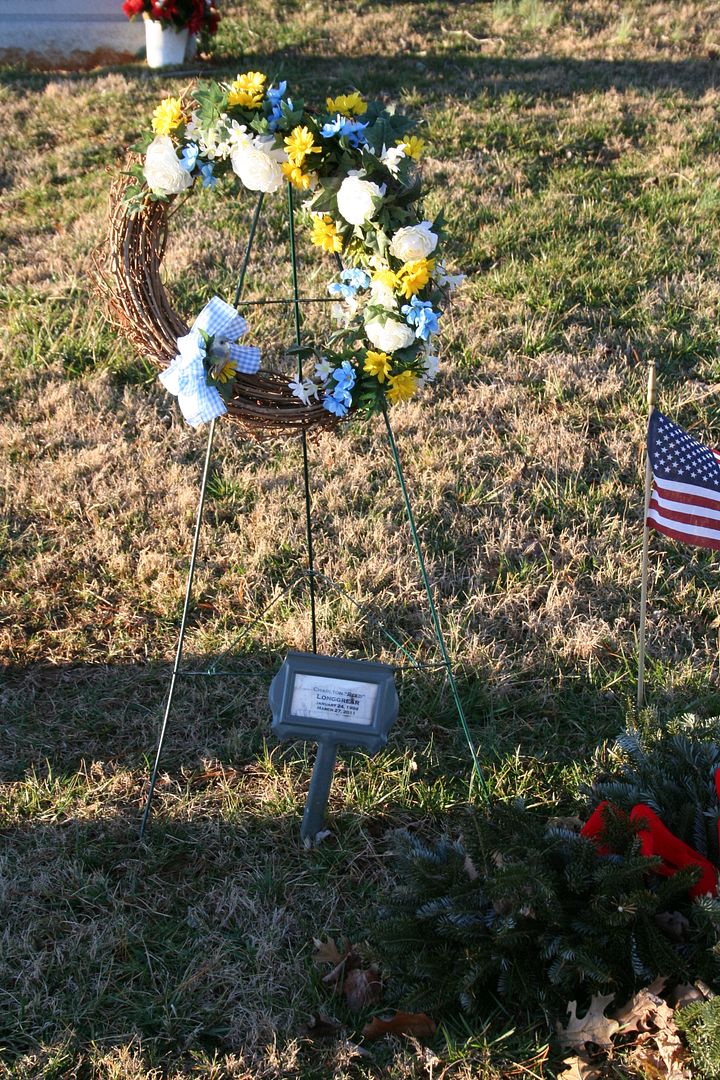 He sleeps forever on a windy hillside in the beautiful Blue Ridge Mountains the Cherokee called the Otteray. This is a view from his grave site:
He so wanted to be eighteen. He wanted to register to vote. He wanted to register for Selective Service like other normal kids. He wanted to learn to drive and get a license. He wanted to be a chef. He just wanted to live long enough to see today, January 24, 2012.
He so wanted to be eighteen....
UPDATE #1:
Dem in the heart of Texas has graciously started a fund to help purchase Reed a stone and memorial bench. Link is here.
UPDATE #2:
Reed will get his stone and a memorial bench near the foot of his grave so his mother, sister and other family can go sit with him in that peaceful and quiet place.
His older sister sent Dem in the heart of Texas a note last evening when she found out about this. She cried of course because she was close to her little brother. No sister was ever more protective, and in his last days, a great deal of his care fell on her young shoulders. She registered as a user last night, but until she can post for herself, this is what she wrote,
I wanted to thank everyone who is taking part in this and tell you all how much your generosity has impacted the entire family. You have made our dream of finally putting a marker on my little brother's grave come true and for that, I thank all of you. I can think of no better gift for such a giving child right now. I don't know you all, but I love each one of you. Thank you. Thank you so much.