In presidential primary politics, one of the most oft repeated stories is the upset winner who briefly takes a lead, only to give it back. A week and a half ago Gingrich completely remade the race in a South Carolina debate, and earlier this week took a clear lead in Florida.
But in the last 48 hours it is clear that lead has receeded. The following table shows what has happened: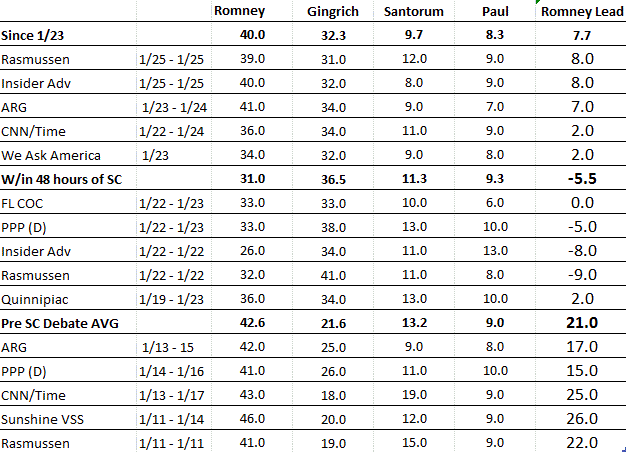 On thing to note is how close Romney's numbers in the last day are to his pre-debate average. Gingrich is still well above where he was before South Carolina, but Romney is almost where he was two weeks ago.
Florida is awash in negative advertising. Last night about 1 ads in 4 were from either pro-Romney or pro-Gingrich forces, and all the advertising was negative. The good news for Democrats is that this is taking its toll on the Republicans. The new Quinnipiac Poll shows Romney is 43 postive, 37 negative versus the January 11th poll which found Romney's favorables at 49 postive and 29 negative. With an 8 point jump in negatives in half a week, it will be interesting to see just how much damage the GOP does to itself this week. Clearly it is in our interests to see this fight continue.
This shows the information in graph form.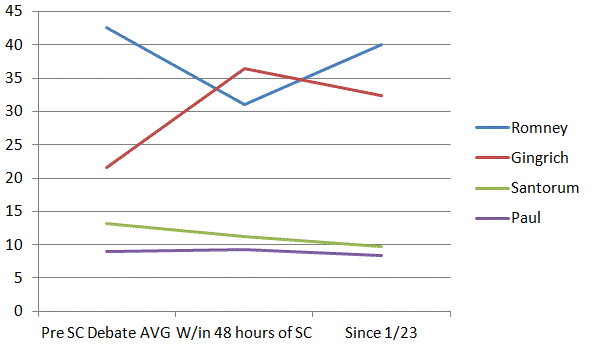 This patter is not unusual. Let's look at two examples, both from the New Hampshire Primary:

The two examples are very similar to what we have seen in Florida this week.
What to make all of this. IMHO Gingrich has been way off message. He took off in South Carolina by feeding the GOP red meat in a direct (and arguably rascist) way. Since arriving in Florida he has been involved in exchanges with Romney over ethics. Moreover, yesterday Gingrich was involved in a disasterous exhange with Rubio of an immigration ad he was running. Rubio is officially neutral, but he certainly gave Romney a huge lift here yesterday, and the polling above doesn't take this latest exchange into account.
The lesson of the GOP cycle in some ways is debate uber alles. Debates gave Bachman the lead briefly, destroyed Perry and revived Gingrich in South Carolina. This means this race is far from over, but to win Florida Gingrich will need a strong performance tonight.