Sometimes, once in a blue moon, there comes a time when important events unfold that I then must trust my own judgment. And in doing so, I also sometimes have to part ways with people I admire. It doesn't feel good to do so, but I think NY AG Eric Schneiderman is possibly making a mistake, and I very much agree with David Dayen's take on these events.
Taibbi has kind of bought the argument that the robo-signing was a smaller part of a bigger fraud in the securitization markets, which is true. That doesn't mean that a settlement that allows you to go after that poisoned tree by only giving up the fruit is in any way equitable. That's the point of California Rep. George Miller, a key ally to Nancy Pelosi:

Democratic Congressman George Miller of the East San Francisco Bay area says he's "proud" of Harris for leaving negotiations that aren't in the state's best interest. And he says any agreement has to be transparent.

"Whatever settlement they have has to go out to the public for a week, for a period of time, where it can be commented on," Miller said, "because this represents the largest decisions about people's homes, their equity, their assets and their worth."
(BTW it doesn't matter which poster in the wilderness screams, "NOUN, VERB, AND FDL FOREVER!" David Dayen is widely read, widely circulated by most reputable outlets, and is highly citable as is his research, regardless. It's just basic common sense that not all bloggers on the FP of a site like FDL are monolithic. They are also not monolithic here at Daily Kos so just keep that in mind)
The latest proposed paltry 25 billion dollar settlement for foreclosure fraud on the table — even with a host of other things that can be pursued while ridding liability only for foreclosure fraud under these terms — still leaves very much to be desired considering the 700 billion that borrowers owe which is more than their deflating assets(their homes) can cover.
If this administration understood the problem of debt deflation or studied their Irving Fischer before the State of the Union, they might have made more of a real effort for a better settlement. After all, private debt overhang is the problem, not the government debt they prattle on about sounding like every Republican running.
You see, when consumers are indebted they actually don't spend money in our economy and aggregate demand suffers. That needs to be taken into account when this deal is lauded by this President whom then falsely promises substantial job creation, afterwards. 25 billion will get soaked up pretty fast in that hole of negative equity, especially considering legal fees and everything else the victims of this fraud are subjected to.
It just gets worse from there.
Q: How much principal reduction are we talking about, and to how many borrowers?

A: Housing and Urban Development Secretary Shaun Donovan said in a recent speech that it could be 1 million borrowers. Numerous news accounts have said principal reductions would average $20,000.

But 1 million could be a high number, and $20,000 is likely to be low. The average underwater homeowner owes about $50,000 more than their home is worth, says economist Mark Zandi of Moody's Analytics.

snip

Q: Will the principal reduction be a big boost to the housing market?

A: Probably not, says Capital Economics economist Paul Diggle. Borrowers collectively owe $700 billion more on their mortgages than their homes are worth. The principal forgiveness is "not going to be enough to generate a significant and sustained housing market recovery," Diggle says.

snip

Q: How tough are the potential settlement terms on the banks?

A: Not very, says Paul Miller, banking analyst at FBR Capital Markets. The banks will largely be modifying loans they own themselves and some they service for investor owners. By modifying loans, the banks may reduce their future default rates.

"The loan modifications would be something the banks probably would've done on their own anyway," Miller says.

Rheingold says any settlement will seem inadequate against the trillions in lost equity that resulted from the unprecedented collapse in home prices. He says that the state attorneys general — who started this process — were "filling a void left by the Obama administration's failure to adequately address the crisis."
That's not a whole lot to write home about given the scope of this problem. Why? In addition to the answers provided above, there are the poisonous incentives to defraud all of us again plus the moral hazard created from no real accountability for criminal behavior.
This is because of the false sense that any steps whatsoever were taken to solve the foreclosure and overall mortgage fraud problem. Foreclosure fraud is part of the whole securitization process that's completely broken anyway with no defined standards really. Foreclosure fraud stems from the original abuses(notes not put into the trust and/or lost) from the initial mortgage fraud tree that was securitized, bet on with our FDIC insured bank deposits as collateral thus bringing down the whole economy. How are we are supposed to take heart that this(the foreclosure fraud aspect settled here) is technically off the table?
I'm not that optimistic about any future possibilities of pursuing criminal charges against these criminal institutions even if the possibility may technically exist. This Justice department has waited too long, and it's going to take more than a few civil subpoenas to prove it to me. I also predict NY AG Eric Schneiderman could walk, because I don't think things are going to go his way given the makeup of this task force which will undoubtedly work to undermine everything he is doing. After all US AG Eric Holder and Lanny Bruer are linked to representing some of these same banks that dabbled in foreclosure fraud in the past. That probably explains some of the hesitance to prosecute any top level officials whatsoever in this crisis.
I somewhat understand Eric Schneiderman's reasons for joining this task force, and though I'm sure he will be able have more resources to use the Martin Act in order to pursue some violations that servicers have wrought more strongly in NY, I respectfully disagree with these terms and the damage in accepting them. The Martin Act is a NY statute and we have to think about the entire country and those states hit hardest by this fraud and the recession it exploded into.
NV AG Catherine Cortez Masto is my favorite Justice Democrat. Even though I do appreciate everything NY AG Eric Schneiderman and DE AG Beau Biden have done, she has done all the heavy lifting. Especially when it comes to the only way anyone is going to make sure banks and the mortgage brokers they do business with don't do this again. NV AG Masto is following former NY AG Elliot Spitzer's prescription for real Justice via pursuing criminal indictments and prosecutions.
h/t Abigail Caplovitz Field whom is an excellent resource on all of this.
Dear AG Masto: Thank You for Your Courage, Leadership & Common Sense
Thank you for your courage, leadership and common sense. To date, no other law enforcer has been willing to act on the obvious: the banks' document fraud is criminal. Despite the crime-minimizing connotations of the term "robo-signing", of course it's criminal to forge signatures and lie about notarizing them when creating official public records. The fact that the records start the brutally swift non-judicial foreclosure process only makes the crime worse.

Although Attorney General Bill Schuette (R-MI) launched a criminal probe into robosigning several months ago, no indictment has yet followed, and his spokeswoman Joy Yearout would not comment on the status of that investigation or on your indictment. Similarly, Attorneys General Eric Schneiderman and Beau Biden are investigating possible crimes, but no indictments have yet come. You are truly leading the way.

Snip

Your indictment is striking for at least two reasons. First, by bringing charges related to 202 different documents, you're showing the scale of the problem. Second, by prosecuting the managers of the document fraud, your response has been the most serious to date.

In Maryland notaries were forced to take The Fifth in response to a robosigning investigation, but we've not seen charges against those directing their activities yet. While it's appropriate to prosecute the small fry, it's also relatively meaningless and just reinforces what so many people know: our criminal system generally prosecutes the 99%, not the top dogs.
You may deny these absolute facts or care about the Presidential election more, but given that NV AG Masto is from the state with the worst housing market; if you don't live in NV or any of the states most hit by the housing bust, you have the privilege of not having to worry about foreclosures and these abuses. It must be nice not to have to worry about the highly important and yet unanswered questions she asks of this rushed settlement because it doesn't affect you.
If so, just be glad you don't live in NV, and at least have the decency to respect her heroic work and the facts. Masto cares about the people in NV and is not willing to let them get burned again like with the last settlement these banks didn't live up to. She'll keep fighting despite any rosy rhetoric about this deal from an administration that pretends they're taking AG Masto's questions to heart but are not.
As Mortgage Settlement Deal Nears Feb. 3 Deadline, Nevada AG Raises Concerns
"What would happen if all of the state attorney general representatives had one view and the federal agencies disagreed?" Masto asked in her letter.

Snip

Nevada has been burned in the past by large, multistate mortgage settlements. In 2009 the state joined 10 others in agreeing to a settlement regarding fraudulent mortgage practices at Countrywide, the subprime lender that came to epitomize questionable lending during the housing boom. Bank of America, which now owns Countrywide, agreed to offer as much as $8.4 billion in loan modifications and foreclosure relief to 400,000 homeowners victimized by Countrywide's mortgage fraud. But as of June 30, just roughly $216 million in payments had been made through the program. In August 2011, a frustrated Masto asked a court to void the deal so that Nevada could go after the bank on its own.

snip

Some remain unconvinced. "Look at what happened with WorldCom ... Those guys were committing fraud at their own companies, and still they went to jail for what they did," said a prominent securities lawyer who wished to remain anonymous, referring to the fates of CEO Bernard Ebbers and other WorldCom executives. In comparison, "these financial shenanigans had an impact way beyond any one company, and these guys are still walking around free," the lawyer said. "There's just not been much effort to hold Wall Street or any of these other guys accountable."

snip

"I view this as nothing more than election-year grandstanding, an attempt by the [Obama] administration to look like it's doing something to help homeowners," said Melissa Huelsman, a private attorney who has represented homeowners for more than a decade.

I like an actual historical record of what happened and why. I like actual cause and effect reality instead of just hope on the scope of what's wrong with these half-ass solutions to real crippling problems. You see, cause and effect reality is right there for you to read. Some hope to play up spin about how this administration couldn't do anything until now and can't go bigger because "it is too complicated."
However, the very real problem in actual reality (as opposed to that dangerous fantasy) is that WorldCom was a real company like Long Term Capital Management — a company that speaks to failed derivatives reform in Dodd Frank as the "confident" financial sector panics while wondering their exposure to the Eurozone meltdown — WorldCom engaged in real control fraud similar to what many of these big banks committed. And yet, unlike them, CEO Bernard Ebbers and other WorldCom executives actually went to jail, and did so even during the Bush administration.
To add insult to injury, what Bernard Ebbers did pales in comparison to what this cabal of Wall St Robber Baron CEOs did to the entire global economy. And yet these Robber Barons still walk around free to set the terms of each settlement by buying Congress or having lobbyists who work in the US Treasury and the US Justice Department in head positions sanctioned by our US President. After WorldCom and Enron went down, Sarbanes Oxley was passed so they would have to then sign off on what their balance sheets were from then on making them legally responsible for them and for all the damage that ensued from their fraudulent accounting practices and bets.
Many banks violated this in this crisis, but Citigroup especially; the place where the president's good friend Robert Rubin worked till January 9, 2009 receiving more than $126 million in cash and stock during his tenure. A good way to tell if anything is to come at all from this settlement is if Citigroup CEO Vikram Pandit is prosecuted at all. I'm not holding my breath on that one.
Important update: the settlement date got extended to Feb 6th.
The deadline was changed as Oregon Attorney General John Kroger said today in a statement that he would sign on to the settlement, joining Connecticut Attorney General George Jepsen, who also supports it.

Delaware Attorney General Beau Biden has said he won't sign on to the settlement.
What I find most significant is that Delaware Attorney General Beau Biden has said he won't sign on to the settlement as of now either which is also good considering MERS is headquartered in DE.
As of now this is not Justice or a good precedent. It doesn't make me feel that criminal indictments or prosecutions are coming despite only having foreclosure fraud immunity and having other openings to pursue in this deal. We have seen how little of a priority it has been for the US Justice Department to pursue very much at all about these problems in a substantial way that matters.
It's worth taking a look at Question number 3 from Masto's letter.
3. The state release contains a provision that prevents the State AGs and banking regulators from seeking to invalidate past assignments or foreclosures. Does this prevent States from effectively challenging future foreclosure actions that are based on faulty prior assignments?

From early on, we have stressed that this is a cash for release deal, and this looks like a VERY big release. The banks will pay an amount into the fund, and all issues relating to robo-signing and foreclosure will be released by the AGs: the banks will have a state level release from all bad assignment/transfer issues.

Note this does not stop private parties, meaning individual borrowers, from suing on these very grounds. But taking the AGs out of the picture prevents them from using their subpoena and prosecutorial powers to determine how widespread these abuses are and to negotiate broad solutions.
Blast from the fraudulent past for the fraudulent future? Is that what winning the future really means? We're never the ones winning in this scenario sad to say.
(Animation by ©priceman)
NV AG Masto had to file complaints against all those institutions who signed onto the 2008 settlement for 8.4 billion. They didn't live up to that settlement. But somehow someway another flawed settlement is what we're looking forward to today as a big win against Wall Street? There's no real precedent for punishment regarding foreclosure fraud now or in the future. There's no real language barring fraudulent transfers (meaning no wet signature) from the past being used in the future to steal more homes as of yet.
So it looks like under this settlement these banks will still be able to use robosigning in the future given the robosigning immunity in this settlement. It's also a form of retroactive robosigning immunity from State AGs(with the most resources to go after this sort of thing) given what Yves Smith laid out above. They will have an incentive to keep up these practices given the lackluster penalty for doing so, and of course never any criminal charges, referrals, or prosecution from the US Justice Department of the big fish in charge.
The MERS empire will strike/sign back if this goes through.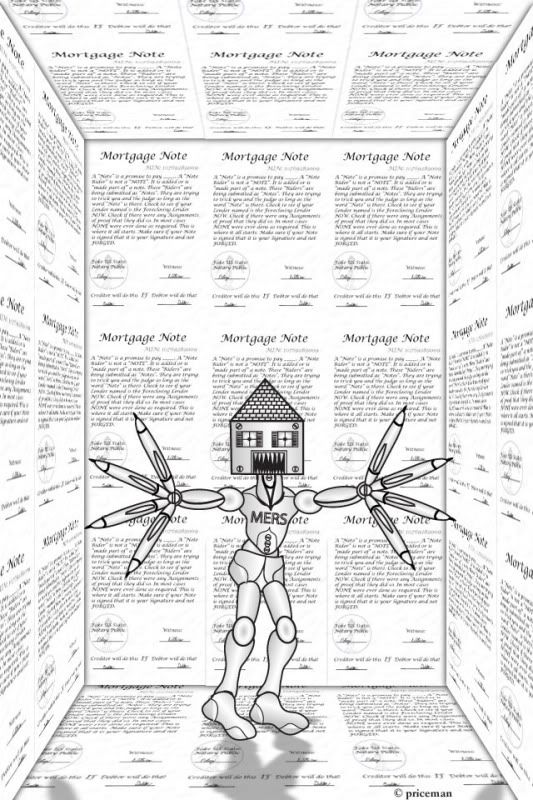 So no, holding Wall St accountable for their crimes has not suddenly "gotten real." To pretend that it has just gives all the victims of the sub-prime mortgage crisis, the foreclosure crisis, and this great depression-like recession and its net jobless recovery, false hope. Rather than play up this false hope for election season, the least you could do is acknowledge how little accountability there has been and that any serious declaration on this front needs direct proof. Otherwise you are just playing off the emotions of real people suffering merely for your election year grandstanding. Personally, I find that immoral.