In a state struggling to get better at teaching all students, every reform has a glaring omission. Some reforms want to pay special teachers more. As if there are Blackwater mercenary teachers out there, ready to storm the castle and kick down the achievement gap. They even tried this to the extreme in New York, luring in teachers with $100,000 salaries to get the cream of the crop. It didn't really work. A University of Vanderbilt study, the most extensive on performance pay, concluded there was no correlation between closing the gap and performance pay. They value purpose more than profit. Teachers do not sit around all day brooding upon what their colleagues may or may not make. They deserve professional pay, but teachers are neither mercenaries nor missionaries some folks want to reform how we pay teachers. They pay no attention to reforming how they teach.
Some leaders want to change how long we teach. What we are doing now is not working for all students. It's not working, so let's do it for an extra hour or all year round? The idea is ludicrous unless it is attached changing how we teach. There are very successful year round and extended day Saint Paul public schools right now, but their staff of teachers and principles changed how they taught as much as how long. The modern reformers think changing how long will magically cure education, without changing the how.
Some reformers want to change who teach, as if teachers are born out of whole clothe and not made through hard work. Again, they do not address how we teach. There are reform programs that take this to the ultimate extreme; giving recruits a five-week boot camp on how to teach, and then putting them in the classroom. Alternative licensure programs are rich in value. We have career engineers and business folks coming to the teaching profession. Brining a treasure trove of real world experience. The problem is that modern reformers want the credentials without the teaching. Again, they address who teaches, but not how.
The reformers want to change where we teach. If we could just set up a system where there are winners and losers, things will improve. Instead of focusing on how we teach, we'll just close down schools we do not like. Granted, those schools will always be in poorer neighborhoods. The educations disrupted will always be those students with the least voice. Instead of fixing a struggling students school, we will tell them to start all over somewhere new. Build relationships all over. Travel to a new neighborhood. Ride a bus longer. This will improve your education.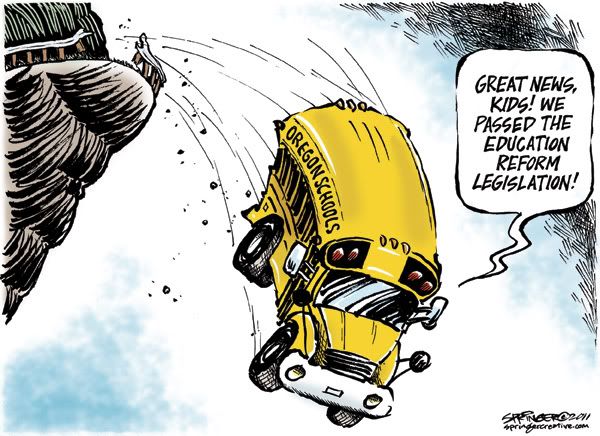 None of these modern reforms address, in the least, how we teach. I will let you in on a dirty little secret: This is intentional. You see, the folks making the rules benefited from how we have taught for the last two hundred years. For two centuries, we have had a model where teachers, working independently, shut their classroom doors and ruled over their own classroom kingdom. This model worked for the people who are successful. It has never, ever, worked for all kids, or even most kids.
The leading reformers of this country had a twelve-year internship in an education style that worked for them. They now believe they are experts in how to teach. We don't even have to change how we teach because that part served them well. We just have to change where, how long, how we are paid, and who we hire. Forget about addressing how we teach.
Obviously, real reform has to change how we teach. The teacher as independent contractor ruling over his or her own kingdom has to end. The difficult thing is that the reformers reinforce this antiquated, dysfunctional model of teaching. At a time when teachers must come together, the reformers want to pit teacher against teacher in some sort of gladiatorial battle of test scores. I will state again for emphasis, the reformers want to reinforce a style of teaching that worked for them and few others. That is why teachers and principals are hardly ever brought into the debate on reform. The reformers already know how to teach. They just want to change everything else.
What is working in schools is a complete paradigm shift from our past, teachers working together on all students. Instead of disaggregating my students versus yours, teachers are forced to get out of their classrooms and work together where my students are your students and all students are our students. No longer can we get our keys in September, go in and teach, and not see anyone until we turn our keys in June. This is a hard change to make for teachers who have been successful in the same broken paradigm as our leaders. It is even harder when our leaders try and keep us divided in competition instead of healthy collaboration.
How does this paradigm shift work? Teachers are given time each day to get out of their classrooms and work together on students. There is a laser-like focus on student data. The reformers focus on data as if it is the end of a marathon and they are looking for winners and losers. The real focus on student data needs to be weekly or even daily. Instead of just looking at the finish line, data needs to focus on the day-to-day training.
When teachers work together on students in this way, they can make changes in time. If the data shows that my students didn't get a concept on Monday, my colleagues will see this immediately, and together we can work out a better way to teach it and do better on Tuesday. The alternative is to sit in my classroom by myself. Do the best I can. Wait until the test results come out in June and hope we meet AYP and that I "beat" the other teachers. Instead, we know weekly what we need to improve, and we lean on each other to constantly change how we teach.
Real reform like this is not flashy like closing a school. It is not big and bold like firing an entire staff. It is not heart wrenching like forcing a thousand students to find a new school. Real reform doesn't satisfy our cultural need for competition, with winners and losers. However, reforming how we teach works. If we want to close the gap, we have to change how we have taught for the last two hundred years. We have to let go of the silly idea that one teacher is the only one affecting a student.
We have to support teachers working together, teaching each other. There can be no greater accountability measure than having to share student data with fellow teachers. Having to show my colleagues my student data every single week can be scary, but it is the professional thing to do. It holds us accountable, and makes us better. I trust my colleagues to help me when I falter, and I help them when they do. Set us in competition against each other and that goes out the window.
The other reason why reformers do not focus on changing how we teach is that it is expensive. The reform I speak of is based on the very successful Lesson Study model used in Japan. It requires that teachers meet on a regular basis, during the school day. It costs money to staff classrooms while other teachers are meeting to discuss student data. It is not cheap, but it works. If we want to close the achievement gap we have to change how we teach. Changing where, when, who, how long, how we are paid, are all flashy rearrangements of deck chairs on the Titanic.
Cross posted at MN Progressive Project