It's that time of year again, fundraising for Netroots for the Troops®. Next week we'll launch a Blogathon. Patriot Daily News Clearinghouse has been working tirelessly organizing this. Along with all the multitude of things she has going on in her life she has done an outstanding job. We're going to have some amazing guest blogging for us.
Below the squig you'll find our Netroots for the Troops® 2012 General Press Release. We have additional news coming, but along with everyone else we're waiting for the announcement about a panel we've submitted for Netroots Nation in Providence this Summer.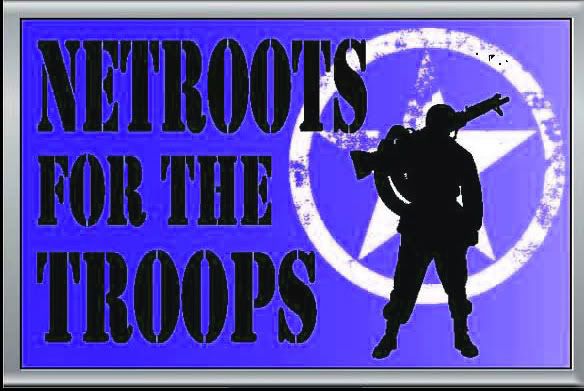 Netroots for the Troops®


Each year for the past four years, we at the non-profit Netroots for the Troops® have raised money to send hundreds of specially designed Care Packages to U.S. combat troops deployed in Iraq and Afghanistan. These packages have included the practical, such as gloves, gel shoe insoles, socks, sand scarves, powdered energy drinks and LED flashlights, as well as the recreational, such as DVDs, CDs and comic books.
All told, in those four years we have shipped 1100 Care Packages to military personnel in three different Brigades of the 3rd Marine Division in cooperation with their Family Readiness Office, and to elements of the 101st Airborne. This year we'll be supporting the 841st En Bn.

This year our goal is twofold: 150 Care Packages overseas, and 300 to VA Hospitals in the NE/NY region. That's no small matter. Acquiring the products to go into the packages and shipping them overseas will cost approximately $100,000. To meet that goal, we need your help.

You can assist us, either as an individual or as a corporation. Individuals can make a cash donation to;

Corporations can become sponsors either by making a tax-deductible cash donation or by providing a product in multiples of multiples of 150 and or 300: 150 for a forward deployed unit
and 300 for VA hospital patients. We look forward to working with you.

= = =
Netroots For The Troops® is a project of Netroots for the Troops, Inc., a Virginia non-profit corporation. Although incorporated in 2010, this project began in 2008 at the Netroots Nation Convention in Austin TX, and subsequent years in Pittsburgh, PA, Las Vegas, NV, Minneapolis, MN and this coming June in Providence, RI. The organization raises money for the assembly, mailing and delivery of Care Packages to American military in war zones and to provide assistance to military families in the United States.

Netroots For The Troops, Inc. is a 501(c)3 tax-exempt organization.

Donate Now to NFTT 2012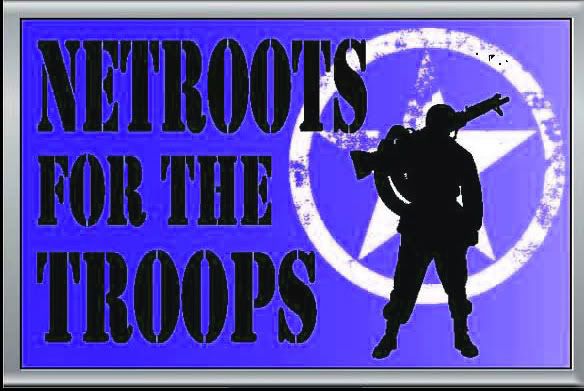 On with the games!!
Mojo Friday Guidelines


1) If you comment you have to recommend all comments. (in order to receive mojo you have to give mojo. It's only good mojo manners.)
2) Everything you say may be taken as a joke (so if you ask a question, expect a silly answer)
3) You must recommend the diary (and pimp it unapologetically)
4) You don't have to comment to recommend.
5) You can't steal my idea (right, like that ain't goin' to happen)
6) Please, no pictures or YouTubes until after 300 comments. Now, after 300, use a little common courtesy and be responsible in the number.
7) Mojo mojo mojo mojo, mojo mojo mojo.
8) TexDem (that's me) is not bound by the guidelines. Heh

Mojo Friday Goals


A. At least 300 different commenters and 1000 comments by 1:30 PM EST and 1500 by 5:00 PM EST Friday Night that it's posted.

B. 100 recommends for each comment, at least.

C. Stay on Recommend List at least five hours (this requires some strategic planning by you guys, refer to guideline #3)

D. At least 200 diary recommends. 300 would be better, spread the word.

E. And always, fun fun fun.

F. Have at least 75% average participation rate as seen here in the Mojo Friday Postgame Show by Woodtick.

G. (New) Have at least 30 kossacks over 90% participation (see here for some tips).

H. Overload the servers with recommends, not to mention dominate Top Comments Mojo list. (we do tend to mess with the site with all of our recommends at one time)(also, to dominate the Top Comments Top Mojo we need at least 50 comments with over 200 recommends, see guideline B)

I. That's enough for now. (Have a suggestion? Post it.)

MKinTN posted a diary to help everyone achieve greater success called How to Succeed at Mojo Friday Without Really Trying.
For those of you new to MF (Mojo Friday) we have our own lingo about a few things. Thank's to MF'er Jez (the link will explain) go to this diary for a little more fun and explanation. Official Mojo Friday Snecktionary.
SPECIAL REQUEST

I need a volunteer for a NFTT project. Webranding is reworking our website. He'd like for us to set up a flkr account for all our pics. I need a volunteer to gather as many pics as possible onto that flkr account. This will include many we took as well as what others have used and have been reposted in numerous diaries and FB.

If this is something you have the time and inclination to do, let me know.