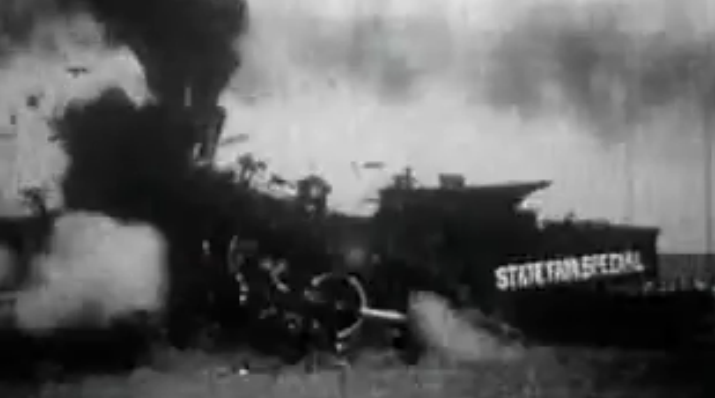 A needless clash of titans was depicted in Sunday's (2/12) SF Chronicle Business Report headline article from AP: "Pipeline would make Canada a global player". Indeed, the $125 billion investing in tapping Tar Sands, NASA's top climatologist says, would be "game over for the climate". Yesterday's 800,000 signatures against the KXL pipeline highlight the colossal collision taking place. This post is about a win-win compromise, a possible way to align tar sands extraction with environmental protection. It may piss off some environmentalists and oil exec's to suggest this, but perhaps, conceivably, there is some common ground in a low-impact carbon-emission free hydrogen future starting in Canada. Needless to say, it would take a lot from both sides.
The historic "brown collision" of world oil business and those concerned about the global climate disaster is not going to stop, is a lose-lose, is wasteful, damaging and poor business. An energy-addicted world needs to align on a "green dream" to provide ecology-friendly & profitable energy sources quickly. Delay and all will lose.
Canada's Win-Win is to sequester carbon, export electricity and hydrogen, and clean up the land. IMHO, it is accomplishable and profitable. It would be extremely profitable if the risk costs of carbon were factored in: droughts, heatwaves, floods, underwater cities, famines, etc. are bad business.
Carbon Tax and Hydrogen Subsidies are probably the best business move the oil industry (and climate environmentalists) could make, like getting an addict to pay for switching to medicine. Big Oil, China and Canada could leverage their investment in Alberta, and get paid a premium for transitioning to the next technological platform, perhaps supplying hydrogen to the airlines first.
The "Carbon Brown" plan leads to Thermogeddon. Dream "Hydrogen Green", Oh Canada!
[Adapted from a Letter to the Editor, SF Chronicle]
More on the Lose-Lose and the Win-Win below the fold…

The Ultimate Train Wreak
The truth doesn't go away, physically or politically. Clearly the oil corporations, as the most profitable enterprises in history have considerable political weight. Yet, as evidence of global heating will mount, the political movement that 350.org and others brought to bear will increase. The Canadian controversy over the Northern Gateway Pipeline certainly has local environmental concerns countering global energy business. The attention of the world is on these pipelines, as the choice of our futures is epitomized by the Canadian tar sands saga. Witness the stubborn political promotion of the Keystone XL and the increasingly impressive mobilization of environmental activists are (over 800,000 signatures in 24 hours) by the sudden unprecedented coalition of over 30 organizations, including 350.org, MoveOn.org, StopGlobalWarming.org, Climate Reality, Common Cause, Oil Change International, NRDC, Sierra Club, and Democracy For America.
This situation pits the irresistible force (physics and planetary dynamics and public self-preservation) versus the inertia of the immovable object (the oil business). While China and Big Oil See power and profit, and Canadian Minister Oliver mashes "environmental and other radical groups", critics indeed "dislike the whole concept of tapping" the second largest carbon bomb on the planet. The pattern on this path is both the destruction of the oil business and the planet as we know it, for while we hesitate to battle over the old oil energy economy, we will pass the point of no return and end up in Thermal Hell: droughts, heatwaves, floods, underwater cities, famines, as we ruin the capacity of the Earth to support our 7 billion.
Delay is A Lose-Lose
This delay pattern is playing out rather steadily as entrenched robust business interests support the anti-science rhetoric of climate change deniers. These elements with the GOP have stagnated carbon emission control measures through terms of two presidents so far. While carbon-free and sustainable energy technologies have made progress, its rate of adoption so far is too little too late to prevent catastrophe.
The climate is a train on a fast downhill track to a cliff – if we do nothing or too little, we will reach the end of Mother Earth's tolerance for CO2 in the air, and cascading effects (methane release and ice loss) ensure a hotter planet, not resembling the last 10,000 years of stability. The droughts will make the 1930's Dust Bowl seem bountiful. As the ecology, farms and the economy collapse under the strain of droughts and heatwaves (Think American Sahara), famines and skyrocketing food costs, the results will be social unrest, wars and hardship, causing oil companies to lose markets and public favor. The oil business will be remembered as the cause of the Global Heating – not good for business. With their hand on the throttle, the Koch Brothers will be the Engineers of Thermal Hell of Earth. Everyone loses in this scenario. Everyone loses everything.
The Hydrogen Alignment Now
We have to stop and reverse the energy economy train now, not after climatic inertia makes it too late. If we get the train going in a different direction, everything can stay on track, but headed in the right (Carbon-free) direction.
With the growth of electric vehicles, electricity can start to power our transportation. Hydrogen is a viable carbon-free fuel, that is regularly produced in the refinement of crude oils, though is primarily consumed to crack heavier oils into lighter fuels. Though it would produce even more carbon dioxide in the process, aiming to have exclusively H2 and Electrical output, could be done at one plant -- in the words of a Dept of Energy paper: "Balanced production of H2, steam, and electricity in a single plant could best serve oil sands operation". If the carbon is contained, sequestered on a mass basis, then there is little cost to having more of it.
Carbon Sequestration
We can eat our carbon cake and not have it too. A solution to align the irresistible climatic force and the immovable fossil fuel establishment, particularly with the Canadian Tar Sands requires that to exploit the carbon bomb, you have to contain the carbon. That could be done at the source. As a point source of CO2 with nearby geologic structures that could store CO2, that requirement seems accomplishable, though an unprecedented scale.
Paying for it all: The Carbon – Hydrogen Cost Inversion
Ask the insurance companies about the risk cost of Thermal Hell. If the next trillion tons of C02 were factored into future insurance models, little costs more than ruining the capacity of the Earth to support our 7 billion. How much does it cost to insure NYC from flooding due to sea rise? How bad for business is a chaos-inducing global famine? Factoring such risks into carbon fuel costs, and the inverse benefit of hydrogen to displace it, a carbon tax along with subsidies for hydrogen reflects the real costs, and in effect, pays for the conversion. Helping hydrogen use and carbon sequestration to be cost-effective are the most effective market adjustments to stop and reverse the energy and climate change trains, avoiding the wreck.
Hydrogen Markets
Hydrogen is like natural gas-lite. It just takes more volume for the same energy, so certain applications are easier to implement right away. Bus fleets, long haul trucks and the airlines (ask Virgin Airlines) could be the first customers, requiring limited distribution systems. Investment in hydrogen storage technology can eventually make it more dense and convenient.
The Eco/Business Win-Win
If Big Oil, Canada and China want to exploit a natural resource, I would ask that they do it in an ecologically-friendly manner. They must produce carbon-free energy by sequestering carbon, stop polluting, and cleanup the land. Many, though not all, environmentalists might agree-- trusting the industry or a regulating agency may be a challenge to many.
The technologies and regulations to create climate-protecting tar sands energy are no doubt challenging and expensive. Global policies and prices should prioritize and fund this. The public and business intention and will to value hydrogen far over carbon has yet to be promoted. Yet it is a dream that is worth the expense, worth the risk, and worth aligning environmental groups, oil companies and governments – imagine that! They would all become heroes for generations that follow. Everyone wins in this scenario. Everyone gets everything.
Mon Feb 20, 2012 at 12:56 PM PT: Also Applicable: http://www.greencarcongress.com/... - The last comment points to the H2 generator also outputing almost pure stream of CO2, but not sequestered. With the tremendous water consumption and destructive wailings ponds of processing the tar sands into refinable crude, clearly, the current methods are massively polluting.
This approach offers some low-impact options. One might be to burn (& sequester) unprocessed or minimally processed tar sands just to make electricity, and use electrolysis to generate H2.