"A prophet is not without honor except in his own home and country."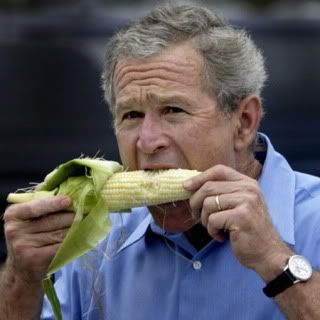 It's hard to argue that the past ten days haven't been good for dream candidate Rick Santorum. As the quad-anual GOP corn eating contest that began in Iowa with a crowded clown car of deluded pretenders to their much fantasized over "Republican White House" has shifted from state to state, the former Senator from Pennsylvania has followed up with strong showings (if not actual wins?) since the MN/MO/CO Trifecta. Even now dark clouds seem to portend an impending Santorum cyclone leveling the Motor City and all of Michigan in two weeks - what once Romney had considered safe Favorite Son terrain by the state's very old GOP establishment riding the conservative wave of the latest "War on Religion".
When he isn't hammering Romney for being, well, Romney, what sort of visions does this "coal miner's son" have for America and (Heaven help us) what are we all to do (?) besides bring the corn popped - not on the cob - over the flip, plz...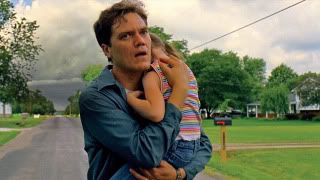 So what would you do if God started sending you ominous visions as warnings? Suppose you're somewhere between Noah and Job and God began to speak to you through dark clouds and thunder blasts mightily warning you that you'd better build an arc or else (and don't even bother telling anyone else)? What if you do take these warnings seriously and everyone starts to think you're crazy? You may begin to think you may, in fact, just BE crazy like our hapless protagonist in "Take Shelter" but still you simply couldn't very well ignore the signs that keep coming all around you, could you? Indeed, who on earth wouldn't?
Welcome to Curtis Laford's nightmare.
"Take Shelter" is Jeff Nichols's remarkable new award winnig Independent film that combines "the good life" sought after by everyday, ordinary hard working, blue collar (and God fearing) Rust Belt Christians with the terror of suddenly loosing it all -- even if its more through some only vaguely perceived yet impending, and as ominous as it is unavoidable, Apocalyptic devastation than anything one might actually be able to do something about. We're often told the End Days are on their way by members of this same traditionalist "family values" crowd that has catapulted the former Senator from Central PA, Rick No-Family-Planning-Thank-You-Very-Much Santorum, to the lead (though still not likely) GOP contender for that parties Presidential nomination.
Curtis is played by Michael Shannon who delivers a powerful performance matched exceptionally well by Jessica Chastain who plays Curtis' wife Samantha who is able to convey not only her own shock and horror at her husband's behavior but the deepest kind of love and agony that anyone who has a partner suffering from a severe mental illness must know all too well.
Curtis lives in a stretch of south central Ohio just at the tail end of "Tornado Alley" outside the small town of Elyria. I lived for 25 years myself in the small village of Yellow Springs and witnessed our neighboring town fifteen miles to the West, Xenia, get completely demolished Twice exactly to the day fifteen years apart. Tornadoes are a very real nightmare in that part of our country. Curtis begins to have recurring nightmares of a huge, apocalyptic tempest that would make William Shakespeare's seem tame. A viscous, muddy rain falls from the sky like fresh motor oil as funnel clouds gather purposefully on the horizon. Shadowy, zombielike figures appear at his windows and rattle his doors, and in one especially scary episode his living room furniture rises into the air and comes crashing to the ground, as he and his much beloved deaf and mute young daughter, Hannah, cower against a wall helpless and in absolute God fearing terror.

Are these dreams projections or premonitions?... The ambiguity that is so unbearable to Curtis — the sense that he might be losing his mind and also receiving omens of impending disaster — is crucial to the film's logic.

Curtis is a practical, thoughtful type of guy, and his two-fold response to his bad dreams reflects this aspect of his temperament... Troubled by a family history of mental illness — his mother (Kathy Baker) was institutionalized in her 30s and now lives in an assisted-living center — Curtis checks psychology books out of the library and presents a therapist with a plausible self-diagnosis.

But at the same time, he goes to great expense to expand the storm shelter in his backyard, borrowing heavy equipment from work and a lot of money from the bank. Curtis believes that he is delusional, but he also believes in his visions. At a certain level of realism — assuming, that is, that you interpret "Take Shelter" as a film about a man struggling with a psychological disorder — this is an important insight into a painful paradox of mental illness that rarely shows up in movies. Curtis suspects that he is sick, and is both ashamed of his condition and determined to seek treatment. But at the same time he cannot shake the conviction that his fears have meaning.

He is hardly a wild-eyed prophet on the street corner, screaming that the end is near. His diffidence makes his desperation especially painful, and his increasingly strange behavior is made more unsettling by his generally calm demeanor. Mr. Shannon's taciturn, haunted performance manages to be both heartbreaking and terrifying. You feel sorry for this guy, even as you want to run in the other direction.

In trying to protect himself and his family from whatever it is that he believes is coming, Curtis risks making his fears come true, putting his job, his marriage and his daughter's well-being in jeopardy. And in showing the potential dispossession of a working-class family, Mr. Nichols, without banging a topical drum, points toward a social catastrophe that is all too real.

Is Curtis mad, or is he prescient? You can debate this question when the movie is over — the brilliant final scene invites as much — but you are unlikely to find a comfortable answer. The real question is what difference it makes. Mr. Nichols, who scrutinized a different kind of masculine anxiety in his first film, "Shotgun Stories" (also starring Mr. Shannon), is too smart and too sober a filmmaker for that, and in "Take Shelter" he has made a perfect allegory for a panicky time. There is no shortage of delusion and paranoia out there in the world. There is also a lot to be afraid of. -- The New York Times.
Indeed, It is
"Half Time in America"
and while the economic storm may be gradually easing up another storm is brewing on the horizon with the fundamentalist fervor of Rick Santorum aided by the US Catholic Bishops and
Darrell Issa
against the progressive faithful and secularists alike. But of course we already know that
Rick
doesn't heed God's warnings even when they are plain as day. Let's just hope the smite button only comes into play at the ballot box in November and that Democrats are able to use it against these End Time conservative Republican Dominionists making all that God Fearin' noise now thundering loudly over on the Right.
End Credits / Closing Remarks:
Given that the greater part of our site's purpose here on the Street of Prophets is to provide a place where people who might describe themselves as faithful progressives can come together to explore not only faith but the larger questions that revolve around it and our hopes of impacting the world in a positive, progressive way, I am providing these sometime weekly film reviews (whenever). I thought that submitting reviews of controversial or off-the-beaten-track films that often nudge this kind of thought and discussion might be a plus. I'll be offering this each week on Fridays (as the Spirit moves me) and would happily entertain recommendations for future reviews. Feel free to post comments about the films reviewed here today as well as your own recommendations of films you feel may fall along these lines.
My religion is to seek for truth in life and for life in truth, even knowing that I shall not find them while I live. Miguel de Unamuno