It used to be a given, a basic right of citizenship. These days when you ask that question: Can I Vote? the answer may be:
It Depends.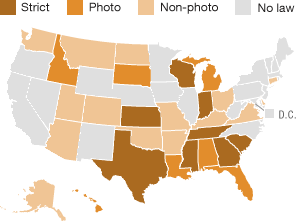 Why New Photo ID Laws Mean Some Won't Vote
by Corey Dade, NPR.org -- Jan 28, 2012

It depends on what state you live in, and how well-prepared you are.

When you go to exercise your civic duty this year, don't be caught unawares.
Don't hear that dreaded answer which will be all too common this year:

"No you may not Vote. Sorry, you should have been better prepared ..."
Here is a site, designed to help you get prepared:

Check to see if you are registered. It's easy.
When people move and records get "updated" sometimes you find out too late, that you thought you we registered to Vote, but turns out YOUR registration record got purged somehow, by some clerk somewhere. Don't be denied your basic American Rights -- verify that you can STILL vote ...
And verify IF your state will STILL let you ... State rules HAVE changed.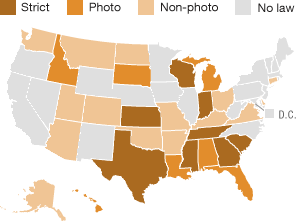 Here is a summary of some of the states with strict new ID policies, regarding who can and who cannot Vote, as conveniently consolidated on that website: canivote.org
Don't be caught unawares. Don't let your friends and family be denied their basic right as citizens, either.
Get informed about YOUR state. Take preemptive action, if needed. Preserve your rights, while you still have the time.
Photo ID Required to Vote

Beginning in 2012, a photo ID is required upon voting before a ballot is issued to voters. The purpose of photo ID is to verify the identity of the voter.
Kansas
ADVANCE VOTING

Voting in Kansas is easier than ever. With advance voting, any registered voter can vote by mail or in person before Election Day.

* Advance voting application
Tennessee
Identification Requirements for First-Time Voters
That Registered by Mail*

ANYONE of the following items:

A current VOTER REGISTRATION CARD
A current TENNESSEE DRIVER'S LICENSE
A PHOTO ID which includes the voter's name and signature
Indiana
Your photo ID must meet 4 criteria to be acceptable for voting purposes. It Must:

1. Display your photo

2. Display your name, and the name must conform to your voter registration record. Conform does not mean identical. Below are examples of names that would conform to "Robert John Crew"

* Robert John Crew
* Robert J. Crew
* Robert Crew
* R. John Crew
* R. J. Crew
* Bob John Crew
* Bob J. Crew
* Bob Crew
* John Crew
* J. Crew

3. Display an expiration date and either be current or have expired sometime after the date of the last General Election (November 2, 2010)

* NOTE: An ID issued by the US Department of Defense, a branch of the uniformed services, the Merchant Marine, or the Indiana National Guard is not required to have an expiration date, or may state that the document has an "Indefinite" expiration date.

4. Be issued by the State of Indiana or the U.S. government

In most cases, an Indiana driver license, Indiana photo ID card, Military ID or U.S. Passport is sufficient.
South Carolina
Voters need to be familiar with the voting day procedures at the polls before they arrive to vote. Voters will be required to show any one of three forms of identification in order to vote:

* Voter registration card

* Driver's license

* Picture identification card issued by the Department of Motor Vehicles

Voters who registered to vote by mail after January 1, 2004, were required to submit a form of identification with the voter registration application, including a copy of a valid photo ID or a copy of a current utility bill, bank statement, paycheck or other government document that shows the voter's name and address in the county. Voters who did not submit a form of ID with the mail-in voter registration application will be required to show an additional form of ID at the polls in addition to their voter registration card.
Georgia
What IDs are acceptable?

* Any valid state or federal government issued photo ID, including a FREE Voter ID Card issued by your county registrar's office or the Georgia Department of Driver Services (DDS)
* A Georgia Driver's License, even if expired
* Valid employee photo ID from any branch, department, agency, or entity of the U.S. Government, Georgia, or any county, municipality, board, authority or other entity of this state
* Valid U.S. passport ID
* Valid U.S. military photo ID
* Valid tribal photo ID


Georgia's Voter Identification Card

If you do not have one of the six acceptable forms of photo ID, the State of Georgia offers a FREE Voter Identification Card. An identification card can be issued at any county registrar's office or Department of Driver Services Office free of charge.
Texas
1. When does the new photo identification law (Senate Bill 14) go into effect?

Subject to U.S. Justice Department approval of a photo identification law passed by the Texas Legislature in 2011, the new photo identification requirements will become effective on January 1, 2012.

2. What kind of identification will be required to qualify to vote in person under the new program?

A voter will be required to show one of the following forms of photo identification at the polling location before the voter will be permitted to cast a vote.

* Texas Driver's License issued by the Department of Public Safety ("DPS")
* Texas Election Identification Certificate issued by DPS;
* Texas Personal Identification Card issued by DPS;
* Texas Concealed Handgun License issued by DPS;
* United States Military Identification Card containing the person's photograph;
* United States Citizenship Certificate containing the person's photograph; or
* United States Passport.

With the exception of the U.S. citizenship certificate, the identification must be current or have expired no more than 60 days before being presented for voter qualification at the polling place.
Michigan
A Guide to Voter Identification at the Polls

Due to a recent court ruling, every Michigan voter must present picture identification at the polls, or sign an affidavit attesting that he or she is not in possession of picture identification.

Prepare for Election Day

Remember to bring an acceptable form of photo identification to the polls on Election Day. If you don't have photo ID you can still vote (see Voting Without Photo ID below).

Your photo ID does not need to have your address on it. In addition, the name on your identification card may be a shorter form of your name. For example, "Bill" for "William" and "Kathy" for "Katherine" are acceptable.

After showing your photo ID to the poll worker and signing the application, you may cast your ballot.

Voting Without Photo ID

If you do not have photo ID, you can still cast a ballot simply by signing an affidavit. The affidavit can be used by:

* Voters who do not have acceptable photo ID
* Voters who have photo ID but didn't bring it to the polls

Once you sign the affidavit, you may cast your ballot. It will be counted with all other ballots on Election Day.

Getting a State ID Card

If you do not have a driver's license or other acceptable photo identification, you can get a state identification card at your local Secretary of State branch office for $10.
Notice to All Voters -- (R.C. 3503.28(A)(6))

"Voters must bring identification to the polls in order to verify identity.

Identification may include

-- a current and valid photo identification;

-- a military identification, or

-- a copy of a current utility bill, bank statement, government check, paycheck, or other government document, other than a notice of election or a voter registration notification sent by a board of elections, that shows the voter's name and current address.

Voters who do not provide one of these documents will still be able to vote by providing the last four digits of the voter's social security number and by casting a provisional ballot.

Voters who do not have any of these forms of identification, including a social security number, will still be able to vote by signing an affirmation swearing to the voter's identity under penalty of election falsification and by casting a provisional ballot."
Florida
At the polls, you will be asked to provide a valid picture identification with signature. The following photo ids will be accepted:

* Florida driver's license
* Florida identification card issued by the Department of Highway Safety and Motor Vehicles
* United States passport
* Debit or credit card
* Military identification
* Student identification
* Retirement center identification
* Neighborhood association identification
* Public assistance identification.

If your photo identification does not contain your signature, you will be asked to provide an additional identification that includes a signature.
And if
you're already set
with you photo id and have VERIFIED your valid current Registration, why not consider ...
Why not consider being a poll worker? Every state needs volunteers to help on Election Day, and in most states you get paid for working. Select your state, city, or county from the drop down menu below to find out how to sign up.
canivote.org

Remember democracy is a people-driven process. But more and more it's becoming a Court-driven and Legislatively-driven obstacle course too, sad to say.
People should not simply assume our rights will always just be there ... because the more we assume, the less they actually are ...



Remember: can i vote . org Make a link.