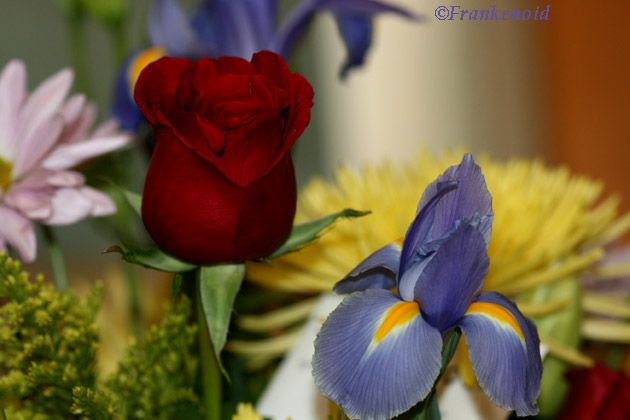 Good morning, and yeah, it's February. Welcome to Saturday Morning Garden Blogging.
After staring the year with warmer than normal temperatures, here in mid-February Denver has done a flip into cooler than normal weather.
We're running 10° or so too cool during the day — highs have been hovering in the mid-to-upper 30s. Overnight lows, however, have stayed close to the normal lows in the upper teens.
We've also had quite a bit of cloud cover which, combined with the cool temperatures, means that the melting out process has been slower than usual. I do have some bare ground in the southern-exposure front beds (although there also are still some heaps of snow). In the back yard — oy. The drifts are still deep and I think the snow will likely remain until mid-March, the usual time we lose the snow cover.
But I do see the foliage of spring bulbs in the bare patches of soil; and the Valentine's flowers from the Mister brighten the kitchen.

Despite the less-than-promising weather I did get around to starting the first batch of seeds on Wednesday — right on time, right smack dab in the middle of February.
As I sorted through the seed packages, picking out what needed to be started now, what needs to wait a few weeks, and what seeds to send off to Dr. Erich Bloodaxe because I'll either never use them, or I have too many of them, I got to thinking about seed viability.
My garden is small so I rarely use the entirety of a pack of seeds in one year; heck, a pack of tomato seeds will usually last me for 3 or 4 years. But I've also never had much problem with saving partial packets from year to year. I really don't do anything special. I store my seeds in a little set of plastic drawers which is stuffed into the Hoosier in the back of the kitchen. Yeah, it stays dark and fairly cool in there; and as our climate is so arid excess moisture isn't a problem. But really — shove them in a cupboard is my method.
Some packets of seeds will have a "use by" estimate of viability — usually just a year or two. In my opinion, though, it's in the seed companies' interest to understate just how long seeds will keep. If they can convince us to throw out seeds after a year or two, we'll buy more seeds.
Or it may be that they just don't fucking know how long seeds will remain viable.
In 1879, Dr. W.J. Beal of Michigan State University started a seed viability experiment. He buried 20 bottles of seeds from common plants, planning to use a bottle every 5 years to test viability. In 1920, a successor to Dr. Beal decided to extend the experiment, testing a bottle of seeds every 10 years. In 1980, as some of the 100 year old seeds were still viable, the length of time between tests was extended to 20 years. At the 120 year mark in 2000, seeds from moth mullein were still viable, grew and flowered.
So if you think seeds may be "too old", you're likely wrong. "Diminished viability" may mean that 90%, rather than 95%, of the seeds grow. You can test viability by wrapping a few seeds in damp paper towels, shoving them in a plastic bag and keeping them warm to see if they germinate. Or just do what I do: assume the germination rate may be diminished, so I plant a few extra seeds — they can always be thinned out, and it's better than throwing out most of a pack of seeds.
That's what's happening here. What's going on in you garden?