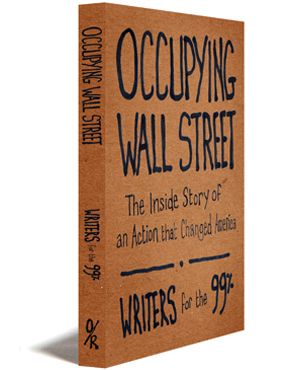 Via Good.is

It's probably no accident that the minimalist brown cover of Occupying Wall Street, the new title from OR Books about the now world-famous Manhattan movement, resembles the posters that, for a few months in 2011, came to define Zuccotti Park's skyline. The title and subtitle—"The Inside Story of an Action that Changed America"—are written in black scrawl, adding extra authenticity to the stylization. It's not just a book you're holding, a reader soon realizes, it's also a mini-protest sign.
The idea of taking a movement that has existed in real time, and mostly benefited from the immediacy of new media - particularly Ustream and Youtube - and placing into "Old Media" like a hardbound book may strike one as somewhat like eschewing a Jet Plane for a Bicycle. But then again, who says you can't use a bicycle to get to the jetway? The Wright Brothers did originally make bicycles before they even dreamed of flying.
To all things, there is a time and a place.
As I've previous blogged, one of the best reports I've seen on Occupy by any media what so ever was the one presented by Current Tv's Vanguard where one of their reporters Christof Putzel embedded within Occupy and actually lived in Zucotti Park along side the other Occupiers for weeks.
As Occupy exists as far from any one thing, any one story, any one person and any single event, so to does this book - written by the "Writers for the 99%" - come from many different persons, and many different perspectives.
But that doesn't mean that it is disjointed and lacking in focus. Far from it.

Though Occupying's author is a collective of roughly 60 unnamed people calling themselves "Writers for the 99%," the book is not a disjointed assortment of individual essays. Rather, and perhaps surprisingly, it acts as a concise historical account that sheds light on the varied and interesting minutia of OWS, covering everything from the guidelines of the General Assembly to the infamous Brooklyn Bridge protest to the drama created by class and racial tensions within the movement. So thorough is Occupying that even the thousands of people who lived in Zuccotti's tent city themselves last year could probably learn something about the inner workings of the mass they once helped compose, or reinvigorate the fire that brought them there in the first place.
I'm sure there are many stories to be told from within and without Occupy about it's influence on individuals and it's dramatic influence on our political landscape. In just a few months we've gone from reflexively genuflecting to the austerity demanded by the Tea Party to the very first steps in beginning to seriously investigate and Prosecute Wall Street Fraud.
We've gone from talking about the Ryan Plan to turn Medicare into "Health Care Stamps" to buy expensive privatized insurance to fighting it out over equal access to contraception for women and #winning the argument with a compromise that satisfies both the health concerns of women and the objections of religion-based employers.
The world as literally shifted beneath our feet since OWS began. We live in a new world of possibility and progress that many of us had despaired was no longer possible.
But it is possible. It is, slowly, painfully, with fits and false-starts, beginning to get better.
No longer are we forced to listen only to the one-handed self-congradulator clap of the Tea Party... now there are other voices on the stage. Loud ones. Even without applification.
Now the words Mic Check, do strike fear into the cowardly blackened hearts of the money mangling 0.1% everywhere. Particularly 0.1%ers like Willard Mittence Romney.
Now things are different. And how else to immortalize that fact, than with a hardcover - paper and pulp.

What Occupying ultimately provides is an unprecedented look back at this generation's most notable movement. At its best, it sheds light on the diversity of faces, stories, and voices that composed OWS, and it immortalizes the protests in a way nothing has yet. "You can't evict an idea," was an OWS battle call. And Occupying Wall Street is full of great ideas.
I don't know if the book is any good, even though this review seems rather glowing. I don't know if it might further enlighten those about the movement who are already interested and involved - but apparently - all proceeds from sales of this book go to continued support of the 99%, and their efforts to focus on Wall Street and help bring their crimes to Justice.
That alone seems to me to be a worthwhile goal.
Vyan