Netroots for the Troops needs diary writers for this week's fundraising blogathon - especially today and tomorrow. I wanted to help get out the word and spent a good chunk of time trying to decide how to approach writing this diary. Keep it light? Brief and impersonal? Lots of pooties, spin some tunes?
Now I love pooties and good music. But the heart of why I do anything for NFTT is always this - a PTSD disabled Viet Vet I call True Heart. The look on his face when war came for a younger generation. The worry and grief he's carried ever since we invaded Afghanistan and Iraq. I wrote about him last year. With some changes, I've decided to share True Heart with you again. I hope you don't mind.
This morning he woke up again on the couch, as he always does. He hasn't spent the night in our bed, my bed, in a long time. It took the wise words of our god-daughter, someone who works with Veterans, to explain why. You see, he's still on guard. He's still protecting those he cares for from harm. The door to the house, to the outside world, is vulnerable to forces beyond his control.
It's a thin barrier. Just like the jungle canopy rising alongside the Perfume River in Vietnam. That wall of green couldn't stop the bullets or grenades that came streaking out towards his boats, his men. They were always his first priority.
He was their "old man on the river." They were getting off the planes in Nam, younger and younger. "Babies", he called them. Too young for what waited for them, as if age was any shield. They were why he signed up for a second tour. They were why he had to be escorted to the plane that would finally take him home when that tour ended. He wouldn't, couldn't, leave them behind.
He never has. They are why he sleeps on the couch. He'll never leave those he cares for defenseless again.
He is why I do what I can for Netroots for the Troops. I see him in the faces of our young men and women serving in Afghanistan. I see their future, one we hope to change. They deserve better than what True Heart has known. There were no care packages for him. There was no welcoming home. There was no understanding of the forever cost of war born by those who survive it.
This is the personal that shapes the political. So I write in honor of my "True Heart," a name I gave him years ago. He writes poetry. About Nam of course. But also about the children and grand babies, the way wood feels beneath his hands as he turns it into a pen, a wine stopper, a bowl, or a wind chime. He writes about Canyon Country in Utah and riding the river past stone walls millions of years old. He doesn't write about the song birds returning in the spring after a long, snow silenced, winter. He can't hear them singing up the day anymore. Nam took that as well.
The children and grand babies, the willow tree in the yard, the grain and color of wood, the stories of stone and water, are what keep him here. They pull him back from Nam again and again. Until sleep comes.
Right now there are soldiers serving in Afghanistan who are there because they won't leave their brothers and sisters in arms behind. Decades from now, someone will write about how they never did. How they sleep on the couch, guarding those they care for.
We can give them something easy and simple to share. Just some packages that let them know they aren't alone. Just some caring that might help them sleep a little better. Just a reminder, that danger isn't always on the other side of the door.
That is the most important thing we wrap inside each care package.
Will you please help?
Netroots For The Troops Blogathon: February 20-24, 2012
---
Netroots For The Troops® is holding a blogathon this week to raise funds to send Care Packages to our soldiers stationed overseas. For the first time this year, we will also be sending Care Packages domestically to troops rehabilitating at Veterans Administration Hospitals around the country.
We are asking all of you to support our efforts and to also make a contribution for this worthwhile cause.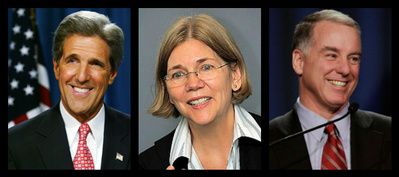 We are honored and delighted that Senator John Kerry (D-MA); Democratic Candidate for the United States Senate from Massachusetts, Ms. Elizabeth Warren; and former Governor Howard Dean (D-VT) will be joining us through this week. Many Kossacks will also be contributing their thoughts, ideas, and support during the week.
Over the years, many soldiers have sent letters to express their appreciation for these Care Packages and even posted thanks at Daily Kos

It was in the middle six months of my assignment in Afghanistan that the packages started arriving. I received an array of things from them… letters, candy, toothpaste, floss, baby wipes, razors, food, socks, books, dvd's. The list could go on and on. It was amazing. Netroots for the Troops was always there... The packages were a reminder that our country knows about our fight. Every day, because of their support, I knew that if it was going to be my last day, I would be remembered and I would be honored.

Please make a donation HERE. Thank you from the entire 2012 NFTT Team.
Netroots For The Troops® is a project of Netroots for the Troops, Inc., a Virginia non-profit corporation. The organization raises money for the assembly, mailing and delivery of Care Packages to American military in war zones and to provide assistance to military families in the United States. Netroots For The Troops, Inc. is a 501(c)3 tax-exempt organization.