Netroots For The Troops® is holding a blogathon this week, Feb. 20-24, to raise funds to send Care Packages to soldiers overseas and, this year for the first time, we are also sending Care Packages domestically to VA hospitals.


Please join Sen. Kerry, Gov. Dean, Elizabeth Warren and many kossacks as we blog to give our gift of support to our soldiers at home and overseas.
My wife's cousin, I'll call her "Mary", followed her father into the military. She did a couple of tours in Iraq then came home to help out with the family tomato farm in southern Indiana. Her father had developed a condition similar to but worse than Parkinson's Disease and was no longer able to run the farm. Since Mary had gone to college to be a farmer, this was where she was meant to be.
Then she got the call. She was being called up from the reserves to do yet another tour. Her mother had recently had a terrible fall that injured her ankle and limited her mobility. Her father needed to be assisted in everything that he did including showering, eating, and using the toilet. So Mary put in for a hardship discharge so that she could continue to help her parents and keep the farm going.
She was denied.
(Continue reading below the fold)
While she was in Iraq this time around, I made sure to send her emails and even a CARE package because I wanted to let her know that I still thought about her a lot and cared about her more. It was pretty much all I could do.
When she came home, Mary was angry. She attended funerals of more than one of her war friends, dead from suicide. She spent time with other military veterans because, in her words, they were the only ones who understood what she had gone through and what she was going through.
I once made a comment to her that we weren't at war WITH Iraq, we were in war IN Iraq and that we weren't really at war, by definition, since there was no specific enemy. This was a huge mistake and she lashed out at me sharply. "You don't think it's war?" she flared. "You don't know anything. You don't understand. Nobody understands."
Mary is living in a cabin in northern Montana now. She's getting treatment for PTSD and the trauma she went through, but, as you might imagine, her family is terribly worried about her.
It's for Mary that I volunteer for Netroots for the Troops. I may never understand what these brave men and women have gone through and are going through but I can surely help a few of them know that I am thinking about them and care about them and want to understand.
---
Last year, in addition to raising nearly $1,500 at Eclectablog for the effort, I was the Chief
Cat
Pootie Herder for Netroots for the Nation, organizing the volunteers that assembled the boxes.
Here's a video I shot during the assembly:
As I wrote in my recap diary last year, "It takes 364 days and 23 and half hours to get ready for this event and 33 minutes to make it happen." You can be part of that 364 day, 23 and half hour effort that culminates in that 33 minute session of organized chaos as we assemble the CARE package.
Please consider making a donation, no matter how small. Because pooties and woozles, as you well know, need to be kept busy. If we don't keep them busy, they get into trouble.
This is what happened last year when I wasn't paying attention. We almost lost TexDem to the evil Darth Billy (Bill from Portland Maine):
Netroots For The Troops Blogathon: February 20-24, 2012
---
Netroots For The Troops® is holding a blogathon this week to raise funds to send Care Packages to our soldiers stationed overseas. For the first time this year, we will also be sending Care Packages domestically to troops rehabilitating at Veterans Administration Hospitals around the country.
We are asking all of you to support our efforts and to also make a contribution for this worthwhile cause.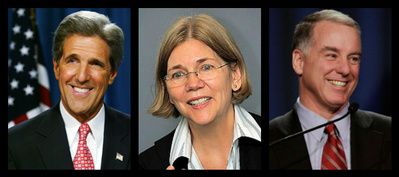 We are honored and delighted that Senator John Kerry (D-MA); Democratic Candidate for the United States Senate from Massachusetts, Ms. Elizabeth Warren; and former Governor Howard Dean (D-VT) will be joining us through this week. Many Kossacks will also be contributing their thoughts, ideas, and support during the week.
Over the years, many soldiers have sent letters to express their appreciation for these Care Packages and even posted thanks at Daily Kos

It was in the middle six months of my assignment in Afghanistan that the packages started arriving. I received an array of things from them… letters, candy, toothpaste, floss, baby wipes, razors, food, socks, books, dvd's. The list could go on and on. It was amazing. Netroots for the Troops was always there... The packages were a reminder that our country knows about our fight. Every day, because of their support, I knew that if it was going to be my last day, I would be remembered and I would be honored.

Please make a donation HERE. Thank you from the entire 2012 NFTT Team.

Netroots For The Troops® is a project of Netroots for the Troops, Inc., a Virginia non-profit corporation. The organization raises money for the assembly, mailing and delivery of Care Packages to American military in war zones and to provide assistance to military families in the United States. Netroots For The Troops, Inc. is a 501(c)3 tax-exempt organization.
P.S. - Last year during Netroots Nation 2011, I had this Twitter exchange with some conservative. As you know, the conservative "Right Online" conference follows Netroots Nation around like a lost puppy, having their conference each year in the same time and place as ours. Enjoy.
If #ro11 is going to follow #NN11 around the USA, at least match our 300+ CARE pkgs going to troops overseas. #NFTT
I received a response back from a conservative named @matthewhurtt:
Statistically conservatives give way more money to charity than liberals.
My response? The only one possible:
Our troops aren't "charity".