Monday afternoon once again here in Possum Valley and the time has arrived for science talk. New discoveries, new takes on old knowledge, and other bits of news are all available for the perusing in today's information world. Over the fold are selections from the past week from a few of the many excellent science news sites around the world. Today's tidbits include flu prevention may be on the horizon with 'universal' vaccines, magnetized yeast, oxygen detected in atmosphere of Saturn's moon Dione, dark matter defies explanation in Hubble image, evidence of prehistoric hunting in what is now Ohio, two new extinct camel species discovered at Panama canal excavation, and unexpected crustacean diversity in northern freshwater ecosystems. Pull up that comfy chair and grab a spot near the window. There is always plenty of room for everyone. Another session of Dr. Possum's science education, entertainment, and potluck discussion is set to begin.
Featured Stories
A new class of 'universal' vaccines offers the potential for widespread flu prevention.
Current flu vaccines are produced to counter the influenza strains that the World Health Organization predicts will dominate a particular flu season. Inoculation typically focuses on protecting people who are vulnerable to the virus. However, this approach does not provide long-term or widespread immunity, (researcher) Arinaminpathy said. The flu virus is always evolving, and so vaccines need to be updated each year.

The reason is that these vaccines zero in on hemagglutinin (HA), proteins protruding from the virus' surface that allow it to attach to and invade host cells. Small mutations in these highly adaptive appendages can create new versions of the virus that often are invulnerable to the vaccine designed for their former selves, a tactic known as "immune escape."

Universal vaccines instead bypass the protruding HA surface to target more constant proteins with less evolutionary flair, Arinaminpathy said. Because HAs are still active, the virus may still infect people, but it cannot wreak the same havoc.
The amazing world of cell biology expanded a bit with news of the
induction of magnetism
into an organism that is not ordinarily magnetic, yeast.
Magnetic fields are everywhere, but few organisms can sense them. Those that do, such as birds and butterflies, use magnetic sensitivity as a kind of natural global positioning system to guide them along migratory routes. How these few magnetically aware organisms gain their magnetism remains one of biology's unsolved mysteries.

(snip)

The presence of iron can cause magnetism, but most cells, if exposed to this common metal, hide it away in sealed-off cavities where it cannot have an effect. Silver and Nishida were able to block expression of the protein that causes the iron sequestration, allowing the iron to circulate freely throughout the yeast cell. In this way, they created enough magnetic sensitivity in the cell to cause it to migrate toward an external magnet.

The researchers also found a gene that correlates with magnetism by instructing the production of a critical protein that can dial up magnetism. They then enhanced the magnetic sensitivity even further through interaction with a second protein that regulates cell metabolism. Since the same metabolic protein functions similarly in cells ranging from simple yeast to more advanced -- even human -- cells, the new method could potentially be applied to a much wider range of organisms.
Dione
is one of 62 known moons circling the ringed planet, Saturn.
Dione—discovered in 1684 by astronomer Giovanni Cassini (after whom the spacecraft was named)—orbits Saturn at roughly the same distance as our own moon orbits Earth. The tiny moon is a mere 700 miles wide and appears to be a thick, pockmarked layer of water ice surrounding a smaller rock core. As it orbits Saturn every 2.7 days, Dione is bombarded by charged particles (ions) emanating from Saturn's very strong magnetosphere. These ions slam into the surface of Dione, displacing molecular oxygen ions into Dione's thin atmosphere through a process called sputtering.

Molecular oxygen ions are then stripped from Dione's exosphere by Saturn's strong magnetosphere.

A sensor aboard the Cassini spacecraft called the Cassini Plasma Spectrometer (CAPS) detected the oxygen ions in Dione's wake during a flyby of the moon in 2010.
Dark matter
is expected to behave in prescribed ways but a new discovery tests that thinking.
Astronomers observed what appeared to be a clump of dark matter left behind during a bizarre wreck between massive clusters of galaxies.

The dark matter collected into a "dark core" containing far fewer galaxies than would be expected if the dark matter and galaxies hung together. Most of the galaxies apparently have sailed far away from the collision. This result could present a challenge to basic theories of dark matter, which predict that galaxies should be anchored to the invisible substance, even during the shock of a collision.

The initial observations, made in 2007, were so unusual that astronomers shrugged them off as unreal, due to poor data. However, new results from NASA's Hubble Space Telescope confirm that dark matter and galaxies parted ways in the gigantic merging galaxy cluster called Abell 520, located 2.4 billion light-years away.

Now, astronomers are left with the challenge of trying to explain dark matter's seemingly oddball behavior in this cluster.
An Ice Age sloth (a species which disappeared about 10,000 years ago) bears
the marks of hunters near the end of the last Ice Age
.
A series of 41 incisions appear on the animal's left femur. Radiocarbon dating of the femur bone estimates its age to be between 13,435 to 13,738 years old. Microscopic analyses of the cut marks revealed that stone tools made the marks. The pattern and location of the distinct incisions indicate the filleting of leg muscles. No traces of the use of modern, metal cutting tools were found, so the marks are not the result of damage incurred during their unearthing. Instead, the morphology of the marks reveals that they were made by sharp-edged stone flakes or blades.
The discovery of remains from
two extinct camel species
may allow better understanding of the history of the tropics.
Researchers described two species of ancient camels that are also the oldest mammals found in Panama: Aguascalietia panamaensis and Aguascalientia minuta. Distinguished from each other mainly by their size, the camels belong to an evolutionary branch of the camel family separate from the one that gave rise to modern camels based on different proportions of teeth and elongated jaws.

(snip)

The study shows that despite Central America's close proximity to South America, there was no connection between continents because mammals in the area 20 million years ago all had North American origins. The Isthmus of Panama formed about 15 million years later and the fauna crossed to South America 2.5 to 3 million years ago.
Traditional thinking limited the number of
freshwater crustacean species
in northern regions to far too small a number as new research shows.
The researchers scoured the globe seeking the creatures (water fleas) and found them inhabiting northern lakes and ponds in locations from Alaska to Russia to Scandinavia.

After analyzing the anatomy and genetic makeup of many different specimens, the team conclusively determined that at least 10 species of the crustaceans existed -- five times as many as thought for much of the last century.

More than half the diversity was found in northern latitudes, where rapid freshwater habitat loss is occurring due to melting permafrost, increased evaporation and other changes tied to climate change.
Other Worthy Stories of the Week
Costa Rican volcano stirs after 14 years
Pulsars: The universe's gift to physics
Giant prehisoric penguins stood nearly five feet tall
IBM busts record for 'superconducting' quantum computer
Preview of a forthcoming supernova
Tigers threatened by human destruction of groundcover
World's smallest radio station: Two molecules communicate via single photons
Lake Chad inhabitants adapt to lower water levels
New procedure to improve safety, efficiency of nanoparticles
Ancient Arabic writings help scientists piece together past climate
Ten years of gorgeous images of Earth from space Pictures, pictures.
Ocean acidification to hit 300-million-year maximum
New model provides different take on planetary accretion
Young stars flicker among clouds of gas and dust
Mystery of the nanoscale crop circles solved
Helping protect birds at risk from climate change
Brain more flexible, trainable than previously thought
Study finds thickest parts of Arctic ice pack melting fastest
Pasta shaped radio waves beamed across Venice
NASA finds sea ice decline driving rise in Arctic air pollutants
Evidence suggests Neanderthals took to boats before modern humans
For even more science news:
General Science Collectors:
Alpha-Galileo
BBC News Science and Environment
Eureka Science News
LiveScience
New Scientist
PhysOrg.com
SciDev.net
Science/AAAS
Science Alert
Science Centric
Science Daily
Scientific American
Space Daily
Blogs:
A Few Things Ill Considered Techie and Science News
Cantauri Dreams space exploration
Coctail Party Physics Physics with a twist.
Deep Sea News marine biology
Laelaps more vertebrate paleontology
List of Geoscience Blogs
ScienceBlogs
Space Review
Techonology Review
Tetrapod Zoologyvertebrate paleontology
Science Insider
Scientific Blogging.
Space.com
Wired News
Science RSS Feed: Medworm
The Skeptics Guide to the Universe--a combination of hard science and debunking crap
At Daily Kos:
This Week in Science by DarkSyde
Overnight News Digest:Science Saturday by Neon Vincent. OND tech Thursday by rfall.
Pique the Geek by Translator Sunday evenings about 9 Eastern time
All diaries with the DK GreenRoots Tag.
All diaries with the eKos Tag
A More Ancient World by matching mole
Astro Kos
SciTech at Dkos.
Sunday Science Videos by palantir
NASA picture of the day. For more see the NASA image gallery or the Astronomy Picture of the Day Archive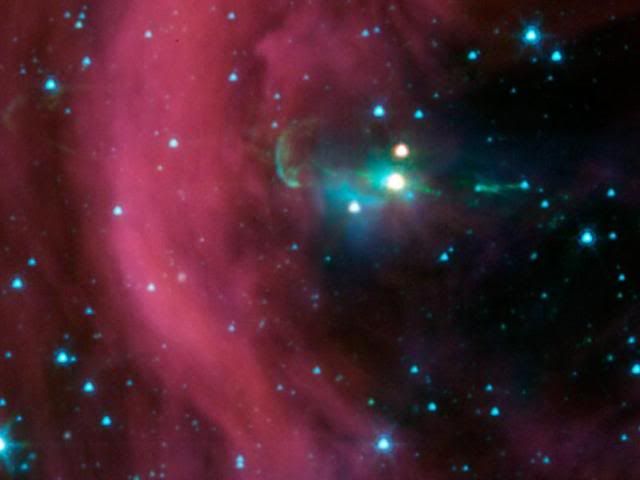 Baby star spouts twin jets, Spitzer image, NASA, Public Domain