Hey 'Everyone' says he, the limbaugh, is the top dog as to the present day tepublicans.
Nobody will cross him especially party politicians, they choose their words very carefully.
Why until they officially anoint a political face to lead, through these really messed up already primaries, can't even count votes, and never mentioning the 'bush', he's the one.
A chubby radio talking head, holds all the power, for a couple of hours a day.
While his legions carry out their daily parroting duties, including I'm sure some women within those ranks.
And just think of what has been growing, from his many years of, as to the first part of this month, pointed directly at All women, and started because of the cult like politics of some!!
Lets take a look at just a very small but always there group of dedicated Women, examples of all and brought to us via the Department of Defense.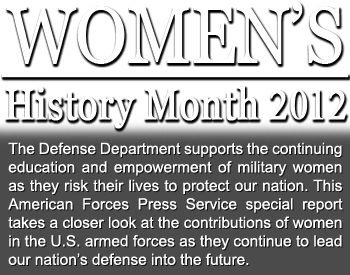 Women's History Month 2012
WASHINGTON, March 6, 2012 - The latest American Forces Press Service special report focuses on Women's History Month 2012
If you visit the site you'll find reports like these:
Top Stories


Air Force Women Trace History to World War II

Two women's aviation units--The Women's Auxiliary Ferrying Squadron and the Women's Airforce Service Pilots -- were formed in 1942 to meet the growing demand for combat pilots during World War II. More than 1,000 women participated in these programs as civilians attached to the U.S. Army Air Corps, flying 60 million miles of non-combat military missions.

Military Expands Career Paths for Women

Military women, particularly soldiers, will see more than 14,000 new job or assignment opportunities because of policy changes the Defense Department announced today. Story
There is plenty more reports like above as well as a number of other links to follow, as well as a couple of short documentaries like this one:
Part two and three links can be found at the site.
You can also view a slide show of the present day Women Soldiers:
Department of Defense Photo Essay
Female Engagement Teams Help Afghan Women
And Women Veterans, and I'm sure many still on active duty, have joined many in the country as to grassroots petition drives related to the growing war on them and their sisters:
Sign our petition to the Pentagon on Rush Limbaugh
VoteVets - 6 March 2012 - Rush Limbaugh's recent statement that women who use birth control are "sluts" and "prostitutes," are outrageous, and undermine the respect that all troops – men and women – must have for each other. Sign our petition calling for the American Forces Network to stop broadcasting him: Read More and Sign On
Celebrate the Month with All Women and their long continuing battles!
The battles with those that continue crying for less government intervention in personal lives while demanding that certain sectors within be controlled through government intervention and adding heavy cost to do so!