Investigation: Just Who is Behind Voter ID?
Why would they (ALEC) be writing OUR Laws?

A bill introduced in Nebraska is part of a national trend to require voters to show ID to vote.
Action 3 News, Feb. 24, 2012
Action News Reporter: Liz Dorland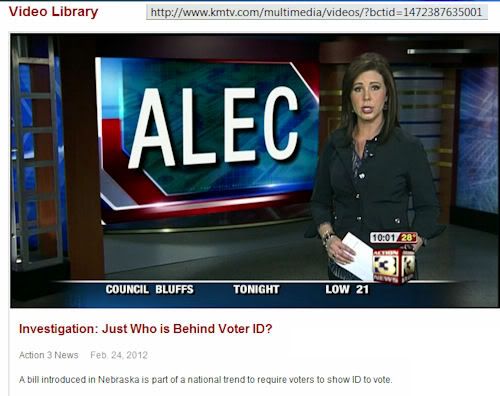 Link to Video Report

partial transcript:
We're told we need changes own voting laws to make sure nobody cheats on election day. But not only is there no proof of a Voter Fraud problem in either state [NE, IA], there is proof that lawmakers writing both those Laws, are not telling you something important about a group called ALEC.
Nebraska state Senator Charlie Janssen goes on to
deny any connection
to ALEC in the Voter ID bill. Even though he is a Member of ALEC. Even though the bill he submitted is a near perfect copy to the ALEC Boilerplate template for this issue.
... Later Janssen admits he copied the bill from the Indiana Voter ID bill, which Liz Dorland shows was identical to the ALEC Template, except for 2 minor edits.
Even the chief official in charge of Nebraska Elections says

"There's no real problem here. We've had an aggressive Voter Fraud Unit already. Very few people ever try to cheat here."


In fact there is very little proof of any serious Voter Fraud anywhere, but so far 31 states have jump on the Voter ID bandwagon. Iowa is headed there too, with little proof of cheating. Many Democrats say it's really all about this man [Barack Obama at podium]. That Voter ID rules will probably keep a lot of young and poor from voting. Both groups big Obama-backer last round.

Opponents say that this secretive group of powerful conservatives comes in [ALEC]. ...


The watchdog group [Center for Media and Democracy -- who publish ALEC Exposed.org] says that

Almost every Voter ID Law in the nation, shares common elements to a Template provided by American Legislative Exchange Council, or ALEC for short. ...


The watchdog group says that ALEC is writing many of the 'hot bills', that the lawmakers claim as their own.

Brendan Fischer, with Center for Media and Democracy, says:


"This think tank essentially hands state legislatures changes, to our laws that they desire."
Reporter, Liz Dorland goes on to show how the Voter ID Legislation in Nebraska, Iowa, Indiana,
are all nearly identical to the ALEC Template
--
Sixty Minutes style
.

Investigative reporter Liz Dorland provides links for her research on the KMTV website
Iowa's Voter Id Bill can be found here: http://coolice.legis.state.ia.us/...


Click on this link to find Nebraska's Voter Id Bill: http://www.nebraskalegislature.gov/...


Indiana's Voter Id Bill: http://www.in.gov/...


ALEC Exposed: http://alecexposed.org/...


ALEC Voter ID Act Template: http://alecexposed.org/...


American Legislative Exchange Council: http://www.alec.org/


Reported By: Liz Dorland, ldorland@action3news.com
If you appreciate Local Media Reporters who do hard hitting stories like this -- then let someone know ...
KMTV

* 10714 Mockingbird Drive
Omaha, Nebraska 68127
* 402-592-3333

CBS Audience Feedback

* Phone: 212-975-3247
* Email: audsvcs@cbs.com

Liz Dorland, ldorland@action3news.com
Maybe they'll keep at it. Goodness knows we need more of this kind of reporting, at the local and national levels.
Enough of the Clown Cars and Political Horse-race stories already. At least not 24/7.

Reporters really need to stop just "mailing-it-in" -- their craft and trade, that is.
Reporter Dorland shows how it's supposed to be done. Bravo! And many thanks.