The Omaha City Council has voted 4-3 to extend anti-discrimination protections to lesbian, gay, bisexual and transgender people.

The proposal, put forward by Councilman Ben Gray, would apply to employers, employment agencies, job training programs, labor groups, public accommodations and businesses that contract with the city. It also would provide exemptions for religious organizations.
In October of 2010 the City Council voted down a similar ordinance 3-3, with Councilman Franklin Thompson abstaining. Thompson's vote was seen as critical, but he voted against the measure this time. Councilman Gary Gernandt, however, switched his vote to "Yes".
The measure adds the phrases "sexual orientation" and "gender identity" to the list of protected classes.
Results of a survey were published yesterday. Commissioned by Equality Omaha, the poll found that

Sixty-eight percent of voters in councilman Garry Gernandt's South Omaha District 4 favor the discrimination protections, while 19 percent are opposed.
Now the poll also found that 61% of Thompson's constituents favored the new ordinance, with 29% opposed, so we can't necessarily believe the votes were poll-driven.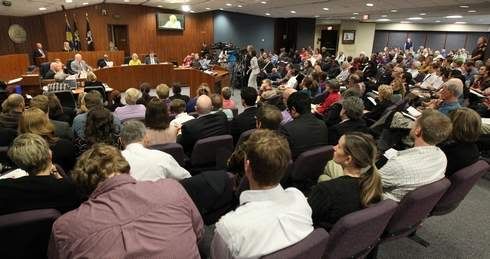 The World Herald has more on the story.

We are all part of the human race.

--Garry Gerandt
Thompson expressed concern about the definition of "gender identity" as being
the actual or perceived appearance, expression, identity or behavior of a person as being male or female, whether or not that appearance, expression, identity or behavior is different from that traditionally associated with the person's designated sex at birth.
He sought for a time to amend the motion to eliminate protections for transpeople.
I applaud the City Council for their actions today and I look forward to signing this ordinance into law. I want to thank Councilman Ben Gray for his dedication and leadership in bringing this action forward, not once but twice, and for working with community leaders and his colleagues on the council to find consensus for a final ordinance.

--Mayor Jim Suttle