Okay, so everybody knows who Itzl is, right? If not go immediately to Noddy's page and bring yourself up to speed.
I don't know about you all, but the never ending efforts of our fellow Kossacks to name that orange squiggle thing that divides our posts have gotten painful to read. In my never ending quest to relieve suffering whenever and where ever I can I submitted the idea of naming it 'The Itzl'. I was replying to a comment in Noddy's latest post by Dave Kronig II that suggested we make Itzl our official DKos mascot(which ain't a bad idea either).
I do have Noddy's permission to do this. She said:
I'm not sure how I feel about naming the orange squiggle after Itzl, but I don't object to it. snip If it will make people happy, I'm willing to support it.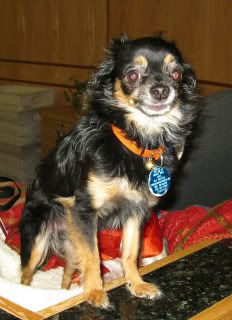 Note the orange collar, just sayin...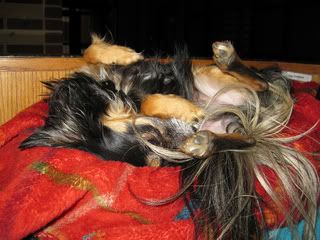 Also too, does this photo of Itzl relaxing on Noddy's desk not resemble the aforementioned item? I rest my case.
Please respond with your vote in the following poll: