The Catholic Church, through the United States Conference of Bishops, is publicly screaming about alleged violations of its religious freedom, caused by the Affordable Care Act's requirement that all employers provide comprehensive medical insurance to their employees, including coverage for reproductive health care.
The provision of health care should not demand "giving up" religious liberty. Liberty of religion is more than freedom of worship. Freedom of worship was guaranteed in the Constitution of the former Soviet Union. You could go to church, if you could find one. The church, however, could do nothing except conduct religious rites in places of worship-no schools, religious publications, health care institutions, organized charity, ministry for justice and the works of mercy that flow naturally from a living faith. All of these were co-opted by the government. We fought a long cold war to defeat that vision of society.
Francis Cardinal George, Catholic World News, Archdioses of Chicago
"It is a freedom of religion battle," [Cardinal Timothy Dolan] said. "It is not about contraception. It is not about women's health." He added: "We're talking about an unwarranted, unprecedented, radical intrusion" into "a church's ability to teach, serve and sanctify on its own."

The cardinal mocked a secular culture that "seems to discover new rights every day."

"Now we hear there's a right to sterilization, abortion and chemical contraceptives. I suppose there might be a doctor who would say to a man who's suffering some type of sexual dysfunction, 'You ought to visit a prostitute to help you.' "

[snip]

After the speech, a nun from Amityville, N.Y., Sister Kay McCarthy, called the cardinal an inspiration. "He has upheld the principles of religious freedom not only to us as a Catholic church, but to the American people," she said.
When the most of the public envisions a "Catholic institution", they likely think of the Catholic Church's religious houses staffed by devout followers of the faith.
If they expand their view to include Catholic health care facilities, they think of small, community hospitals which have existed for a century or more, where habited nuns provide nursing services.
What they likely don't envision are large Catholic-controlled "health care systems" that have taken over secular hospitals, imposing by economic fiat Catholic restrictions on health care services provided by institutions which are not Catholic but are, instead, secular hospitals who have become "affiliated" economically with separate Catholic-owned hospitals Despite their grand rhetoric about "respect" for the individual, these Catholic affiliated hospitals are "imposing unwarranted, unprecedented, radical intrusions" upon hundreds of thousands of nurses and physicians, taking from them ability to treat their patients as their training and medical judgment instructs them, and an "unwarranted, unprecedented, radical intrusion" into their patients' self-determination and bodily integrity in the medical treatment they received.
Freedom of religion shouldn't be just for the Catholic Church; it should also guarantee freedom from religion for the rest of us.
For the last decade and a half, the Catholic Church has been working to take over secular health care facilities across the country, including here in Denver. Because of my employment by a Denver litigator involved in the ongoing saga of Exempla Healthcare, I've learned more about Catholic health care than any lapsed Lutheran should have to.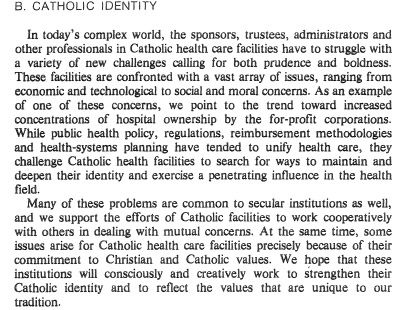 Health and Health Care; A Pastoral Letter of the American Catholic Bishops; November 1981
The Catholic Church didn't always insist on controlling the health care choices of everyone who went under the roof of a Catholic hospital.
Back in 1996 the Mister and I made a deal. I was pregnant, and, as we agreed we didn't want more children, we decided that if I had to have a c-section I would have a tubal ligation at the time of delivery; if I didn't have a c-section, the Mister would get a vasectomy.
As it happened, I did end up with an emergency c-section, cut from pubic bone to belly-button, and the tubal ligation was performed at the same time.
These procedures were performed at Saint Joseph Hospital, a Catholic founded hospital owned and operated by the Sisters of Charity of Leavenworth Health Care System, with which our insurance provider had contracted. The Catholic Church was not involved with me and my husband's choice to have no more children; nor did the Church prohibit my doctors from following our medical directives.
Had the same situation occurred 2 years later the c-section/tubal ligation combination would have been forbidden at St. Joe's. In 1997, St Joseph Hospital, through the formation of Exempla Healthcare, became affiliated with a secular hospital. At the direction of Denver's new, and very conservative Archbishop, Charles J. Chaput St. Joseph Hospital began enforcing the 1994 version of the Ethical and Religious Directives for Catholic Health Care Services promulgated by the United States Conference of Bishops upon its staff and the patients they treated, no matter what their religious affiliation.
Beginning in the 1980s, and accelerating through the 1990s and to the present, community-based non-profit hospitals which were, by their nature, stand-alone facilities, were finding it more difficult to compete with large, for-profit hospital chains having more than one hospital in any locality. Larger health care systems could limit costs through economies of scale in purchasing and administration, and yield more clout in negotiations with health insurance providers.
In joining with secular hospitals under a single operating umbrella in an area, the Catholic Church saw not only economic advantages, but also that partnerships with secular hospitals was "a way of promoting the church's social teaching and influencing the health care profession" (A Brief History: A Summary of the Development of the Ethical and Religious Directives for Catholic Health Care Services, Rev. Kevin D. O'Rourke, et al., Health Progress, Catholic Health Association of the United States, Vol. 82, No. 6, November-December 2001.
Exempla Healthcare was formed by joining together Lutheran Hospital, a non-profit, non-religious hospital (the name "Lutheran" was a historic hold-over from the founding of the hospital as the Evangelical Lutheran Sanitarium for tuberculosis patients) and Saint Joseph Hospital into a charitable trust, under a single brand name. While ownership of the Lutheran Hospital physical facility was passed to Exempla, the Sisters of Charity of Leavenworth did not relinquish ownership of Saint Joseph Hospital — the Catholic Church would not allow it. Exempla Healthcare, Inc. had its own board of directors, chosen by Exempla's "sponsors" — the Sisters of Charity, and the Community First Foundation, the charitable fundraising arm of Lutheran Hospital. The directors of Exempla were to be independent from the boards of the two member entities — a person could not simultaneously serve on the board of directors of one of the members and on the Exempla board.
The purpose of the two sponsors

...was to provide oversight that reflected and preserved two different heritages.

Exempla Lutheran was to remain a nonsectarian health-care provider. Exempla Saint Joseph's was to remain Catholic and under the ethical and religious directives of the U.S. Conference of Catholic Bishops.

One belief system was not to be imposed upon the other, Exempla President Jeffrey Selberg said in 2008.
Starting with 1973's Church Amendment
, health care providers have been allowed to decline to provide medical services which they found ethically or morally unacceptable. Refusal to provide those services would not require the health care provider to forego federal funding, nor could it be the basis of firing personnel; however, providers were still obligated to provide the information and means necessary for a patient to obtain the desired services from another provider.
Since the Church Amendment, the "conscious clauses" have expanded, by both state and federal statute, to encompass the "rights" not only to refuse to provide the service directly, but to refuse to refer a patient seeking those services to another provider Instead of a right to uphold one's own ethical beliefs, the "conscience clauses" have expanded into more generalized refusal clauses — the right to ensure that the patient can not receive the desired medical treatment from anyone else.
Additionally, over the years, the United Conference of Bishops have continually refined and made the Ethical and Religious Directives more stringent and broadened the number of people upon whom they are foisted. The Church has been emboldened by it's widening financial net, because with the continuing mergers of Catholic and secular hospitals into "health care systems" such as Exempla, much of the public and the health care professionals who serve them have no choice but to "trust" their health care to the Bishops. Currently, one in six hospital admissions is to a Catholic facility (it is unclear if that figure applies to only true Catholic hospitals or also includes "Catholic affiliated" facilities); in many smaller metropolitan and in rural areas, a Catholic-affiliated hospital may be the only acute care option. So, while in theory people have a choice, in reality they do not.
In 1996 I was able to have a tubal ligation in a Catholic owned facility. When Exempla Healthcare was formed, the Ethical and Religious Directives were applicable to only the Catholic hospital in the system, not to the two secular hospitals.
Now, using the religious tenet of "cooperation with evil", the Bishops have decided that the Directives must control every Catholic affiliated entity, not just the ones they own outright; in Denver, that means all three hospitals in the Exempla system, rather than one, are controlled by the musings of the Bishops. "Cooperation with evil" has become a handily elastic concept, and has expanded to mean not only being accountable for one's own actions (you know, like sheltering pedophile priests), or actions which take place in a facility that is directly owned by the Church, but now extending to the facilities where the Church has come to a business agreement to share management and purchasing expenses, and providing comprehensive health insurance coverage to the employees of those other facilities. It's rather as if a kosher deli, a Chinese restaurant and a pizza shop shared a food court, and the deli owner then insisted the other two restaurants stop serving pork and shellfish, keep kosher kitchens, and close on Saturdays because somehow their menu choices and business hours interfered with the deli owner's religious freedom.
Then again, the actual ownership of the Exempla hospitals is a rather murky business. While, on the one hand, the Sisters of Charity of Leavenworth find it advantageous to deny that they have taken over the ownership of Lutheran Hospital and Good Samaritan Hospital, the Sisters also list all three Exempla hospitals on the financial documents used to attract purchasers to the Sisters' latest bond offering.
And, of course, what constitutes "cooperation with evil" isn't the only place where religiously-based theory fails. When the actual treatment limitations are in force, the results can be nonsensical. For example, according to the Ethical and Religious Directives, with an ectopic pregnancy where the blastocyte attaches to a fallopian tube — a situation which, in the first trimester of pregnancy, is the greatest risk of death to a woman — the ethical treatment is not to resolve the situation as quickly as possible by simply removing the blastocyte because that would be an "abortion", the direct "killing potential life". Instead, the Ethical and Religious Directives require the removal of the affected fallopian tube. The "principle" of "double effect" is that although the blastocyte will die, the direct intent is not "abortion" but, instead, the removal of a part of the body — the fallopian tube — which is malfunctioning and posing a danger to a woman's life.
The removal of a fallopian tube will decrease a woman's fertility. One of the risk factors for an ectopic pregnancy is having previously had an ectopic pregnancy. And, should a woman have a second ectopic pregnancy which requires the same treatment, she will be left sterile. However, since tubal ligation isn't the intended effect of the treatment, and that a woman is unwillingly made sterile, according to the Catholic theoreticians it's morally preferable than terminating a "pregnancy" that will never result in a live birth.
The Catholic Church has never shrunk from an opportunity to impose its will upon an unwilling populace using any means necessary. With inquisition no longer available to it (and the the Spanish Inquisition was totally not the Church's fault; those Jews and Muslims were trying to gain a political and social advantage — like not being killed — by just pretending to be Catholics), the American Catholic Church has taken advantage of the state of the American health care system to enforce its religious views upon patients and health care providers. Now, the Church is also insisting that its "religious freedom" requires the right to deny comprehensive health insurance to not only those directly employed by the Church, but also to those only nominally affiliated with a Catholic hospital.
Allowing the Church to forgo providing nuns with insurance coverage for reproductive health care might be reasonable. What the Church is now demanding, under the flag of "religious freedom" , is to deny rights to people not even directly employed by the Church. The Affordable Care Act requires that medical insurance provided through an employer cover the full panoply of reproductive health, beginning-of-life and end-of-life health care services. Hundreds of thousands of people, among them the employees Exempla's two non-Catholic hospitals, have the right to the same protections as the rest of us, and must not have their choices limited by Catholic dogma.
Likewise, it is incumbent upon our public officials to carefully vet any hospital merger which will expand the Church's control over the general public's health care choices. The Catholic Church must not be allowed to put more and more of us under its thumb.