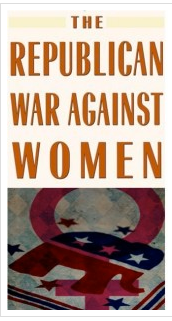 Next Monday Kansas plans to consider an anti-abortion plan that would raise millions in state monies while having the added bonus of possibly forcing abortion clinics to close. A win-win for the nuts greedy for money and willing to do anything to control women and violate our human rights. Kansas GOP Gov. Sam Brownback says he will sign the bill.
This Kansas bill would levy sales taxes on all abortion procedures, related healthcare expenses and on any company that does business with an abortion provider:

"Why not slap a $100, $200, $300 tax on an abortion?" Troy Newman, president of Operation Rescue, the largest anti-abortion advocacy group in Kansas, asked Raw Story on Friday. "I'm completely against most forms of taxation, but abortion is such an abhorrent procedure, I would like to see it wiped out with a $2,000 or $3,000 tax on every abortion that happens in Kansas."
So, taxes are bad unless it is to further the end-justify-the-means goal of hypocritical misogynists fighting a War Against Women.
The massive 69-page Kansas bill is called the "No Taxpayer Funding for Abortion Act" and includes a 6.5% sales tax that is a repeating tax on services provided, which of course is consistent with the GOP ostensible policy of small government:

The sales tax, however — an innocuous-sounding 6.5 percent — is layered, effectively making it a repeating tax on every service rendered, every product purchased and every sale made in furtherance of an abortion. It also strips certain tax credits for companies that do business with women's health providers, making such requests a potentially costly proposition.
Thus, sales taxes would also be imposed on drugs and medications used in an abortion. And, women who want an abortion due to rape or a life-threatening pregnancy are
not exempted from the taxes
.
Given that some anti-abortion advocates base their opposition on their religious or moral grounds, how moral is it for a state to profit on abortion that they oppose? How moral is it to tax in order to compel others to live their lives in accordance with the social or religious convictions of some? This hypocritical standard of morality is perfectly permissible when you are a paternalistic misogynist whose political faith in unreality cannot be sustained unless you lie and dictate to force your twisted political faith on women because you can not win on the facts and existing constitutional rights of women.
Taxes are not the only part of this plan:

Massive in scope, H.B. 2598 includes provisions being considered in other states as well, like offering doctors immunity from malpractice lawsuits if they do not inform expectant mothers of prenatal health problems that could lead to an abortion; a removal of important tax credits provided to most healthcare institutions; requiring doctors to lie to patients by claiming that abortions may cause breast cancer; forcing women to hear the heartbeat of their fetus before an abortion; and even prohibiting state employees from contributing to the teaching of basic sexual health facts.
While the GOP has claimed that these anti-abortion laws are designed to give women full disclosure beforehand so that they can make informed decisions because we're just too silly and uninformed without your parental guidance, they are also allowing doctors to withhold medical information from women, creating a new partisan definition of medical full disclosure. And the
women cannot file a medical malpractice suit
against the doctor who withheld information such as birth defects and she can not sue for pregnancy health issues related to medication information not being disclosed to her. No problem here with separating out women from other patients who have a right to an accurate full disclosure of medical procedures and risks.
This bill would also make it a crime for a person to perform an abortion when the women made her decision based solely on the sex of the child. In addition, an organization like Planned Parenthood that provides abortion services would be prohibited from "offering materials for human sexuality classes in school districts."
And yet the GOP still claim that they are not fighting a War Against Women.