Croaking away in the surviving wetlands of greater New York City, just a hop away from more than 22 million people, scientists have discovered a new species of leopard frog!

Typical leopard frogs living in the wetlands of the New York and New Jersey region have "distinctive mating call" that normally sound like a "long snore" or a "rapid chuckle". So when Jeremy Feinberg, a Rutgers University doctoral candidate and guest researcher at
Brookhaven National Laboratory
, heard a frog making a short, repetitive croak, he
decided to investigate
.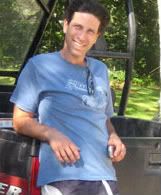 "When I first heard these frogs calling, it was so different, I knew something was very off," Feinberg said.
Feinberg was doing field research in "wilds of Staten Island" for his doctoral thesis about the "alarming decline of leopard frogs" in the region's wetlands, when he heard the peculiar croak in 2009. He had a hunch that this peculiarly croaking frog was unusual and perhaps a species hitherto unknown to science.
So Feinberg, along with the help of four other scientists, "who joined him in multiple field and laboratory studies", began studying the curiously croaking leopard frog. After three years of investigation, they "are finally comfortable making their declaration: a new species of leopard frog — as yet unnamed — has been identified in New York City and a number of surrounding counties," the New York Times reports.
Their discovery, "A new species of leopard frog (Anura: Ranidae) from the urban northeastern US", will be published in the May 2012 issue of Molecular Phylogenetics and Evolution and has been made available online in advance of publication.

"Here is a brand-new species, and it's not a species of bacteria or a barely visible insect," said H. Bradley Shaffer, a professor in the department of ecology and evolutionary biology at the University of California at Los Angeles. "It's a big amphibian, and kids have probably been catching and playing with it for years," he said. "Even in an urban center like New York, where herpetologists have tromped all over for a century or more, there can be new species out there. That shows the importance of urban areas in terms of conservation and biodiversity."
Confirmation of the discovery would have been impossible without the genetic testing research made by Cathy Newman, the study's lead author and evolutionary biologist. Feinberg made the acquaintance of Newman when she was completing her master's at the University of Alabama with Leslie Rissler, an associate professor of biological sciences. Newman
first contacted Feinberg
and asked him for help with an unrelated study on southern leopard frog she was doing, a deal was struck. "Feinberg, an ecologist, asked the geneticists if they could help him investigate some 'unusual frogs' whose weird-sounding calls were different from other leopard frogs."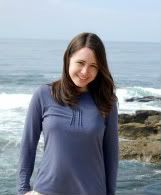 "There were northern and southern leopard frogs species in that general area, so I was expecting to find one of those that for some reason had atypical behaviors or that were hybrids of both," Newman added. "I was really surprised and excited once I started getting data back strongly suggesting it was a new species. It's fascinating in such a heavily urbanized area."
"Much of the genetic analysis was performed in Professor Shaffer's laboratory at the University of California at Davis, where he worked until recently," the
NYT
adds. When Shaffer found out about Newman's project, he encouraged her to pursue it and "offered guidance during Newman's preliminary analysis of the frog's mitochondrial DNA". The results from Newman's analysis were surprising, but conclusive: the frog's DNA was different from the genetic samples from other leopard frogs.
Newman confirmed what Feinberg had suspected:

"I was very confident that the genetic results were going to support the idea that this was a new species" Feinberg said. "As far back as the late 1800s scientists have speculated about the odd frogs but until the advent of molecular genetics, it was difficult to prove anything."
The researchers refer to the frog as "
Rana
sp. nov", meaning "new frog species" until Feinberg settles on a new name for it, but one researcher joked they call it "the weird Rana".
"Feinberg will have the honor of naming rights, choosing a scientific and common name", the NYT reports. "I've given it lots of thought," he said. "Part of me has always wanted to call these New York leopard frogs, but I think people in New Jersey and Connecticut will protest. I have to balance the politics with the naming."
The new leopard frog species could hide in plain sight because it was looks like other leopard frogs. Leopard frogs grow to be about 3½ inches in length and have tan, olive, or green skins covered with spots. This new species resembles the southern leopard frog, but has genetically distinct DNA.
"It's what we call a cryptic species: one species hidden within another because we can't tell them apart by looking," Feinberg said. "But thanks to molecular genetics, people are really picking out species more and more that would otherwise be ignored."

"If I had one of those three leopard frogs in my hands, unless I knew what area it was from, I wouldn't know which kind I was holding because they all look so similar," Newman said. "But all of our results showed this one lineage is very clearly genetically distinct."
Because mitochondrial DNA represents only a fraction of the frog's total DNA, so Newman, who currently is working toward her Ph.D at Louisiana State University, also conducted broader nuclear DNA tests to confirm the suspect frog was, indeed, a new spieces.
"I remember in our lab meetings we were all so excited," Shaffer recalled. "We were trying to be good scientists and not jump to conclusions, but we're looking at the data going, 'It's got to be a new species.' You feel like you've uncovered something unique about the world that's never been known before."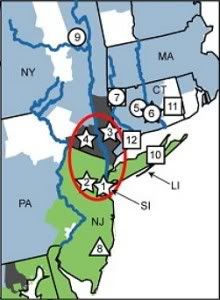 In addition to this new species, there are
14 other species of leopard frog
living in ponds and meadows between Central American and Canada. The known range of this new frog species "is limited, more or less, to commuting distance from Midtown Manhattan, stretching from around Trenton, N.J., in the south, to Putnam County, N.Y., to the north," the
New York Times
reports. Feinberg has found the new species as far away as northeastern Pennsylvania and central Connecticut. "The dead center of the known range, oddly, is near Yankee Stadium, even though the frog has not yet been found in the Bronx."
"It's a very small range and even if we went back 400 to 500 years, it probably would have been considered a rare animal," Feinberg said.
Frogs and other amphibians have been in decline around the world because of habitat destruction, disease, invasive species, pesticides, and parasites. The health of amphibians indicate problems in the environment that could impact humans, Risser said.
"They are a good model to examine environmental threats or degradation because part of their life history is spent in the water and part spent on land," Rissler said. "They are subject to all of the problems that happen to both of these environments."
According to Feinberg and Joanna Burger, professor of cell biology and neuroscience, and his advisor on the project, evidence suggests that the newly identified frog was "once common on Long Island and other nearby regions but went extinct there in just the last few decades."
"The extensive extinctions over the last few decades raise added conservation concerns that must be addressed," Burger said. "It is amazing to discover a new frog in Rutgers backyard and the metropolitan area of New York and New Jersey."
"It is very surprising for a new species like this to have been unrecognized in this area until now," Feinberg said. "Their naturally limited range coupled with recent unexplained disapperances from places like Long Island underscores the importance of this discovery and the value that conservation efforts might have in the long-term survival of this urban species."