In 2007, a thirty-six year-old slice of television archival footage (believed lost to history) surfaced ... and the surreal finale to a charge of subversion by Spiro Agnew could now be evaluated ... which you can do after the jump ....
But first: Top Comments appears nightly, as a round-up of the best comments on Daily Kos. Surely you come across comments daily that are perceptive, apropos and .. well, perhaps even humorous. But they are more meaningful if they're well-known ... which is where you come in (especially in diaries/stories receiving little attention).

Send your nominations to TopComments at gmail dot com by 9:30 PM Eastern Time nightly, or by our KosMail message board. Please indicate (a) why you liked the comment, and (b) your Dkos user name (to properly credit you) as well as a link to the comment itself.
It's fair to describe them as a one-hit-wonder - but the duo of
Brewer & Shipley
("B&S" for short) have as their old-age pension a song that was never intended to be performed publicly .... yet a series of incredible coincidences enabled this song to have a lasting impact on music ... and (apparently) the Nixon Administration.
Oklahoma native Mike Brewer (right in both photos) and Ohio native Tom Shipley (left in both photos) tried their hand at co-writing songs, and some were recorded by the performers at A&M Records (including Glenn Yarborough, Noel Harrison and the Nitty Gritty Dirt Band) where they both worked. The A&M top brass liked their sound so much, they offered them a chance to record, and their debut album Down in LA saw them backed-up by Jim Messina and Leon Russell.
It was their 1970 album Tarkio that helped them reach stardom - which also proved to be their high-water-mark. Named after a (now-defunct) college in their newly-adopted state of Missouri, it was recorded in the Bay Area, and many of the region's musicians helped contribute to it.
One of the songs that appeared on the album became a hit: One Toke Over the Line has a less-folk and more-country music sound, along with a catchy melody ... but the title said it all. However, it was never intended to see the light-of-day: B&S have said the song came to them as a lark while rehearsing backstage - if someone flubbed a chord change, they'd say "One toke over the line" with a laugh.
And while the word toke indicates its primary meaning .... B&S have stated that its message meant "excess of any kind" - and so it had secondary meanings (one drink too many, one too many slices of pizza, etc.). In only an hour, they developed music and actual lyrics for it .... but relegated it to simply being a warm-up tune backstage; they had no thought of performing it (and imagined that their record company probably wouldn't allow it, anyway). But this story begins in earnest with .....
Twist of Fate #1 - while they were in the process of recording the "Tarkio" album, they performed as an opening act for the folksinger Melanie at Carnegie Hall. And while opening acts are frequently heckled, with cries of "Get off the stage!" by impatient fans (and Brewer & Shipley had not yet broken through as a name act) they were given a warm reception by the audience ... even asked for three encores. Yet since they had been so busy arranging the still-unfinished songs for the new record (and weren't ready to perform them) ... they ran out of material. And so for their final encore they decided to perform One Toke because ... well, they had (at least) rehearsed it. But that might have been the end of it: with an album of new songs on the way, B&S may never have performed the tune again ...... except that one concert-goer came backstage to see them .......
Twist of Fate #2 ...... and this would be the president of Buddah Records, the label they were now signed to, who asked about the new song. (And while this next item does not qualify as a twist of fate: it is a nice thought to know that a song about toking was appreciated by a record company president named .... Neil Bogart!) When B&S told him the song was merely a lark, Neil Bogart responded, "I love this. You gotta record it, you gotta put that on the album".
And record it they did, yet still believing it to be an ordinary tune (as B&S always felt that ballads were their forte). It was produced by Nick Gravenites of the Electric Flag and recorded at Wally Heider Studios in San Francisco, where Gravenites put together a backup band of Chicago-area blues players like guitarists Mike Bloomfield and keyboardist Mark Naftalin. And while it might conceivably have achieved cult status as merely one track on the album, it may not have become widely popular ..... but for the fact that ....
Twist of Fate #3 - rather than forbid B&S from recording it (as many record company presidents might have done) Neil Bogart not only requested its inclusion on the album but - unbeknownst to B&S - went even a step further and released it as a single. Why? Well, Neil Bogart was the president of Buddha Records, which was known as a "bubblegum" label (with groups such as the Ohio Express and the 1910 Fruitgum Company) and he was eager to change his label's image. Releasing it as a single would be what we call today "pushing the envelope".
And did it ever. "One Toke" eventually reached #10 in the Billboard charts in 1971, before it stalled out. That was, in large part, because several radio stations banned the tune as extolling drug use (following pressure by the FCC). The irony, as B&S have always maintained: is that the song urged moderation (hence the words "over the line"). Neil Bogart complained to Rolling Stone about FCC interference ..... but he (and the band) were gaining free publicity, increased album sales and a higher concert fee for their shows. Still, songs like that are ephemeral: and once again it may have faded until we come upon ....
Twist of Fate #4 - the lads hit the big-time when - in a discussion of songs about drug use - President Richard Nixon labeled Brewer & Shipley as "public miscreants" (smirk) for their song. Not to be outdone, Vice-President Spiro Agnew declared them to be "subversive to American youth" (cackle) and two years later, we learned that Spiro Agnew was guilty of taking bribes not only in Maryland but also in Washington.
The good news: B&S didn't have to bribe the President of Vice in order to get the kind of free publicity that came with being criticized by Agnew as being "subversives". And to top-it-off: the song earned the duo a place on the Nixon Enemies List - which Mike Brewer says "was a badge of honor we hold dear to our hearts to this day" (as did Paul Newman and Carol Channing, just to name a few other entertainers so-honored).
In response, B&S included the song Oh Mommy (I Ain't No Commie) on Tarkio that referenced Nixon by name (and which featured Jerry Garcia on pedal steel). The publicity also helped two other tunes reach the lower ranks of the Top 100, "Shake Off the Demon" and "Tarkio Road".
A few years back, Tom Shipley recalled a young woman who approached them at a show and declared them to be the last of the hippies - "when you're gone, there won't be any more". But they laugh, noting that hippies aren't usually referenced in Grand Theft Auto IV - where "one toke over the line" is an addiction level. Brewer & Shipley still tour to this day and - while they say the song pigeon-holed them to a certain extent and doesn't represent the bulk of their music ... well, they're not complaining.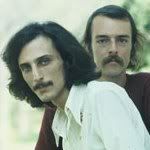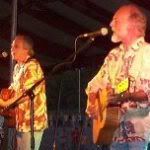 What really elevates the back-story of One Toke Over the Line (fair-use extract below) from the merely weird to the transcendent was .....
Twist of Fate #5 - that during the time that the Nixon Administration declared Brewer & Shipley to be persona-non-grata ... similar to Neil Bogart, a certain popular TV host was trying to change his image, too. Well, sorta: his old-school musical variety show featured mostly old songs for old people, and he wanted to add some currently popular songs. He and/or his staff heard the country music and references to "Jesus" and "Mary" in the song, yet not understanding the word "toke" - and decided that this tune was a 'modern spiritual' that would update his show without alienating his traditional audience.
And thus One Toke was featured on .... The Lawrence Welk Show .... at the same time Spiro Agnew was denouncing it, leading Mike Brewer to jokingly ask the Establishment to "Make up your minds!"
But the Lawrence Welk performance occurred when Brewer & Shipley were on a tour of Britain at the time, and the duo never saw the show - which was believed lost to history ........ right up until a copy surfaced in 2007.
So, you have some choices: you may listen below to the original version by Brewer & Shipley ........
..... or you can suck-it-up and scroll down below ... in order to listen to the Lawrence Welk version. You know you wanna.....

Who do you love?
I hope it's ... me
I've been a-changing
as you can plainly see
I felt the joy and I learned about the pain
that my Momma said
If I should choose to make a part of me
would surely strike me dead

I sailed away a country mile
And now I'm returning
and showing off my smile
I met all the girls
and I loved myself a few
And to my surprise
Like everything else
that I've been through
It opened up my eyes

And now I'm one toke over the line, sweet Jesus
One toke over the line
Sitting downtown in a railway station
One toke over the line
Waiting for the train that goes home, sweet Mary
Hoping that the train is on time
Sitting downtown in a railway station
One toke over the line
Now, on to Top Comments:
-------------------------------------
From Steveningen:
In JAM11's terrific rant of a diary Church Chastity Presentation Fails to Excite - StrangeAnimal gives us plenty of information to counter the stupidity.
From
ScottyUrb:
This diary from commonmass about Christianity provoked many good responses, but I like this thoughtful one from Mets102 coming from a Jewish perspective and this funny picture of a GOP-style Jesus shared by Cartoon Peril.
And from
Ed Tracey
, your faithful correspondent this evening ........
In the diary by the intrepid Ministry of Truth about the resignation of a senior Goldman Sachs employee and how the financial press has been obsequious in comforting the firm and denigrating Greg Smith in the process - even citing a Forbes reporter who wrote that Smith is just "having a midlife crisis" - alguien likens this to what women face when they confront an issue, "accused of being PMS or menopausal".
Next: yesterday's Top Photos (as compiled by Jotter each day) - click on the photo to see the story behind it.
And lastly: yesterday's Top Mojo - mega-mojo to the intrepid mik ...... who rescued this feature from oblivion:

1) I am a pediatrician by StrangeAnimals — 259
2) Yep 40 Years Have Proven Democrats Seize Every by Gooserock — 152
3) That is good. Many Kossacks have lots of baggage by RickBoston — 136
4) Forgiveness by JekyllnHyde — 135
5) Furthermore, the Catholic Church Badly Needs by JekyllnHyde — 119
6) But on Fox News... by newmexicobear — 117
7) At my church they passed around pledge cards by Hunter Huxley — 103
8) I was a senior in Cahtolic girl's high school from by irishwitch — 102
9) No baggage fees. by weatherdude — 101
10) Stupid Loudmouth Politician's Brownshirt Fantasies by bernardpliers — 98
11) Well done. by IndieGuy — 97
12) Well by Horace Boothroyd III — 96
13) Doesn't Matter, Authoritarians Are About Rules by Gooserock — 92
14) Why can't you be 20 years older than you are by commonmass — 92
15) How about baggage fees? by yg17 — 91
16) yes, nicely done. You demonstrated the truth by by Denver11 — 91
17) Keep asking yourself by xgy2 — 88
18) In unrelated news by librarianman — 79
19) Totally agree by NYFM — 79
20) "They also serve by left rev — 77
21) I wonder how many of them by anastasia p — 77
22) JCP... by Chicago Lawyer — 77
23) For the Life of Me by NorthBronxDem — 77
24) Regarding the matter of "authoritarianism," by gfv6800 — 75
25) Rest assured, Romney will still manage a gaffe by Reggid — 73
26) These people are so funny... by Chicago Lawyer — 72
27) My caregivers by Horace Boothroyd III — 71
28) Every state that has voter suppression should by boophus — 71
29) All those millions, and he still can't buy by lineatus — 71
30) The crazy cloud has arrived by marigold — 70
31) The Catholic Church threatened victims with ex- by cai — 70
32) Game on! Now it is time to get people registered by noise of rain — 70