Here's one more reason to halt the Keystone XL pipeline.
Grey Wolf

"These beautiful animals – their wild kin – are going to be poisoned with strychnine, they're going to be shot out of helicopters, all to feed our addiction to dirty oil," he [David Mizejewski] said.
Wolf cull plan ripped apart on Today show
The video of the Today show, Importance of Protecting Wolves features David Mizejewski of National Wildlife Federation, showing two wolves.

Darcy Whiteside of Alberta's Sustainable Resource Development, says
No one has a problem swatting a mosquito.
Remember in Alberta, Canada, it's Resource Development that is given the most protection by the provincial government. The government uses 'protection of the boreal caribou herd' as an excuse for the cull, but naturalists say that loss of habitat is the main reason for the decline. The Alberta Tar Sands has created a massive loss of habitat for all wildlife in the region. It has also killed thousands of migrating birds who mistake their settling ponds for water.
Nigel Douglas, a conservation specialist with the Alberta Wilderness Association, called the experiment - which also involves sterilizing adult wolves - "ludicrous" and "abhorrent." The only ecosystem management technique required, he said, is for Alberta to do more to protect wildlife habitat from the onslaught of development.
A documentary
In the Valley of the Wolves
shows the Yellowstone Park Druid wolf pack. In 1970 there were no wolves in Yellowstone Park, in 1995 several dozen wolves from Canada were released in the Park. The project was so successful that numbers of wolves have wandered out of the park into neighboring ranches, killing livestock. This year they have been removed from the endangered list and are being hunted and killed in 4 Western states.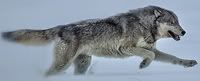 Long May They Run