Monday afternoon once again here in Possum Valley and the time has arrived for science talk. New discoveries, new takes on old knowledge, and other bits of news are all available for the perusing in today's information world. Over the fold are selections from the past week from a few of the many excellent science news sites around the world. Today's tidbits include diamond brightens the performance of electronic devices, just 60 seconds of combat can impair memory, past monsoons linked to major changes in Indian civilizations, near miss asteroid will return next year, increased Arctic shipping impacts marine mammals, mystery human fossils put the spotlight on China, and how Salmonella avoids the body's immune response. Pull up that comfy chair and grab a spot in the sun. There is always plenty of room for everyone. Another session of Dr. Possum's science education, entertainment, and potluck discussion is set to begin.
Featured Stories
Diamonds may turn out to be both a girl's and electronics best friend.
Two new studies performed at the U.S. Department of Energy's Argonne National Laboratory have revealed a new pathway for materials scientists to use previously unexplored properties of nanocrystalline-diamond thin films. While the properties of diamond thin films are relatively well-understood, the new discovery could dramatically improve the performance of certain types of integrated circuits by reducing their "thermal budget."
Current technology has reached a thermal 'bottleneck' in which heat limits the performance of the circuits.
Memory being the fragile event we all understand or lose is affected by the all out physical exertion of combat leading to lack of retention for details of the event.
Dr Hope found those who had been asked to exert themselves physically remembered less about the target individual and made more recall errors compared to the control group of observers. The officers who had been exerted also recalled less about the initial briefing information and what they did report was less accurate. Officers who had been exerted also reported less about an individual they encountered incidentally while en route to the trailer. While more than 90 per cent of non-exerted observers were able to recall at least one descriptive item about him, barely one-third of exerted officers remembered seeing him at all.

Everyone remembered seeing the angry suspect in the trailer, but non-exerted observers provided a significantly more detailed description of him and made half as many errors in recall as those who were exhausted. These observers were also twice as likely to correctly identify the suspect from a line-up. However, exerted officers were able to register threat cues in the environment to the same degree at non-exerted officers.

These new findings reveal that although exerted officers were able to pay attention to the threatening aspects of the scene, their ability to then process other aspects of the interaction was affected. As a result of this, some information may only have been processed weakly or not at all – resulting in an impaired memory for many details of the encounter.
During the past several millennia the
pattern of monsoons in India
has shifted from a steady humid monsoon to one with periods of extended drought.
(the current study) makes use of a sediment core collected by the National Gas Hydrate Program of India in 2006.

Extracted from a "sweet spot" in the Bay of Bengal where the Godavari River drains the central Indian peninsula and over which monsoon winds carry most of the precipitation, the core has provided the basis for a 10,000-year reconstruction of climate in the Indian peninsula's CMZ (core monsoon zone).

When put together, the research tells the story of growing aridity in India, enables valuable insights into the impact of the monsoon on past cultures, and points scientists toward a way to model future monsoons.

To assemble the 10,000-year record, the team looked to both what the land and the ocean could tell them. Contained within the sediment core's layers are microscopic compounds from the trees, grasses, and shrubs that lived in the region and remnants of plankton fossils from the ocean.
A
newly discovered asteroid
found by an amateur team after a close pass of the Earth will return next year in a path closer than some satellites.
The asteroid was discovered by the La Sagra Sky Survey observatory, in the southeast of Spain, near Granada, at an altitude of 1700 m, one of the darkest, least light-polluted locations on the European mainland.

(snip)

While an impact with Earth has been ruled out on the asteroid's next visit, astronomers will use that close approach for more studies and calculate the Earth and Moon's gravitational effects on it.
As Arctic sea ice thins or disappears the prospect of increases shipping is being studied in terms of its
effects on marine mammals
in the region.
A number of studies have raised significant concerns about the impacts from shipping and resource extraction on large whales. The North Atlantic right whale, a close relative of the bowhead whale, occurs in heavily industrialized waters of the East Coast of North America. Estimated to number only between 400-450 individuals, the North Atlantic right whale is threatened by mortalities from vessel strikes and entanglement in fishing gear. Based on scientific insights that reflected the needs of these whales, new speed restrictions, navigational alternatives, and vessel tracking systems in areas of importance to North Atlantic right whales were successfully implemented in Canadian and U.S. waters, minimizing the possibility of large vessels striking whales. Similar accommodations—particularly in funnel areas such as the Bering Strait—will become essential as vessel traffic increases, if strikes and other impacts to bowhead whales are to be minimized.

Apart from the risk of ship strikes, large vessels also emit low-frequency noises that can disrupt important behavioral functions for whales and potentially impair their ability to communicate and navigate. Degradation of the acoustic habitat can have consequences not only for whales, but also for other marine mammals such as walrus, and even fish.
Fossils found in China represent Stone Age People not known before this time.
The fossils are of a people with a highly unusual mix of archaic and modern anatomical features and are the youngest of their kind ever found in mainland East Asia.

Dated to just 14,500 to 11,500 years old, these people would have shared the landscape with modern-looking people at a time when China's earliest farming cultures were beginning.
In spite of the body's best efforts to remove the bacteria,
Salmonella
manage to thrive in the gut.
Pathogens like salmonella flourish and cause disease in humans through a process by which they acquire metal ions, such as zinc, from the body. One of the body's key immune responses is to flood the infected area with antimicrobial proteins that include calprotectin, which removes zinc. Without enough of this vital element, most pathogens eventually die.

(Researcher) Raffatellu's team found, however, that salmonellae overcome this immune response by expressing specialized transporter proteins that enable the bacteria to acquire zinc in spite of calprotectin reducing the amount available in the digestive tract. This distinctive mechanism lets salmonellae continue proliferating.

At the same time, calprotectin inadvertently promotes salmonella growth by killing the microbes that normally reside within the intestines and help the immune system battle pathogenic bacteria.
Other Worthy Stories of the Week
Northern lights paint sky over Arctic volcano Pictures, Pictures.
Prehistoric lobsters made homes of ancient ammonoid shells
Some corals may adapt to warming seas
Seeing without eyes: Hydra stinging cells respond to light
Two new species of horned dinosaur named
First dinosaur in Spain dates back 15 million years earlier than thought
Archeologists unearth slave burial ground on St. Helena
More evidence neutrinos aren't defying Einstein
Why do we see the man in the Moon?
Ultracold experiments heat up quantum research
Female mice exposed to phthalates as fetuses have an altered reproductive life
New technique lights up the creation of holograms
Scientists discover a surprising new way protons can move among molecules
Thermosolar power station in Spain works at night
Ultra-thin polymer based batteries
Graphene supercapacitor holds promise for portable electronics
Engineers create pizoelectric graphene
Lyme disease surge predicted for Northeastern U.S.
Early spring drives butterfly population declines
For even more science news:
General Science Collectors:
Alpha-Galileo
BBC News Science and Environment
Eureka Science News
LiveScience
New Scientist
PhysOrg.com
SciDev.net
Science/AAAS
Science Alert
Science Centric
Science Daily
Scientific American
Space Daily
Blogs:
A Few Things Ill Considered Techie and Science News
Cantauri Dreams space exploration
Coctail Party Physics Physics with a twist.
Deep Sea News marine biology
Laelaps more vertebrate paleontology
List of Geoscience Blogs
ScienceBlogs
Space Review
Techonology Review
Tetrapod Zoologyvertebrate paleontology
Science Insider
Scientific Blogging.
Space.com
Wired News
Science RSS Feed: Medworm
The Skeptics Guide to the Universe--a combination of hard science and debunking crap
At Daily Kos:
This Week in Science by DarkSyde
Overnight News Digest:Science Saturday by Neon Vincent. OND tech Thursday by rfall.
Pique the Geek by Translator Sunday evenings about 9 Eastern time
All diaries with the DK GreenRoots Tag.
All diaries with the eKos Tag
A More Ancient World by matching mole
Astro Kos
SciTech at Dkos.
Sunday Science Videos by palantir
NASA picture of the day. For more see the NASA image gallery or the Astronomy Picture of the Day Archive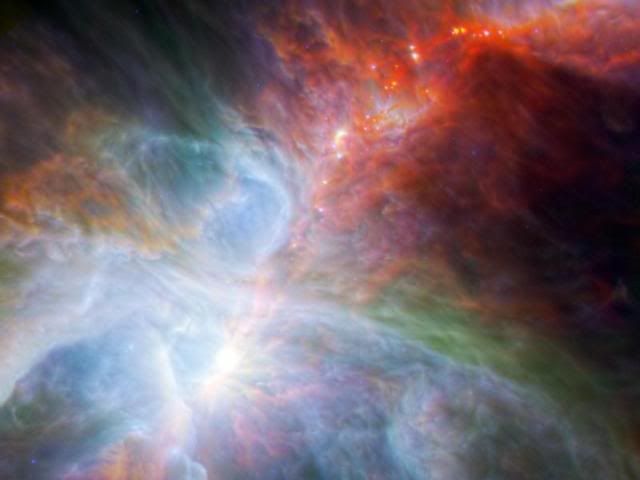 Orion's Rainbow of Infrared Light, NASA, Public Domain