(This diary is a followup to the "Leaving America" series)
It can't have been three weeks already.
Útlegð. Exile. Everything about my current situation should objectively seem like they're going great. I'm in a large, nicely kept house surrounded by family. I can use a nice car whenever I need to. I'm reunited with my parrot, and my family's dogs. I'm spending very little of my money, yet still earning it. And after a couple months when my paperwork goes through, I should be able to move back to Reykjavík, no problem.
So why do I feel like I should be starting an antidepressant?

(Sorry for all the pictures being cell-phone pictures this time; my camera is packed away in a shipping box in the US)
There's no way I can begin to describe everything that happened while I was in Iceland, so I won't even try. I'll just try to cover some basic categories of starting a new life over there and my return to wait on paperwork: environment, work, shopping & settling in, entertainment, relationships, and departure.
Environment: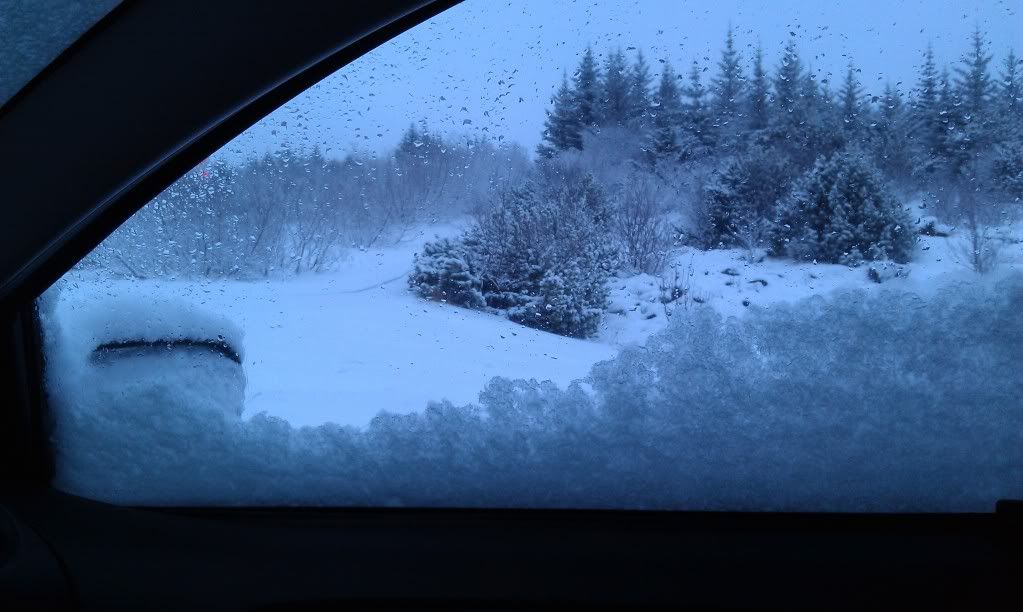 I suppose the day wasn't as long up there as it was in the US when I left, but I hardly noticed. What I did notice, more than any other trip I've been on thusfar, was the weather. The crazy, random, mad-as-a-hatter weather. Weather that goes sun-hail-wind-sun-snow-sun-rain-calm-snow-hail and so forth with a few rainbows thrown in for good measure in an hour's time. Those crystal clear days when you see a storm rolling in over Kópavogur, across the cove with a stark line visible between "blizzard" and "nice day", crashing into you at full force, then darting off five minutes later to race onwards and crash into Esja to the northeast. And the amazing ability of the environment to pretend that it never happened -- snow and hail all nicely melted by the next day, if not within hours or even minutes. Some types of precipitation that fell on me I didn't even have a word for in English. And those gale-force winds that come and go. And yet the days were still full of beauty, with perfect calm and crystal clear skies at times.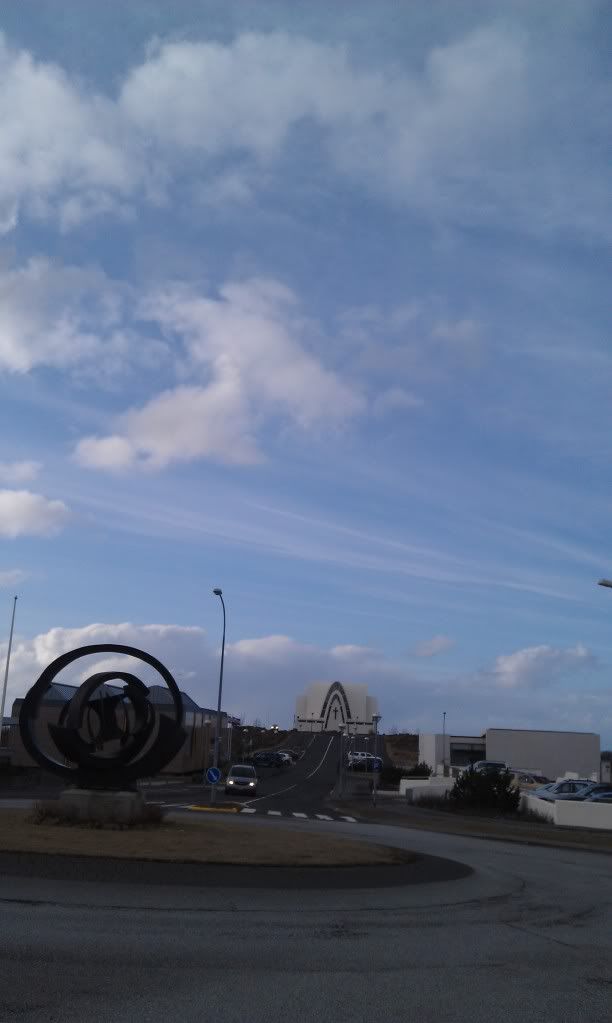 My last day in Iceland, I could see Snæfellsnes clearly from Keflavík, perhaps 115 kilometers away. I kind of enjoyed the crazy weather, while most people here are just simply used to it. A number of my coworkers hjóla (bike) to work each day in this meteorological craziness.
Work: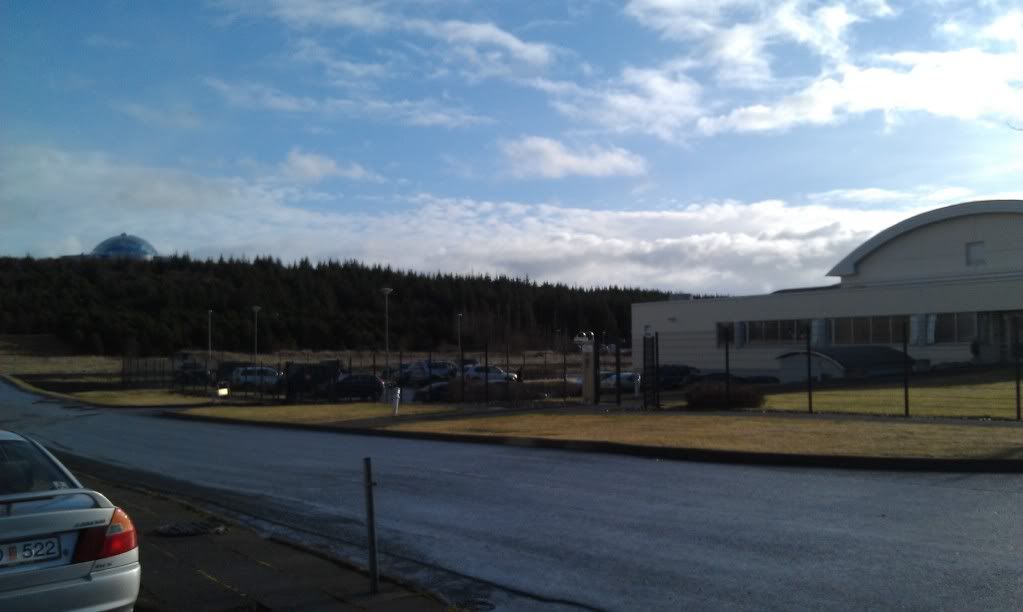 Working for an Icelandic company is such a pleasant experience after working for American companies my whole life. The place has so much more of a family feel to it -- just a family with a weird obsession about not having airplanes run into each other. ;) My boss has a grandfatherly atmosphere to him, always friendly, helpful and full of suggestions without ever coming across as bossy. Unlike with other jobs I've worked, he's always concerned about making sure that all employees have the big picture of what's going on instead of doing development in some little box just to meet a set of specs. This combined with real laid-back environment where it doesn't seem you're being forced to work really helps you feel like you own the tasks you're working on, like they're your own projects. I found myself staying late at times without any threat of firing or discipline being the cause, nor any extra salary to come of it, simply because I wanted to get things done on the projects.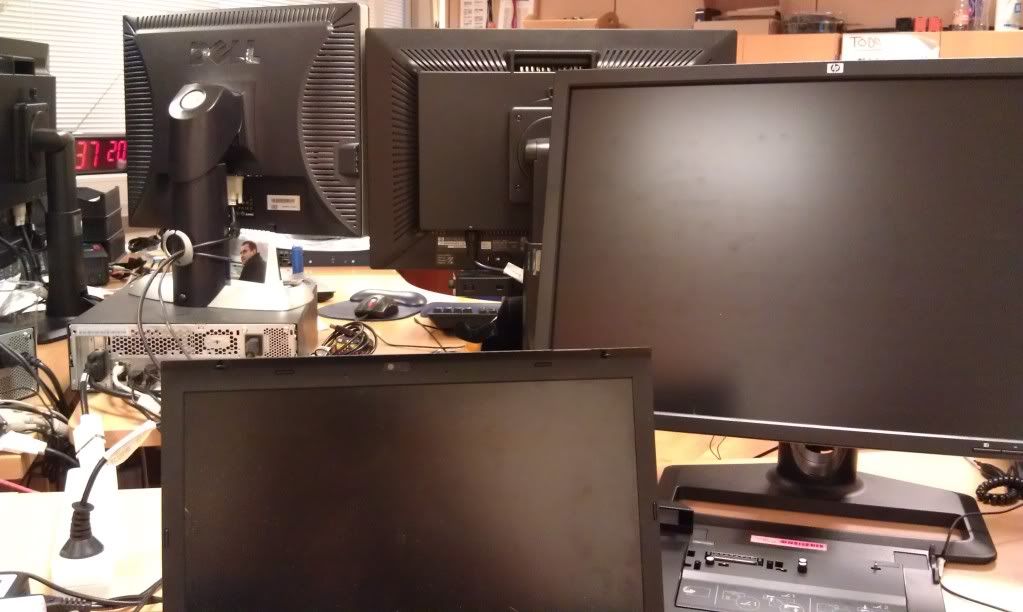 There are five employees in the large room where I work (perhaps 5m x 12m). The one I sit closest to, B., is always really friendly, and works hard at speaking Icelandic with me during idle chat during the day. I really enjoy doing so with him. Unfortunately, I find him one of the harder people to understand, and I'm not sure why. The person I find the hardest to understand, J., really tries hard, slowing words down to a snail's pace when I can't figure them out. And I finally figured out why I have so much trouble with him: he is himself an immigrant (from Norway), and his pronunciation isn't often what I'm used to (for example, læra sounding more like leira). My easiest conversations are always with random people in the cafeteria for some reason.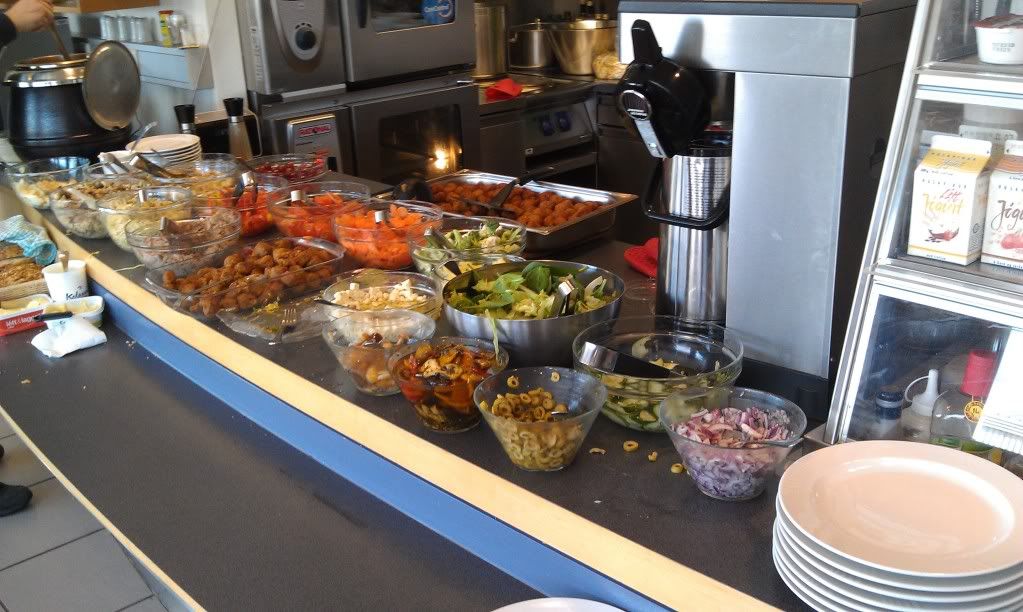 The "cafeteria", for lack of a better word (it's more like a restaurant), has two cooks on staff, who are just excellent, always with a fresh vegetarian soup and delicious breads in addition to the réttir dagsins (daily meal), and who always teach me new words related to foods (although I accidentally started a debate over whether butternut squash was grasker (pumpkin) or not ;) ). But this was my company's Heilsuátak (Health Initiative) for two weeks that I was there. There's always all sorts of initiatives and events going on; here's the calendar for this one: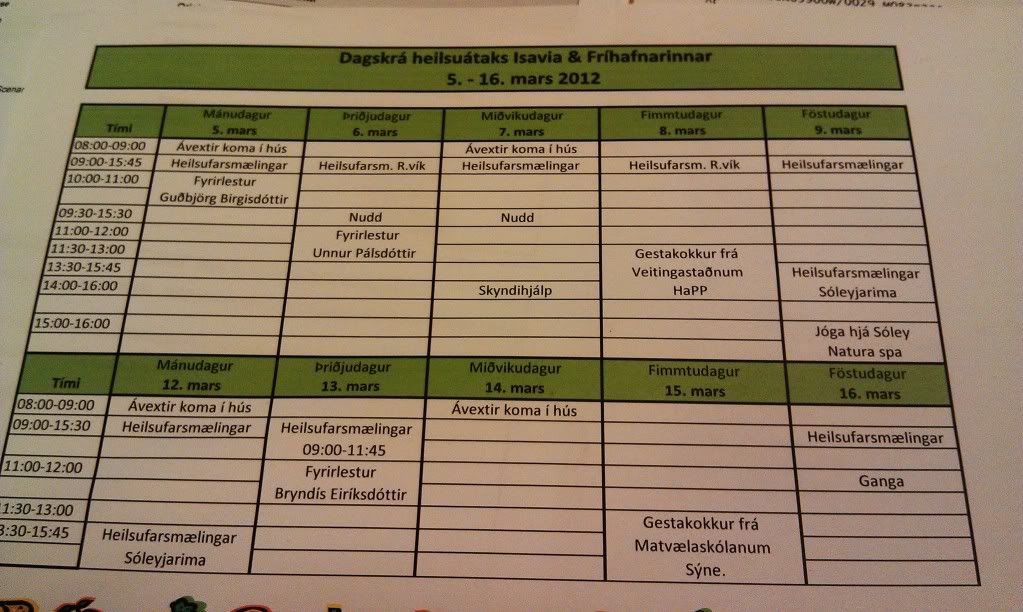 That is, "Fruit comes in house", various lectures, health checkups, yoga at the Sóley Nature Spa, guest cooks (one from a nice restaurant, one from a cooking school), massage, and a company hike. All during paid business hours. The masseuse told me that some companies bring her in every week. In general, Icelandic workplaces seem so much more relaxing. There's always people hanging out in the cafeteria -- chatting, reading, knitting, etc, or going on walks or errands during the day. But really, what sort of people do you want handling your air traffic control: relaxed employees that have been treated well or stressed-out overworked people?
I wasn't supposed to come in on my last day, but I didn't feel I'd gotten enough done on the previous day and hadn't gotten to see everyone off (especially my boss), and I really wanted to. So I woke up extra early and made what I called amerískar-íslenskar pönnukökur ("American-Icelandic Pancakes"). Icelandic pancakes are more like crepes, which they distinguish from amerískar pönnukökur, the big thick kind. I made the latter type, but with a twist: skyr instead of milk. :) They were all gone by lunch. As I said my goodbyes, my boss told me that several people had been commenting to him (favorably) about my Icelandic (which I had noticed had really seemed to improve while I was there, to the point where I was actually following at least parts of meetings that were conducted in Icelandic). So we said our goodbyes in Icelandic, and I was on my way.
Shopping and Settling In: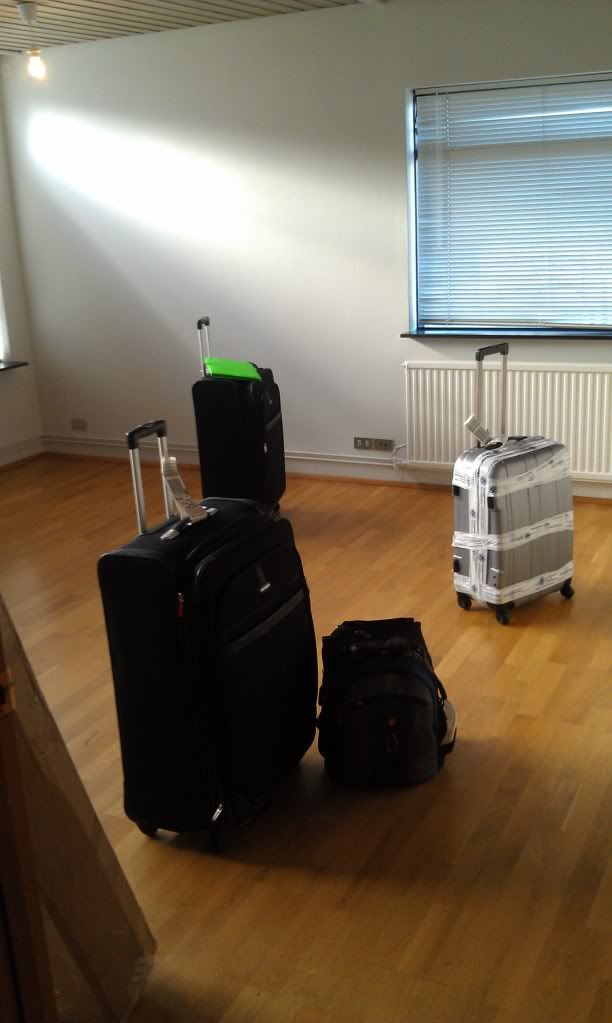 My first challenge was getting my plants potted as soon as possible to try to help them survive. I'm used to growing my plants soilless -- in particular, in vermiculite. It helps eliminate root pests, root rot, holds tons of water, is well-aerated when not overly wet, retains minerals, and in general is a great way to grow plants. Well, after spending several days trying to find it, both in plant departments and insulation departments, I came to the following conclusion: people in Iceland have generally never even heard of vermiculite. Gardening supplies seemed pretty backward to me (unlike, say, winemaking supplies, which were available even at Byko, a Home Depot-like store). Most of the potting soils available were organic and quite peat-y, some with little bits of rock as though someone just dug up and bagged a field. I got some "hekla" rock in the plant section that I was hoping would be perlite-ish to mix in to reduce the organic content, but it was more like gravel. Oh well; I potted anyway, and while some plants seemed on the edge of death for a while, all ultimately survived.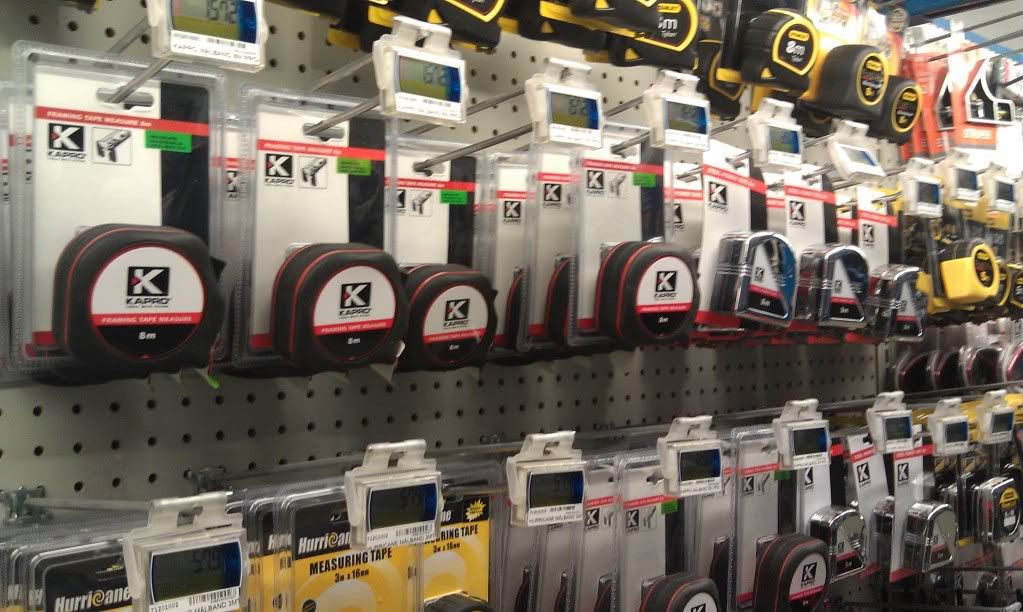 I started buying up 220V kitchen appliances and amassed a small set. Bigger purchases, though, I hestitated on -- washer, dryer, couch, etc. A friend told me that Rúmfatalagerinn is the cheapest, but I'm just not used to buying furnature, period, at any price, let alone Icelandic prices. I balked. Halfway through my time there, B. pointed me to Bland.is, the (very busy) Icelandic equivalent of Craigslist. I began using it, and I'm convinced that if I had had more time, I would have ended up getting almost everything from it. However, as it was, I only ended up buying a pocket Icelandic-English dictionary. The lack of a washer was unfortunate, as it meant I had to use the Laundromat Cafe, where doing two loads of laundry cost me $12, not counting gas.
Included in the TODO list was, hopefully, to pick out and start to buy a house, so that the process could be underway while I was overseas. Unfortunately, it was near the bottom of the TODO list, and the search got crammed into my last few days in Iceland. I picked out about a dozen properties to check out, based on information I had been told about driving times to various areas by different realtors. I quickly discovered that these times were quite inaccurate. For example, one house I toured, deep inside Hvalfjörður, had the most stunning view, and to top it all off, was surrounded by wild blueberry plants. But the whole time I was looking at it, all I could think was, "I just can't drive an hour to and from work each day." The short of it is, I cancelled most of my scheduled house visits so I could spend more time with friends and coworkers on my last day, so this task, too, remains undone.
Entertainment:
It wasn't all work and errands; I made sure to relax when I could. The most obvious form of relaxing in Iceland is the public swimming pools. When you hear "swimming pool", throw away your immediate preconceptions; it's not like that at all. In a country where hot water is nearly as cheap as cold, they're more like spas. Just my local neighborhood pool, Sundlaug Kópavogs, has a full size lukewarm indoor pool, a full-size lukewarm outdoor pool, a tall twisty waterslide, an indoor warm spa, an outdoor kiddy pool, a steam bath, and two outdoor hot spas of different temperature, one of which has some fierce and awesome-feeling hot-water massage jets you can use. Just remember that getting ready to go into an Icelandic pool requires signifiant public nudity, so if that sort of thing really bothers you, best to just stay at home ;)

(Above: a picture of similar hot-water massage jets not taken by me; I was too busy relaxing to be photographing)
I just had to catch some live entertainment as well, and I was in luck. First, Gamla Gaukurinn was hosting a concert of Sudden Weather Change, The Heavy Experience, Mammút, and MUCK. It was
all good (Mammút was bara geðveikt, with the lead singer rolling around on the floor screaming during a cover of "Follow"). After the concert, members of the Heavy Experience came up to me and told me that they were so impressed with how I was dancing out in the crowd that they wondered if I'd be willing to dance in their music video. Um, "já, endilega!". We exchanged contact information. This wasn't the first time this trip I'd received such remarks; at a club the night before, one person commented on my dancing and asked me, "Are you real?" and said I should start my own club, and that he'd "totally go". In general, I find that Icelanders are pretty reserved with their dancing; I don't think it's anything particularly special about me.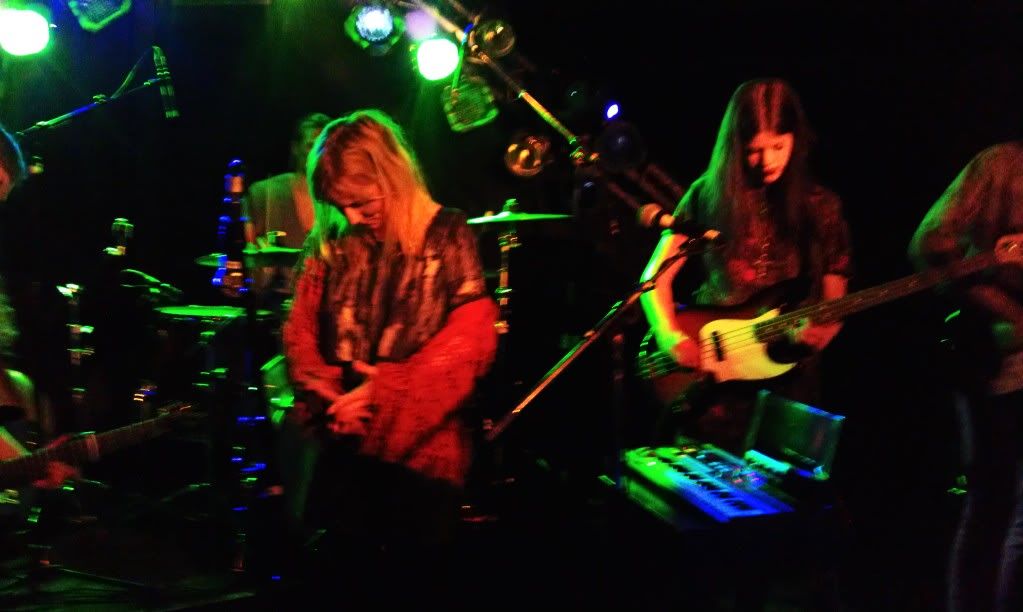 Less than a week later, I was thrilled to hear that Valdimar was going to be playing at Háskólabíó. And even more thrilled to hear that Jónas Sigurðsson was playing with, as well as a ton of other bands. And that the money was going to a charity for children with rare or undiagnosed illnesses. And sure enough, in Icelandic fashion, lots of special needs children were there, and the performers did everything they could to help involve them in the concert. But despite the reason for the concert, it was very upbeat, and the rockers pulled out all the stops; I got some Jónas Sigurðsson songs so stuck in my head that I bought music online for the first time in my life.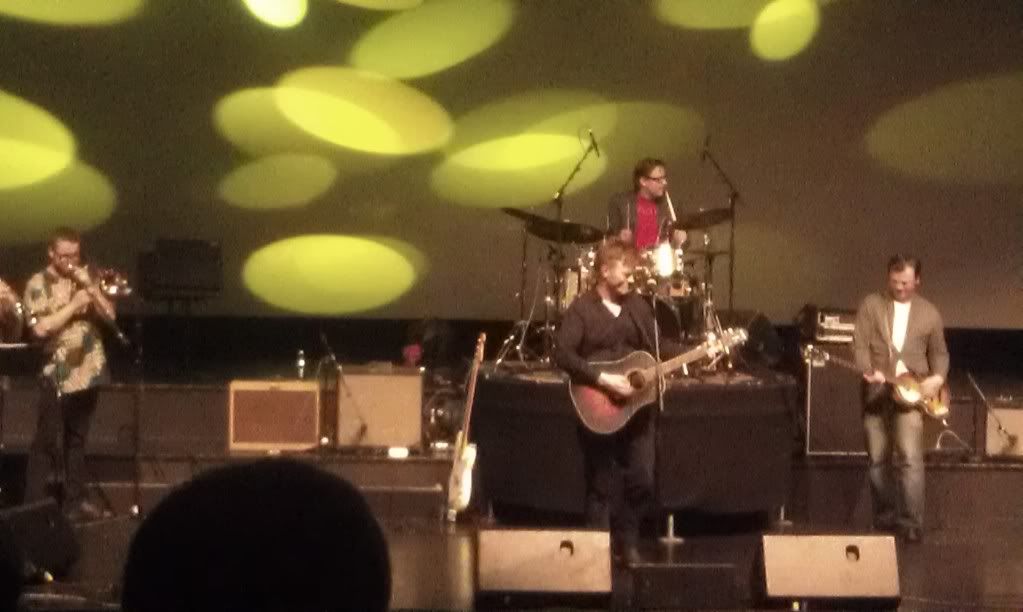 I also went dancing, concert or not, every weekend. There's a quite sizeable club scene in Reykjavík, pretty extensive for the size of the city, and I just love to dance. But that also brings us to the next topic... relationships.
Relationships:
I'm newly single after 11 years in a relationship with my former spouse. Some people's reaction to being newly single is to rush out and try to hook up with anyone they can. But for me, it's a strange and unfamiliar world, to be even dating anyone other than my spouse, much less hooking up. All relationships I've been in in my life had been with someone who started out as a friend. But here I find myself in Reykjavík, getting all kinds of attention left and right, and I don't know how to deal with it. It doesn't help that in Iceland, there's little concept of a "date"; people meet, are attracted to each other, and hook up, no strings attached. If you hook up with the same person several times in a row, however, you're sort of de-facto in a relationship, and then cheating is frowned upon. And I just don't know if I can get myself in that mindset. It doesn't help that my past complicates things and adds extra worries to the picture, even in a sexually-liberated country like Iceland.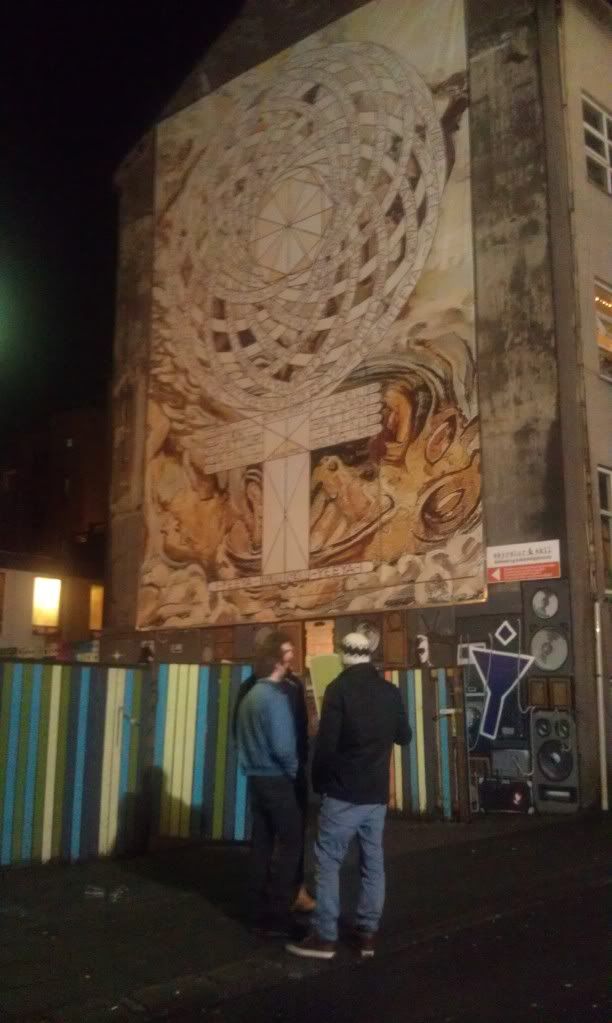 In an ideal situation, here's how things at a club usually go down for me -- to pick one particular night as an example. I go to dance at Buddha. I come in and take off my warm clothes and hit the floor like crazy. A couple random people start dancing with me. One guy buys me a drink, but doesn't seem to expect anything for it. I dance some more. A guy comes up to me who totally (I swear I'm not kidding) looks like Edward from the Twilight series. He dances for a little bit, but then totally starts making out with me. I don't stop him, so he steps it up and pushes me against a window of the club. I don't stop him again, so he starts running his hands over me. I only stop him when he's literally taking my top off in the club, with me against an exterior window. I walk off (and fix my clothes... but I have to admit, I'm giddy), dance some more, then run into him again 5-10 minutes later. He starts making out again, but then keeps trying to majorly escalate the situation, to the point where I feel the need to put my hands up in the air to make it clear to other people in the club that I'm not the one responsible for the PDA. But he's really good... I walk outside and he follows, trying to get me to come home with him, and making it really tempting. But I have to say no. He tries more, but I tell him við sjáumst seinna, ég lófa. He reluctantly walks off and I go back to dancing.
That's an ideal situation. I also had one very much not ideal situation occur, one that I don't feel comfortable talking about publicly at this point. But perhaps some day.
But I also had some better experience. I met one guy at the Mammút concert, who I later went out with to look at the Northern Lights (bad timing for the lights, unfortunately, but we got one of those great Icelandic "flash blizzards" instead ;) ). Amazingly patient with my relationship awkwardness. I met another guy coming out of a club who strangely seemed to understand the concept of a date, and for some reason kept writing back to all of my Icelandic text messages in English. Turns out he's an immigrant himself ;) We go out a few times. But it's all so awkward to me. I'm just not used to being with people who I don't know and don't have any feelings for apart from, "this guy is attractive and seems nice; I hope something else develops in time".
Before I return to Iceland, I really need to make a decision, as to whether I'm going to "play the game", to try to be a normal part of the Icelandic dating scene (even if that's very awkward for me), or to do my own thing.
Departure:
My upcoming departure date loomed over me like a distant storm, growing ever darker and closer as each day past. But I generally tried to ignore it as much as a could, because I really didn't want to have to think about it.
A couple days before I left I had to start getting ready. I posted an ad on Bland.is, trying to find someone to water my plants for me, and got about a dozen responses. The most amusing: a submissive guy who, according to him, likes to have women dominate him and tell him what to do, who wanted to water my plants for free and kiss my feet ;) Well, as tempting as that sounds (cough), I went with the offer of a friend of a friend to water them for free in exchange for me bringing back some gifts from the US for her. Good deal. :)
The fact that I was leaving really hit me hard when I had to pack up all of the perishables from my kitchen -- it was the first time I started to cry, and not the last. I stocked up on a couple large bags of Icelandic goodies, including a massive Páskaegg for my nephews, and loaded them into the suitcases as well, along with a modicum of clothes. The next day, in the afternoon, I drive to Keflavík to catch my return flight, and try not to be seen or heard crying as I look out the window.
It can sometimes be hard to explain why this was so difficult for me, so let me try: I wasn't just leaving a country that I love. That I identify with. Don't get me wrong -- I do love it dearly, from the shopping carts that roll sideways to the over-the-top streetlights, from the snows on Esja to the moss on Öskjuhlíð, from súrmjólk to smjör and from the coffee shops to the trails and waterfalls. But I wasn't just leaving Iceland. I was leaving friends. Coworkers. A job I actually enjoyed attending. My home. My plants. My language studies, half-done. A ton of important tasks half-done. I may have only been in Iceland for three weeks this time, but I was now leaving what had become basically my entire life. And it was tearing me up inside.
I spend the next two days traveling: Keflavík to Boston, Boston to Chicago, Chicago to Cedar Rapids, Cedar Rapids to Houston, to stay with my family. And I try not to let anyone see it, but I struggle with depression -- something that isn't typical for me. I'm normally the stable one, the "up" one. But I'm finding myself frequently just going through the motions, sometimes not being able to do anything but stop and cry. This world is so alien for me now. I feel like a foreigner here in the US. The environment is wrong, the weather is wrong, the people are wrong, the products are wrong, the language is wrong, the mannerisms are wrong. I don't recognize this place. And I don't want to. I just want to go home. But I can't, not for two months. And that hurts.