When I was twenty-four years old, I worked as a personal assitant for a pastor and his wife. I nannied their children, hosted church events and designed workbooks for the Women's Ministry. I'd been involved in this church for two years and a reverend for five years at that point. My heart was "devoted to God."
Several years later, I'm atheist and feminist largely due to the repressive theology of that pastor and others like him. I've stayed out of politics for years because I wanted to stay away from extreme points of view; however, the GOPs War on Women is something I can't ignore.
The War on Women isn't just a case of Republicans trying to remove women's rights. In most cases, the GOP has been lobbied by a religious institution of some kind (United States Conference of Catholic Bishops is one prominent group). Sometimes less notably, these Republicans choose "spiritual guidance" while they are in office and many times their chosen guide is an Evangelical extremist.
A few days ago, I was perusing Facebook and found a photo of the aforementioned pastor praying with Governor Bobby Jindal.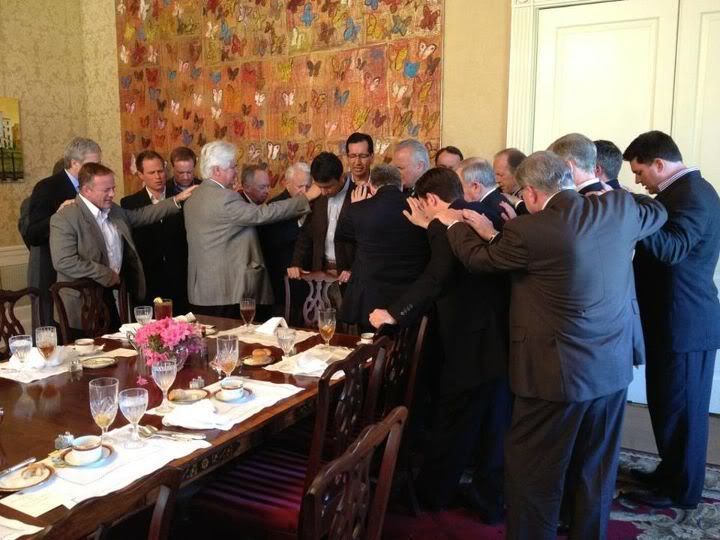 I wasn't at all surprised. When I worked for this pastor, he often visited the Governors mansion to counsel Kathleen Blanco (who was the Governor during that time). She often came to visit our church, speaking at church fundraising events. Before I left Louisiana in 2005, Bobby Jindal was making his rounds to neighboring churches and attended ours. He gave his "testimony" one Sunday morning in church, stating how he would fight for "moral" issues if he was elected.
He won the election.
Now, he and many other Republicans are taking this "spiritual battleground" seriously and attacking women's reproductive health in an attempt to make abortion illegal. What they don't realize is the majority of voters largely disagree with them and their "spiritual guides."
Siding with extremely religious fundamentalists is a quick way to lose an election. According to the Pew Forum for Religion & Public Life, 53% said churches should keep out of political matters.