A lot of the time, it feels pretty hopeless advocating to protect the climate. The banshees drown out every sane word or thought, and there are too many of them.
Here are some recent lessons that not only give us hope, but also suggest an approach to change the climate when it comes to climate. We see how the impossible can become established fact very suddenly, after years of what appeared to desperately little progress. When the shrieks are loudest - it's when we are closest.
Legal and political possibility are the headliners when it comes to the big decisions. Politically and legally, real climate action in the US appears DOA. It's a bad thing.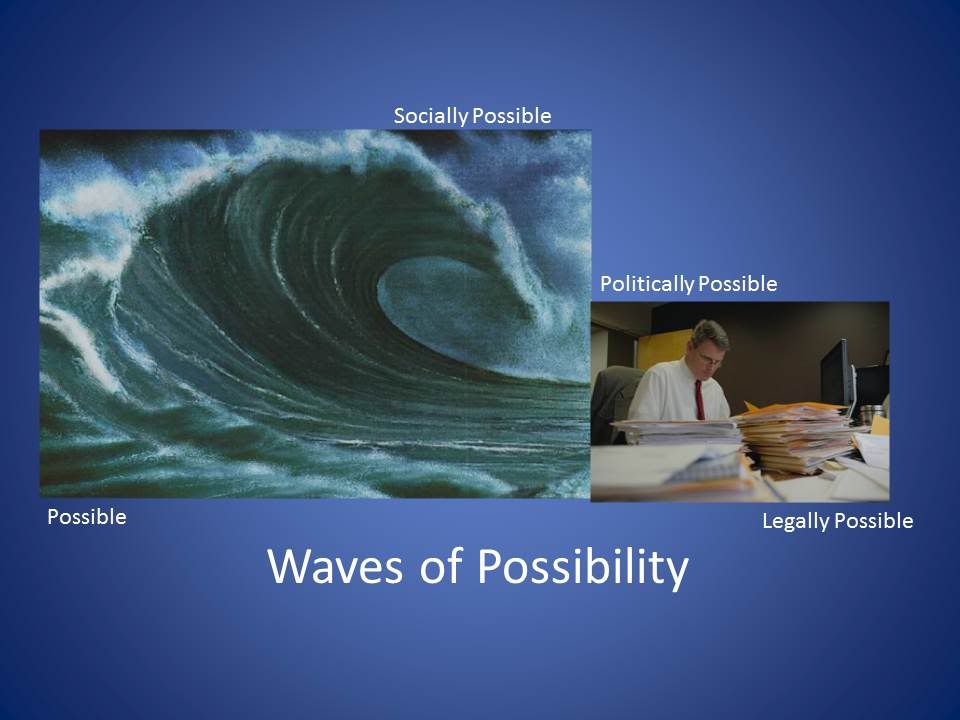 Since most of us are not big time lawyers, nor congresscrittters, the area we can change is the area of social possibility, that at times can liberate someone in a position of power to do the right thing, or at other times can force them.
We need to take actions that will expand the Social Possibility that we, as a community or as a state or country, can choose to stop expanding carbon pollution. On purpose!
Then, the wave of that possibility needs to break over all those comfortable bubble people who think that they are the only decision makers.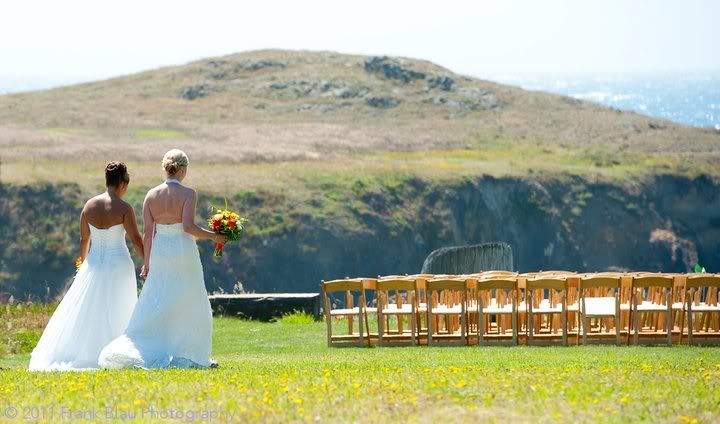 Possibility

To see how social possibility turns into political possibility, then necessity, and finally legal possibility, we have an excellent ongoing example, which is marriage equality. It's a great example because we are still close enough to remember when it was completely impossible.
Let's look at the four stages of possibility for marriage equality and see if this example helps us out.
For any two men or two women, it's been possible to get married since they invented the words "I Do." Possible, but not socially possible for most of history.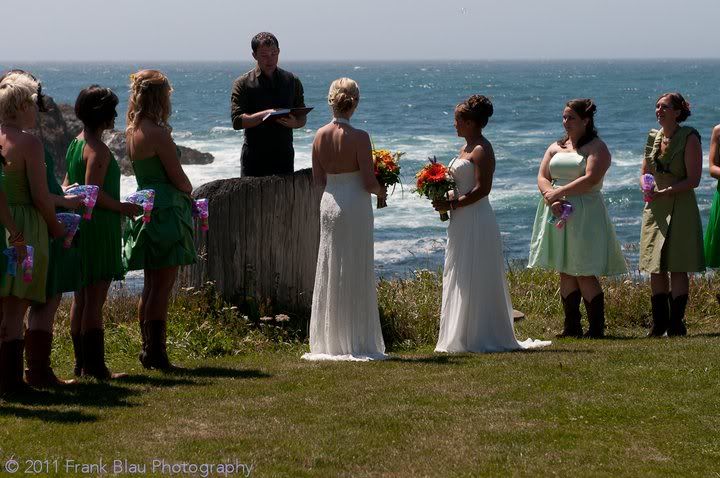 Now

There was this process, of creating social possibility, that went on for years. About 20 years ago, you started hearing about "partners." I remember exactly when I first heard this term, my friend Don introduced me to his partner and I didn't know what he meant. Were they in business together? And then I got it! Congratulations guys! Partners!
Just a few years ago, marriage equality was politically impossible. But there was no stopping the underlying social current which, past a certain tipping point, becomes political necessity and very quickly legal possibility. After that, it's just great news for photographers and event planners!

Love

It will take some time for every corner of our country, but marriage equality has arrived. In just a few more years, it's going to be pretty embarrassing for certain people to have to admit that they were against love and family.
That's pretty inspiring. We can get where we need to be. Once a critical mass of understanding is reached, the impossible can become simply fact, faster than you think is possible.
Here in Washington State, we had the recent surprise that marriage equality just seemed to arrive from nowhere! Like in other states, the conventional wisdom said it was not a political winner, and the governor was timid. Then all of a sudden, the moment was here.

Joy

.
.
It's not exactly clear whether the governor was freed to do what she had always known was right, or whether she was pushed into it by civil rights leaders such as WA Senator Ed Murray. But, there is one case where it's absolutely clear: Republican State Senator Maureen Walsh not only voted for the bill but she
told us all exactly why
in a totally amazing, must see, narrative of personal growth. This is someone who was liberated to do the right thing by the arrival of social possibility.
So what happened in the years leading up to the arrival of the wave? You might naturally look to the headliners, like the governor, as being the people who made it possible, but I have a different theory.
I think it was my friend Don, back in Virginia in 1995. By that I mean him, and a million people who talked to their friends, and non-friends, about equality, dignity, love and family. Some of those people realized that they didn't want to hurt their neighbors any more. And then some of them talked with their friends. Activists were then able to expand that conversation at every level from personal to national.
When it comes to carbon pollution, we find ourselves stuck somewhere deep in the question of social possibility. Beyond the huge educational hill to climb, we face a well funded set of professional liars whose entire mission in life is to prevent the truth about carbon pollution from coming out.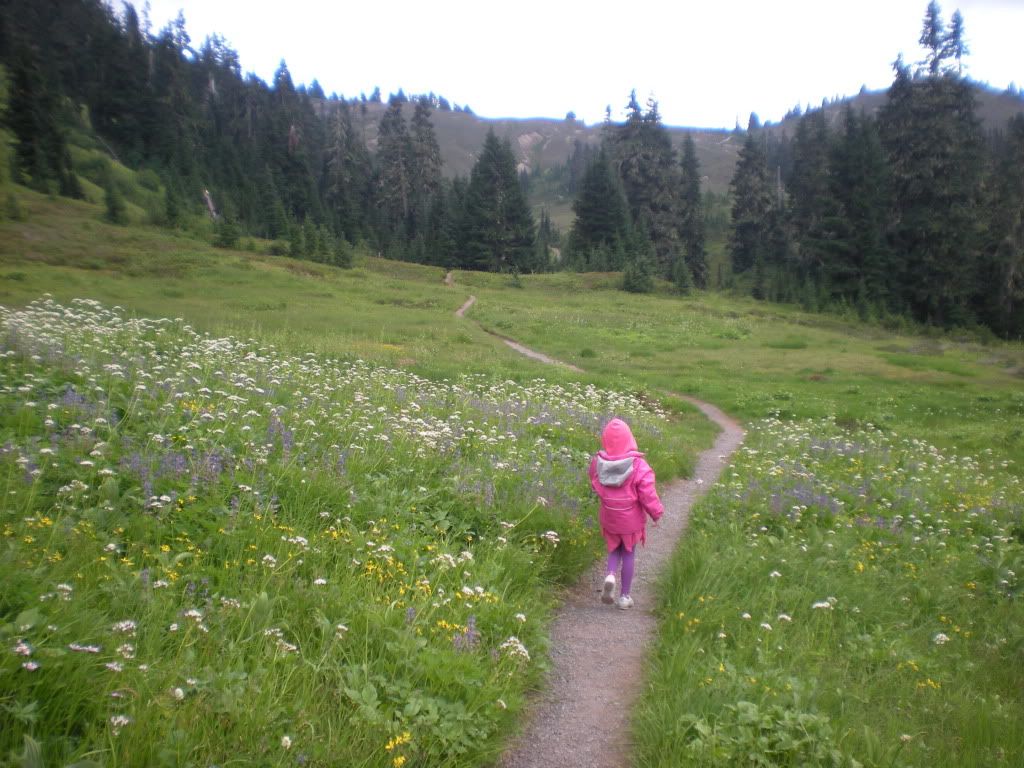 Possibility ... Now ... Love ... Joy

.
To create the underlying social possibility of reducing carbon pollution, we need to help people to connect the dots. All of those local impacts, all the NIMBYs that motivate us to action in our specific areas, are inseparable from the fact of being a big carbon project, from local poisons all the way to global warming and the acidification of the world's oceans. It is not possible to have a new big carbon project without creating a swath of destruction everywhere along its path, and then leaving an oily film or dusty coating of pollution.
Political and legal action is important. I endorse it. But, at the end of the day, there will be no political or legal progress unless there is a social wave, composed entirely of people we talk to, educate, convince, and motivate.
They may own most of the airwaves, and the sponsored links any time you Google an energy or environmental topic. The legions of paid trolls may drown out any semblance of conversation in the comments sections of online news.
But, they cannot own the conversation that individuals have with each other, however much they may try.
You know of whom I speak

I have a very difficult assignment for anybody who will consider it. Your assignment, should you choose to accept it, is to
start conversations with the people in your lives
(and not the people would typically read Daily Kos). You know of whom I speak.
In those conversations, I challenge each of you to expressly take on the big cahuna: We have to stop expanding carbon pollution. It's not just global warming. Carbon pollution poisons our air, land and water, whether it's fracking, hazardous air pollutants, ocean acidification, global warming, shredded landscapes, or any of the myriad other effects.
The most important thing is to have the conversations. You don't have to "win" a given discussion. Just communicating to someone, that this is something that matters, accomplishes something. If you can't convince your father in law, it may be that at the same holiday dinner table, your cousin Bob has been thinking about these things but not known who to talk to, until now.
In the next few years, there will be a series of decision points on various new big carbon pollution plans. Elected officials and bureaucrats will make their decisions. These decisions absolutely will be affected, deeply, by the sense of the people who elected the officials.
When our county, our state, and our country convey to these people that it is perfectly reasonable to stop a big carbon project, just because that's what it is, then good decisions will follow. But not otherwise. We have a very small number of years to build that condition.
For marriage equality, that social change didn't happen by itself. It took millions of people like my friend Don, who decided it was time to have that conversation, and had the courage to start it.
Is it enough just to stop new big carbon? Nope, it's not enough. But it's required, and it creates the next level of possibility, of reducing carbon pollution.
So everybody, right now is the time to have the conversation about carbon pollution with the people in our lives. Don't be silenced when our habitat is at stake.

Our Future - Worth Saving

Wedding photos copyright
Frank Blau Photography
, with special permission from Danielle (thanks!).