Usually avant garde and offbeat in nature, Cult Films frequently flop at the box office when released but, over time, develop a loyal and intense following. In some instances, this feeling intensifies as some movies are celebrated even decades after the initial release.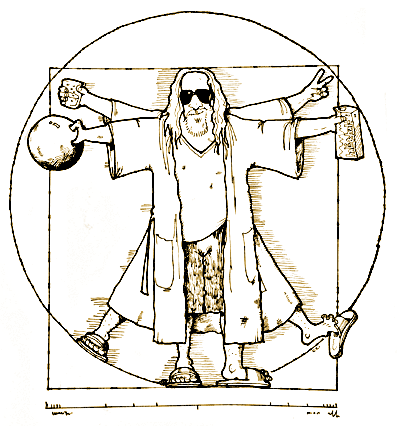 ---
A cult film is characterized by its active and lively communal following.
Highly committed and rebellious in their appreciation, cult audiences are frequently at odds with cultural conventions as they prefer strange topics and allegorical themes that rub against cultural sensitivities and resist dominant politics.
Cult films transgress common notions of good and bad taste, and they challenge genre conventions and coherent storytelling.
Among the techniques cult films use are intertextual references, gore, loose ends in storylines, or the creation of a sense of nostalgia.
Often, cult films have troublesome production histories, coloured by accidents, failures, legends and mysteries that involve their stars and directors.
In spite of often-limited accessibility, they have a continuous market value and a long-lasting public presence. link
---
"Cultographies' Definition of Cult Cinema" - Cultographies (U.K.). Sketch credit: Dudeism.
More About a Few Cult Films
---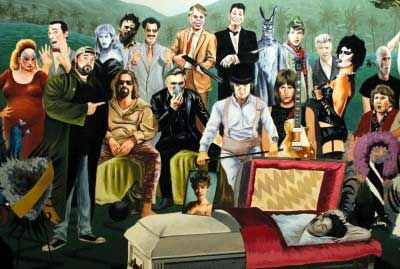 If one movie can sum up the definition of "cult film," it would probably be The Rocky Horror Picture Show... Midnight-movie screenings and singalongs with the film's musical numbers have cemented Rocky Horror's status in the pantheon of cult classics.
They've also helped to land the film on a new list of the top 100 cult films of all time. But that list also contains some surprising titles - sci-fi and fantasy mainstays like Star Wars and Lord of the Rings, even family favorites like The Wizard of Oz, It's A Wonderful Life and The Sound of Music. link
Audiences of cult movies stress their rebellious attitude, and they frequently consider themselves outsiders, renegades roaming the borders of what is morally acceptable. Often this attitude exhibits itself in a fierce and radical refusal to condone regular movie-going, and in a penchant desire to disrupt such practices, for instance by inappropriate behaviour, such as disturbing sounds or 'call and response' reactions... Among the rebellious attitudes, cinephilia is the best known. Cinephiles are viewers who pride themselves on expert opinions on the topic of cinema. They have a preference for films that 'challenge' and/or contain 'philosophical journeys' - an appreciation for films that are 'demanding'. Examples of films that are known to attract cinephiles are A Clockwork Orange (1971), Crash (1996), and Fight Club (1999). link

The movies I have selected for the diary poll include The Big Lebowski (1998), The Rocky Horror Picture Show (1975), Easy Rider (1969), This Is Spinal Tap (1984)...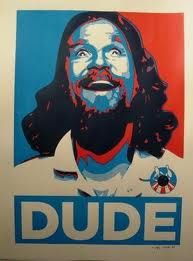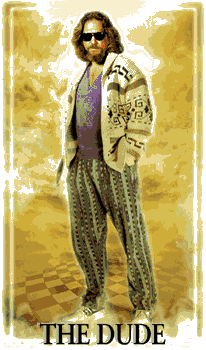 ---
Like a teenager who discovers Che Guevara T-shirts, there is nothing original or particularly inspired about liking The Big Lebowski. So predictable, you'll say. Dear God, it's not even the best film by the Coen brothers, have you not seen Barton Fink? Year after year, I watch films that make me cry, films that make me laugh, and films that keep reappearing in my head for days, weeks after, because they're so good but I've never watched anything that I love as much as The Big Lebowski...
Still, the Dude is clearly our flawed hero. The Coen brothers never forget the redeeming power of love, and in The Big Lebowski it is the force behind perhaps one of the most brilliant dream sequences ever to appear in a film. Amid the farcical events of the film, the Dude is finding himself again; after an encounter with Maude "Jeffrey, love me" he will have a very real reason to grow up.
But obviously none of this is what people love about the film. The Big Lebowski is stone cold hilarious. The aggressive taxi driver who loves the Eagles. Tuturro as Jesus, all in purple and promising to "pull the fucking trigger until it goes click". "Well, that's just like, your opinion", The Dude abides. "Did I urinate on your rug?" The Big Lebowski joins This Is Spinal Tap, Life of Brian and many more as a film which can be referenced in a seemingly endless rotation of one liners. link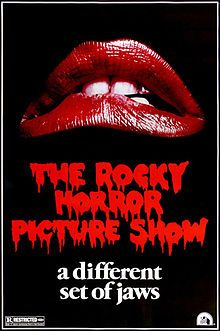 ---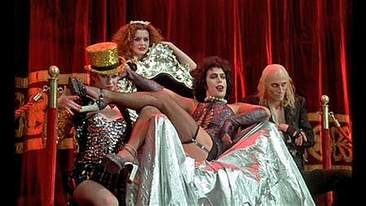 "The Rocky Horror Picture Show" is not so much a movie as more of a long-running social phenomenon. When the film was first released in 1975 it was ignored by pretty much everyone, including the future fanatics who would eventually count the hundreds of times they'd seen it...
The rest is history. At its peak in the early 1980s, "Rocky Horror" was playing on weekend midnights all over the world, and loyal fans were lined up for hours in advance out in front of the theater, dressed in the costumes of the major characters. There were jolly reunions of Janets and Brads, the All-American couple played in the movie by Susan Sarandon and Barry Bostwick, conspiratorial knots of Dr. Frank N. Furters, the mad transvestite scientist played by Tim Curry, and clumps of Riff Raffs -- he was the hunchback butler played by Richard O'Brien, who also wrote the songs.
Inside the theater, the fans put on a better show than anything on the screen. They knew the film by heart, chanted all of the lines in unison, sang along with the songs, did dances on stage, added their own unprintable additions to the screenplay, and went through a lot of props like toilet paper and water pistols. link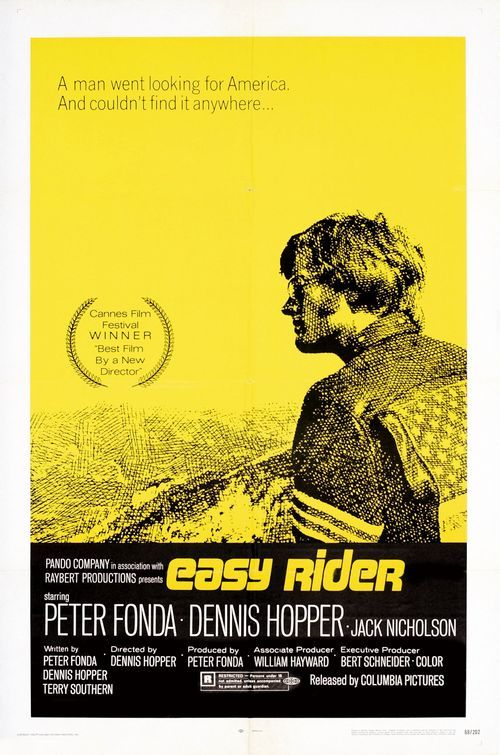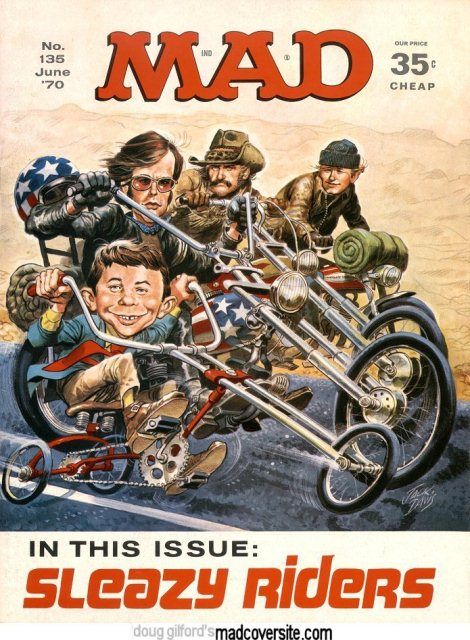 ---
Easy Rider (1969) is the late 1960s "road film" tale of a search for freedom (or the illusion of freedom) in a conformist and corrupt America, in the midst of paranoia, bigotry and violence. Released in the year of the Woodstock concert, and made in a year of two tragic assassinations (Robert Kennedy and Martin Luther King), the Vietnam War buildup and Nixon's election, the tone of this 'alternative' film is remarkably downbeat and bleak, reflecting the collapse of the idealistic 60s. Easy Rider, one of the first films of its kind, was a ritualistic experience and viewed (often repeatedly) by youthful audiences in the late 1960s as a reflection of their realistic hopes of liberation and fears of the Establishment...
The iconographic, 'buddy' film, actually minimal in terms of its artistic merit and plot, is both memorialized as an image of the popular and historical culture of the time and a story of a contemporary but apocalyptic journey by two self-righteous, drug-fueled, anti-hero (or outlaw) bikers eastward through the American Southwest. Their trip to Mardi Gras in New Orleans takes them through limitless, untouched landscapes (icons such as Monument Valley), various towns, a hippie commune, and a graveyard (with hookers), but also through areas where local residents are increasingly narrow-minded and hateful of their long-haired freedom and use of drugs. The film's title refers to their rootlessness and ride to make "easy" money; it is also slang for a pimp who makes his livelihood off the earnings of a prostitute. However, the film's original title was The Loners. link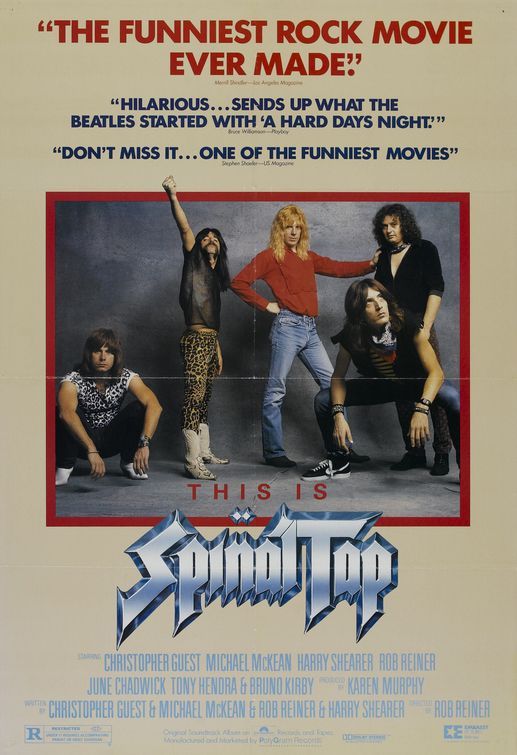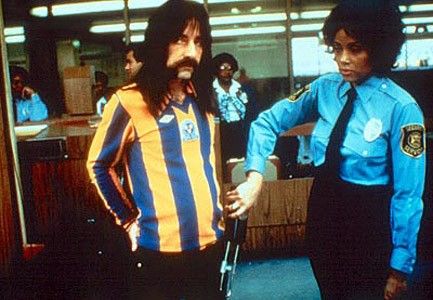 ---
Funniest Movie Moments and Scenes
The famous "These go to 11" scene in which legendary bogus heavy-metal British rock group singer and lead guitarist Nigel Tufnel (Christopher Guest) brags about his very special Marshall amp to rockumentary, cinema verite film-maker Marty Di Bergi (Rob Reiner) - boasting that the amplifier can go "one louder" up to a volume setting of eleven ("These go to 11"); and his blank response to Di Bergi's query why they just don't make 10 louder; also, the scene of their arrival in America to endorse their new and controversial album/cover Smell the Glove (filled with vulgar songs such as "Big Bottom", "Sex Farm Woman", and "Lick My Love Pump" with offensive lyrics) - and attired in complete heavy metal regalia; also the scene of bass player Derek Small's (Harry Shearer) 'enhanced' embarrassment when caught at an airplane security check with a cucumber wrapped in aluminum foil stuffed in his pants; the scene at the gravesite of Elvis Presley in Memphis after their show was cancelled when they harmonize on "Heartbreak Hotel"; the airforce base concert where the straight audience is disgusted by their song "Sex Farm Woman"; and the scene backstage in North Carolina when Nigel is angered because the meat slices for sandwiches are larger than the bread slices; and the band's convoluted attempts to walk from their basement dressing room to the stage at their Cleveland concert ("Hello Cleveland!"); and the disastrous Stonehenge finale in which an undersized 18 inch miniature Stonehenge monolith monument (the specifications were doodled on a bar napkin for the designer -- "Forget this. F--k the napkin!") is lowered to the stage and dwarfed by a pair of midgets cavorting around it ("The problem may have been that there was a Stonehenge monument on the stage that was in danger of being crushed by a dwarf")

And the rest of the movies listed on the diary poll are...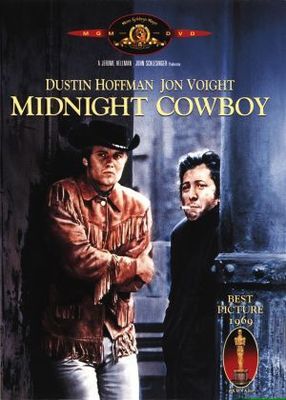 Pink Flamingos (1972) and Midnight Cowboy (1968)


Clerks (1994), Deliverance (1972), Scarface (1983), Fight Club (1999), Freaks (1932), and Monty Python's The Meaning of Life (1983)


Requiem For a Dream (2000) and Eraserhead (1977)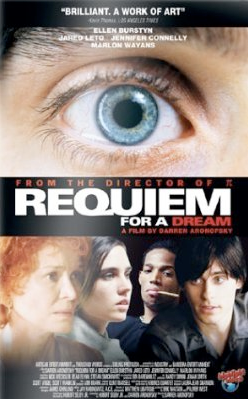 A Note About the Diary Poll
---
If obvious choices like A Clockwork Orange (1971) or other Monthy Python favorites didn't make it to the diary poll, it doesn't necessarily mean that they didn't deserve to or that I don't like the movies. Rather, such movies have most likely been discussed in one or more of the many diaries that I have written about different genre of films. So, don't you give me any more grief than is usually directed towards me in diaries like this one!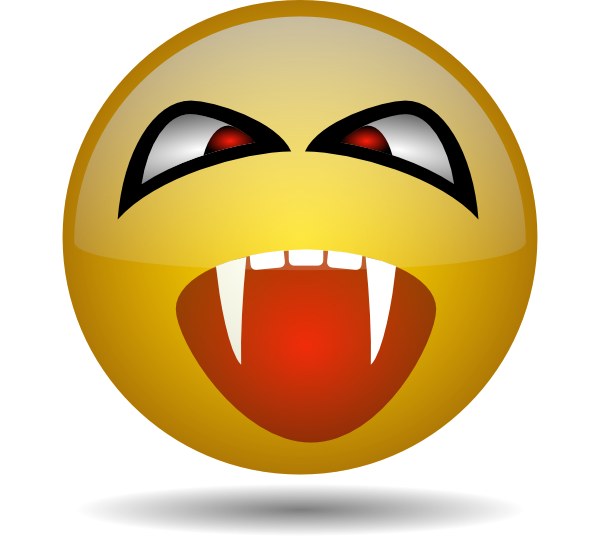 To refresh your memory, here is a fairly long list of movies which have acquired some degree of cult status over the years:
Fast Times at Ridgemont High (1982), Duck Soup (1933), M*A*S*H (1970), The Texas Chainsaw Massacre (1974), The Manchurian Candidate (1962), Rosemary's Baby (1968), Love Story (1970), Night of the Living Dead (1968), Dirty Harry (1971), Pee-Wee's Big Adventure (1985), Apocalypse Now (1979), The Shining (1980), Ghostbusters (1984), Fargo (1996), Donnie Darko (2001), Young Frankenstein (1974), Star Wars (1977), Barton Fink (1992), Repo Man (1984), Twin Peaks: Fire Walk With Me (1992), Showgirls (1995), The Usual Suspects (1995), Dr. No (1962), Fear and Loathing in Las Vegas (1998), Monty Python's Life of Brian (1979), Blade Runner (1982), Planet of the Apes (1968), The Day the Earth Stood Still (1951), Plan 9 from Outer Space (1958), Mommie Dearest (1981), The Graduate (1967), Tron (1982), Willy Wonka and the Chocolate Factory (1971), Reservoir Dogs (1992), The Outlaw Josey Wales (1976), Psycho (1960), The Pink Panther (1963), Monthy Python and the Holy Grail (1974), The Princess Bride (1987), The Wizard of Oz (1939), It's a Wonderful Life (1946), Rebel Without a Cause (1955), The Sound of Music (1965), Dr. Strangelove Or: How I Stopped Worrying and Learned to Love the Bomb (1964), Blow-Up (1966), Valley of the Dolls (1967), Jaws (1975), The Blues Brothers (1980), Pink Floyd: The Wall (1982), American Graffiti (1973), Being John Malkovich (1999), The Breakfast Club (1985), Raising Arizona (1987), Pulp Fiction (1994), The Shawshank Redemption (1994), 2001, A Space Odyssey (1968), Back to the Future (1985), King Kong (1933), Harold and Maude (1971), Rosemary's Baby (1968), and Straw Dogs (1971).
You can look up dozens of additional cult films on these web sites