A new study published by the CDC show that teen pregnancy levels have dropped to the lowest level since they began recording data back in the 1940s. But, that is a general statistic, an average of all the states.
States that push abstinence only education, fight against contraception, and in general, try to roll back the clock to circa 1850, have a 50-60% higher teen pregnancy rate than the rest of the country. Shocker.
Mississippi has the highest teen pregnancy rate in the country, and double shocker, they require kids to be taught abstinence-only education.
New Hampshire has the lowest rate, and triple shocker, they require kids to be taught about contraceptive and how to use it effectively.
Mississippi's teen pregnancy rate is almost 4 times higher than New Hampshires. That speaks for itself.
More below the squiggle.
Researchers at the University of Washington did a study that found if teenagers receive some type of sex education were 60 percent less likely to get pregnant or get someone else pregnant. And in 2007, a federal report showed that abstinence-only programs had "no impacts on rates of sexual abstinence".
Again, I'm shocked telling kids not to have sex didn't stop them from having sex. And making it as difficult as possible to get contraceptive made it more likely for the kid to get pregnant (or get someone else pregnant). It's weird that attaching this social stigma to preventing pregnancy is having an adverse effect on their teen pregnancy rates.
I found the below map that shows teen pregnancy rates by state, all the figures are shown as per 1000 teens (aged 15-19). The second map is of the general political leanings of that state. Do you see any correlation between these two maps?
No matter what conclusion you draw, there is no denying that this is a serious problem. It costs tax payers around $10 billion every year (federal, state and local level) to cover the cost of these unplanned teen pregnancies. Maybe it's time to stop letting social extremists brainwash our children and push their ass backward agenda onto unsuspecting teenagers, especially considering it clear does absolutely nothing to solve the problem, in fact, it seems to exacerbate the problem. Ideology doesn't prevent pregnancy or STDs, but contraceptives do. Teenagers are going to have sex regardless, the least we can do is arm them with the knowledge they need to do it safely. Clearly teaching them that "sex is evil" isn't really working out.
Teen Pregnancy Rates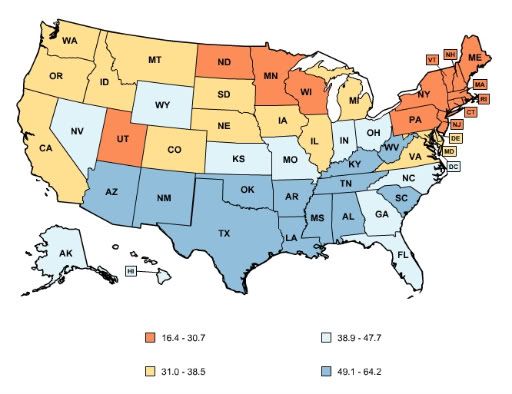 Political Leanings
Map of Poverty Levels
Map of Obesity Levels
Map of High School Completion Levels
Map of Education Levels
Map of College Graduate Levels