Remember this one... This is a website screen shot of the American Legislative Exchange Council (ALEC) April 13, 2012. The day they all, the Koch Brothers and their mega-wealthy cabal, greedy CEOs, and hundreds of US and Multinational Corporations which are ALEC Members, a number which is falling rapidly...
...got a Wake Up Call!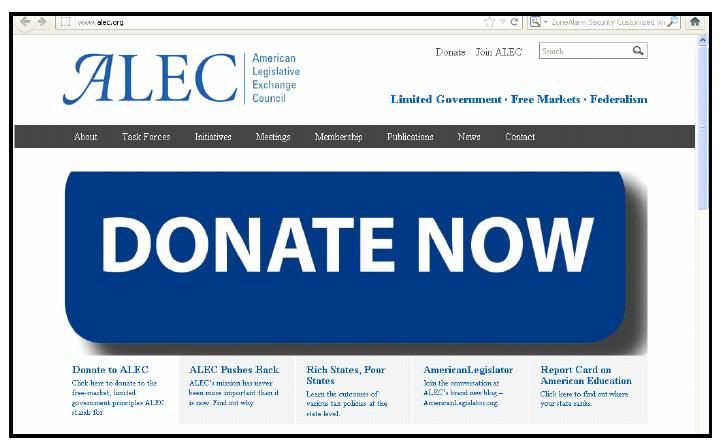 PS Do not donate to ALEC or what people are calling a "radical right-wing organization" or that is what they say we call them, and they are right. You might donate to the orgs below instead.
... and it took decades, hundreds of individuals, bloggers, OWS, dozens of orgs from across the spectrum, and just 14 months this round to get them to answer the phone.
For more on ALEC on Kos, Voter Legislative Transparency Project (Kos Group Abolish ALEC) and ALECExposed.org.
Also highly RECOMMEND for the advanced "ALEC spelunkers" out there the collaboratively researched VLTP report "ALEC Federal Government and Corrupt Practices".
####
Why are they (ALEC) asking for donations when they are just an "social networking" organization of "bipartisan state legislators"? Because if those "thousands" of politicians that are ALEC members all doubled their annual dues that would only raise the ALEC budget by another 2%. The rest of their money comes from Corporations and their "Corporate Royalty".

Keep working folks, this is just the very nose of the end of the beginning, a huge media, marketing campaign is sure to follow.
Thanks to everyone who has taken up this very important battle. KEEP GOING! If you are watching #ALEC and it makes you furious, donate or JOIN IN!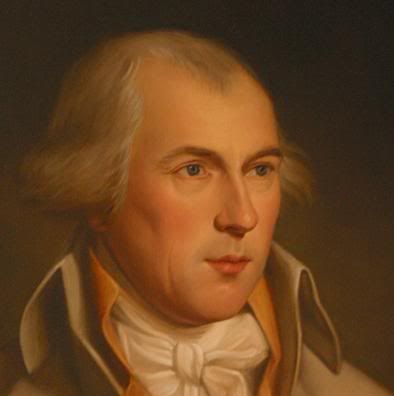 "We are free today substantially but the day will come when our Republic will be an impossibility. It will be impossibility because wealth will be concentrated in the hands of a few. A republic cannot stand upon bayonets, and when that day comes, when the wealth of the nation will be in the hands of a few, then we must rely upon the wisdom of the best elements in the country to readjust the laws of the nation to the changed conditions."
- James Madison, in an interview during his presidency (1809-1817) by the New York Post (cited by George Seldes, Great Quotations)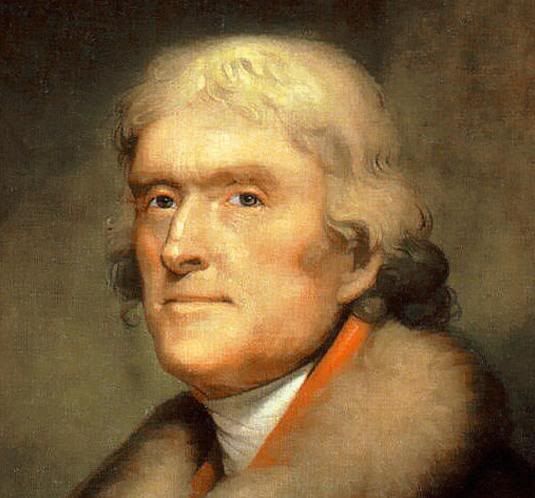 "I hope we shall crush in its birth the aristocracy of our moneyed corporations, which dare already to challenge our government to a trial of strength and bid defiance to the laws of our country."
- Thomas Jefferson in a letter to his friend George Logan, 1816
QUESTION: What would Madison or Jefferson say to us today?
######
UPDATE: Americans for Prosperity Message (This is the AFP OH version)
SUBJECT: Stop the Left from Attacking Our Free Market Ally

"The Left is desperate to disparage free market principles and the current target is the American Legislative Exchange Council, a non-profit organization dedicated to assisting state legislators while they work to promote
free market policies in Columbus.

ALEC is critical to the free market here in Ohio. ALEC works with our State Legislators to provide model legislation that supports limited government, federalism, and individual liberty. Most recently here in Ohio, we worked with ALEC on important tax and education issues that affect the everyday lives of Ohioans.

ALEC has been highly effective promoting free-market policies and for this, they are being demonized and state legislators who work with them are being harassed."
RESPOND to AFP by making THIS VIRAL:
ALEC/NRA Animation by Pulitzer Prize winning Mark Fiore
by Pulitzer Prize winning Mark Fiore, March 28, 2012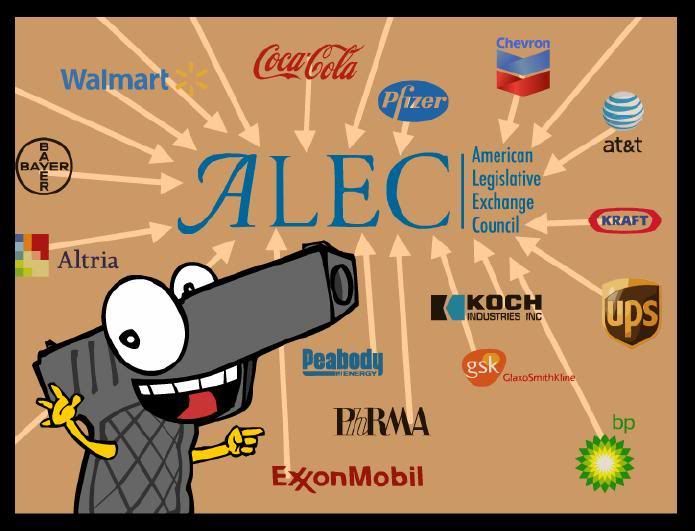 Says it all in less than 2 minutes
UPDATE April 14 Day After ALEC's "Friday the 13th":
Yesterday was a day of cable news pleas, email from AFP and other orgs in the extended Heritage/CNP power structure, and their attempts at steadying their ranks. While reading about more corporate members bailing, got a note saying that not only is this post a first page Google hit for awhile, but also frontpaged on DailyKos. We thank you for reading & tweeting - get that awesome animation out to all your rightie friends.
This is all entertaining to the some of the researchers we have been working with because this was a 5 min iPhone piece, not an extensive weeks, or months long effort like the first State Level ALEC Michigan investigation (collecting all things "ALEC" prior to Feb 22, 2011) and testing research methodologies) or the Response to ALEC Defensive Press Release last April which is peppered with Jefferson quotes.
Speaking of Jefferson (and Madison), some bonus material, for those that are interested.
####
Why ALEC's Use of the term "Jeffersonian Principals" is so Fundamentally Flawed
Just one example of the outrageous twisting of our heritage
Thomas Jefferson in an excerpt from a Letter to James Madison on October 28, 1785:
In his own words - Jefferson's travels in France:
...I set out yesterday morning to take a view of the place.... As soon as I had got clear of the town I fell in with a poor woman walking at the same rate as myself and going the same course. Wishing to know the condition of the laboring poor I entered into conversation with her.... As we had walked together near a mile and she had so far served me as a guide, I gave her, on parting, 24 sous. She burst into tears of a gratitude which I could percieve was unfeigned, because she was unable to utter a word. She had probably never before recieved so great an aid.

This little attendrissement, with the solitude of my walk led me into a train of reflections on that unequal division of property which occaisions the numberless instances of wretchedness which I have observed in this country and is to be observed all over Europe.

His Reflections on his Observations:
"The property of this country is absolutely concentrated in a very few hands, having revenues of from half a million of guineas a year downwards. These employ the flower of the country as servants, some of them having as many as 200 domestics, not labouring. They employ also a great number of manufacturers, and tradesmen, and lastly the class of labouring husbandmen. But after these comes them most numerous of all the classes, that is, the poor who cannot find work. I asked myself what could be the reason that so many should be permitted to beg who are willing to work, in a country where there is a very considerable proportion of uncultivated lands?" (break)

"I am conscious that an equal division of property is impracticable. But the consequences of this enormous inequality producing so much misery to the bulk of mankind, legislators cannot invent too many devices for subdividing property, only taking care to let their subdivisions go hand in hand with the natural affections of the human mind."
Emphasis added and use of clips.
Read the Full Version and others like it in the quintessential source for the writings of Thomas Jefferson in the University of Virginia eText version or the eBook version of The Jeffersonian Cyclopedia, Edited by John P. Foley (Funk & Wagnalls, New York/London 1900)
##
James Madison in Federalist Papers No. 10 and No. 51 and the Virginia Convention:

The Federalist Paper No. 10
"The most common and durable source of factions has been the various and unequal distribution of property. Those who hold and those who are without property have ever formed distinct interests in society."

"The apportionment of taxes on the various descriptions of property is an act which seems to require the most exact impartiality; yet there is, perhaps, no legislative act in which greater opportunity and temptation are given to a predominant party to trample on the rules of justice."

The Federalist Paper No. 51
"Justice is the end of government. It is the end of civil society. It ever has been and ever will be pursued until it be obtained, or until liberty be lost in the pursuit."

Address to the Virginia Convention, June 6, 1788
"Since the general civilization of mankind, I believe there are more instances of the abridgement of freedom of the people by gradual and silent encroachments by those in power than by violent and sudden usurpations. On a candid examination of history we shall find that turbulence, violence, and abuse of power by the majority trampling on the rights of the minority, have produced factions and commotions, which in republics, have more frequently than any other cause produced despotism. If we go over the whole history of the ancient and modern republics, we shall find their destruction to have generally resulted from those causes."

Emphasis Added.

From History of the Virginia Federal Convention of 1788, vol. 1, p. 130 (H.B. Grigsby ed. 1890).
View images of the actual Federalist Papers 10 & 15 or browse the Jeffersonian Cyclopedia.