LATE night last night for the Severe Weather Gang. (Somebody gave us a name last year-Weatherdude and his **. Anybody remember? Severe Weather Gang is a boring name.)
The threat has shifted both East and North-yesterday the SPC moderate area (15% chance) was mostly Wisconsin, and today the moderate area includes Minnesota. The Twin Cities metro area is on the edge of the 15% warned area. La Crosse is right in the middle of it.
More below the squiggle.
Edited 4:57pm Central And another watch posted, this time for eastern Missouri and Western Illinois.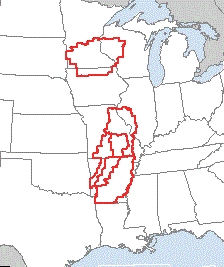 Edited 4:38pm central- Another tornado watch area posted. So far these are all expected to have weaker storms-only a low chance of Ef2+ storms. This last one is for most of Arkansas: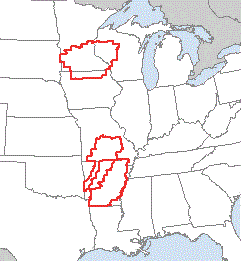 Edited 4:19pm central-Multiple isolated tornadoes in western Minnesota/northeastern Nebraska, right around that arc of storms. The sun has just started popping out-not good timing.
Here is another screen grab from that wind site. I think I am addicted.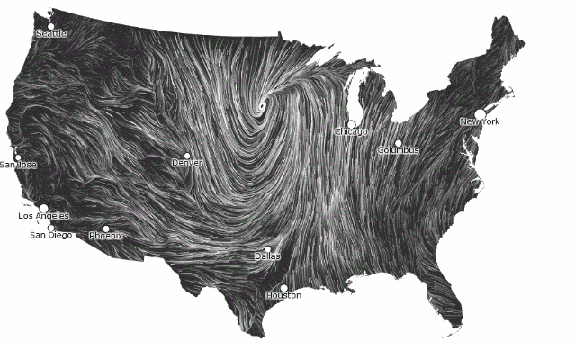 Edited 3:49pm central
New tornado watch area posted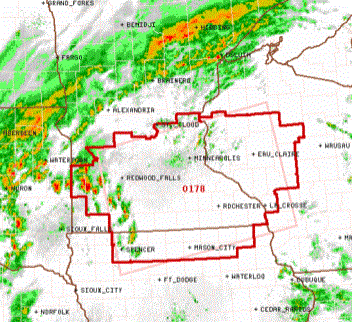 Here is the most recent visible satellite image.
I've been watching a band of storms west and a bit north of Minneapolis and they are starting to throw off some rotating thunderstorms. Since most of the spc-warned area has not cleared off today, there hasn't been much chance for the atmosphere to heat and destabilize.
Hopefully that will keep any outbreaks isolated and weaker than yesterday's storms.
Edited 1:24pm Central-new TOR-CON levels. Ohio and Pennsylvania (I missed that one!) are out of the picture. Just the one tornado watch posted so far. Lots of night TOR CON levels again.
Sunday April 15
AR west, central - 4
AR east - 3 night
IA northeast - 7
IA northwest - 3
IA central, southeast - 5
IL northeast, central, southwest - 4
IL south - 3 to 4 night
IN northwest - 3 to 4
KY west - 3 night
LA northwest - 3 to 4
LA north, west - 3 night
MI upper - 3 to 4
MI lower - 3 to 4 night
MN southeast - 7
MN southwest - 4
MN east-central - 5
MO northeast, central, south - 4
MS northwest - 3 night
OK southeast - 3
TN west - 3 night
TX east - 3
WI southwest, west-central - 7
WI southeast, east-central - 4 to 5
WI north - 3 to 4
Other areas - less than 2
Edited 11:16am, Central time: the first tornado watch has been posted: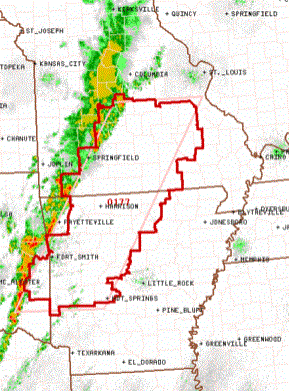 TOR CON levels so far-these will change, of course:
Sunday April 15
AR - 3
IA east - 6
IL north - 4
IL central, south - 3
IN northwest - 2 to 3
LA northwest - 3
MI upper - 3
MI west - 3
MN southeast - 6
MO east-central, south - 3
NY west - 2
OH northeast - 2
OK southeast - 3
PA northwest - 2
TX southeast - 4
TX rest of area east of I-35 - 3
WI southwest, west-central, central - 6
Other areas - less than 2
Original diary:
Before I get to the SPC maps, I want to show you the wind maps. Yesterday somebody posted a link to hint.fm/wind, which is a mesmerizing plot of wind speed and direction. I took screen caps at several points yesterday:
i wish I'd thought to get a morning shot, but I didn't think of it until 2pm: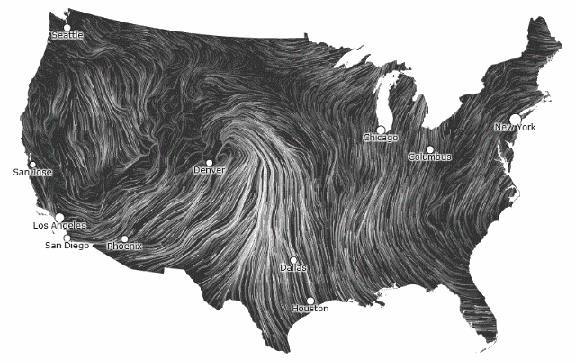 Here is 9am this morning: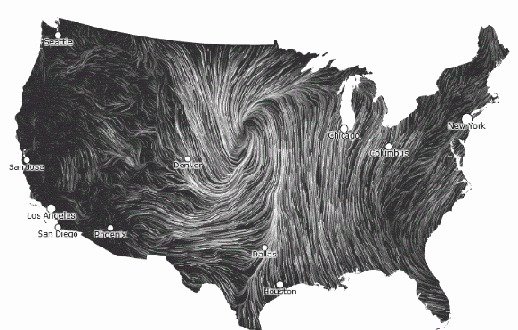 And here is the SPC outlook for today, specifically for tornadoes: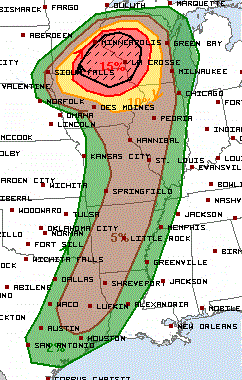 Timing on this is late afternoon/early evening.
And please-no political comments. Start your own diary for those.