A few weeks ago I wrote a diary about a small river near my home that over the years has managed to carve a path into my soul just as surely as she has carved a path through these Missouri hills. At the time I wrote that I regretted the fact that I didn't have any pictures to include. So after a couple of setbacks trying to get things to fall into place I was finally able to make a float trip on the river with camera on board to document a little of her beauty. I used up most of my words on the first diary so I will just add a note or two to the pictures as I post them.
So if you'll just help me get the canoe around that little log jam there we'll be on our way.
As I was waiting to take this float I drove around one day in early March and took a few pictures from the fords and bridges that cross the river. I'll post a couple of those to begin with just to show you the contrast that a few weeks made. This first pic is a popular ford because it is one solid slab of rock which means you won't be getting stuck in the sand or mud as happens in some of the other fords. But if the river is up at all it's wise to drive the extra miles and use the bridge.

The cedar trees add a little touch of green to the winter landscape.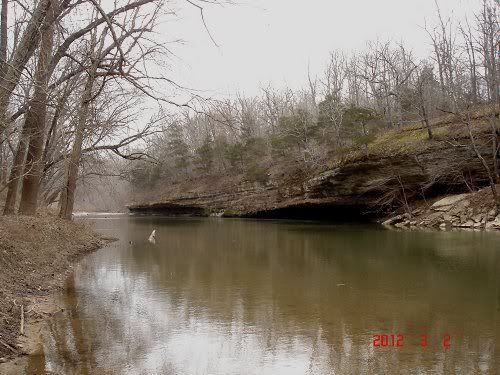 Took this shot off of a bridge, just a view of the river without her spring wardrobe on.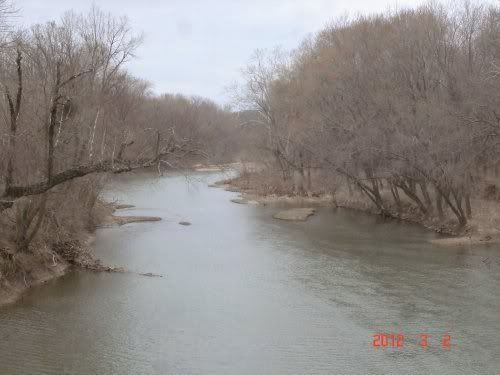 But that was then and this is now.

You'll see a lot of rocks in this diary. There are two basic reasons for that; number one is that there are a lot of rocks in, under, and all along this river, second is the fact that to me the rocks are as important to this river as the water itself. From the millions of tiny smooth water worn pebbles of the gravel bars to the giant rough hewn behemoths that have fallen from the surrounding bluffs and ridges and came to rest all along this waterway they give her a character all her own, and without them she would be something else entirely.

Just one big rock that comes tumbling off the bluff and comes to rest in the river can affect the river in a variety of ways. It may begin to alter it's course enough that in time a big wide bend may be created. Or perhaps sand will begin to accumulate in the eddy behind it and a new gravel bar will form. Sometimes a big enough rock in the right place may even split the river into two separate smaller streams creating a narrow island that ends a ways downstream as the two separate channels reunite. This stoic old man definitely has the potential to turn the river and has the patience to do so in a time frame impossible for us mere humans to comprehend.

You'll also see a lot of limbs and roots and whole trees sticking up out of the water along the way too. Even though this river is pretty calm and relaxed as rivers go, when she floods she can really get to roaring. Thousands of hillsides shed their rainwater down into her and a hard rain will bring her up and out of her banks very quickly as these thousands of little creeks and runoffs gather together within her banks. These not so rare events wash away at the soil holding these trees until they inevitably lose their hold and fall into the water to become handy sunning logs for turtles above the water and cool dark havens for flathead catfish and small mouth bass down below.

Soil that had collected over the ages in the pocket between these boulders is now in the process of being swept away again and the trees and plants that had taken root in that soil will go with it.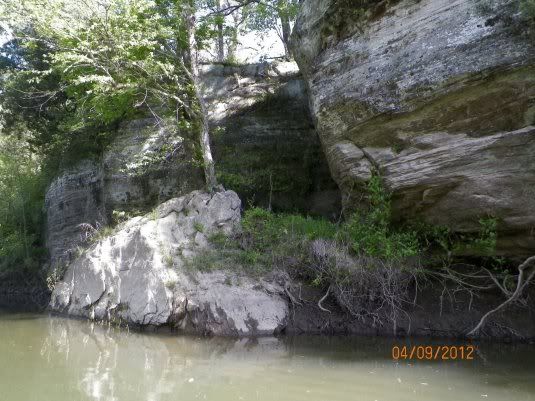 This looks like an open invitation to rock climbers everywhere. I remember a young kid that would have climbed that without hesitation just for the pleasure of sitting atop that rock for a few minutes.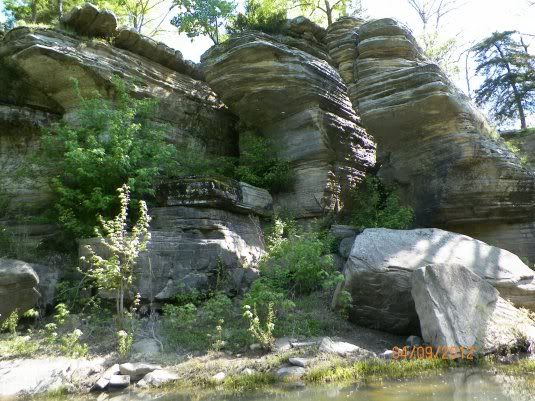 Ok, so shooting her rapids isn't exactly heart stopping, it's still a nice change of pace.

This little guy thought he was well hidden down inside his root wad, and he was but the ripples he created moving around in there gave him away.

I saw this coming and had to make a decision. Not so many years ago this would have looked like a great challenge, now my minds eye sees wet clothes, a ruined camera and soggy sandwiches. I opted to drag the canoe through it............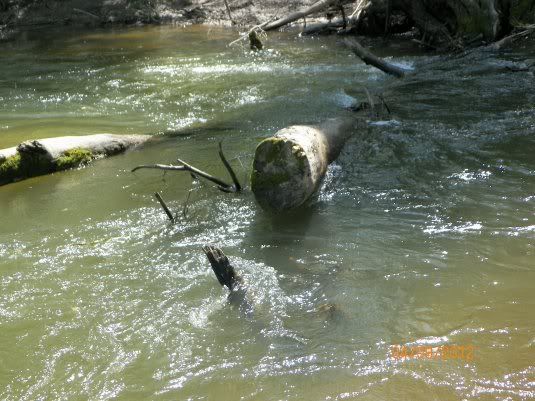 This rock overhang is one of my favorite spots. I like to imagine that it was a cave a few hundred thousand years ago until the roof collapsed. Ferns, mosses and several other types of plants make for some awesome wall paper.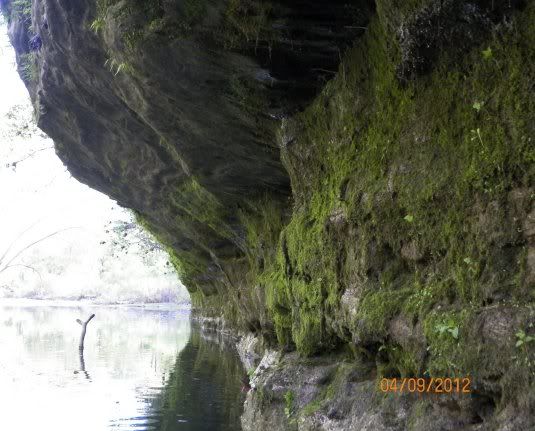 I'll bet my peanut butter and jelly sandwich that there's a big smallmouth or flathead lurking down in there somewhere.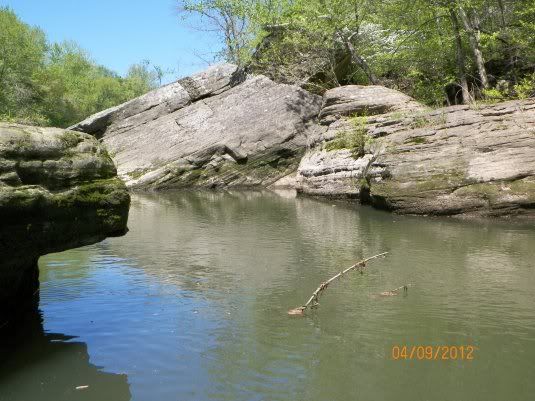 Another likely big fish hideout.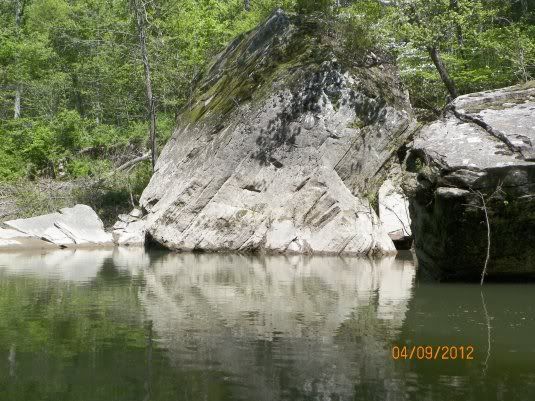 Absolutely no choice but to drag the canoe through this stretch.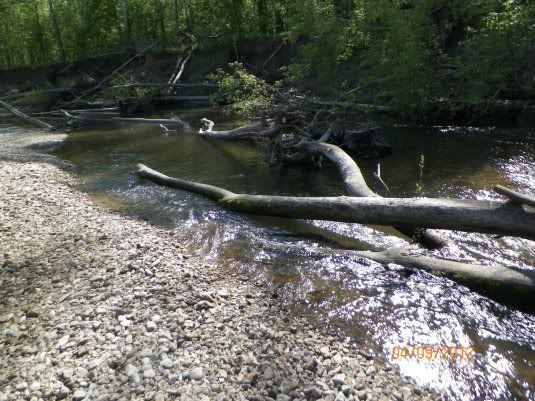 Back to floating again, ahh , so much better than dragging.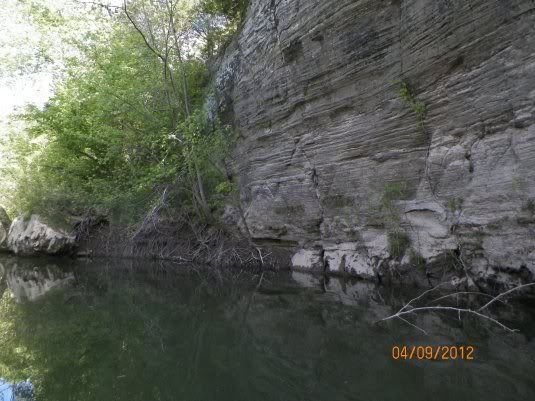 Hang on, more wild rapids ahead!

I think it's remarkable that such a shallow layer of soil over these rocks is capable of supporting an entire forest with such a huge variety of life within it.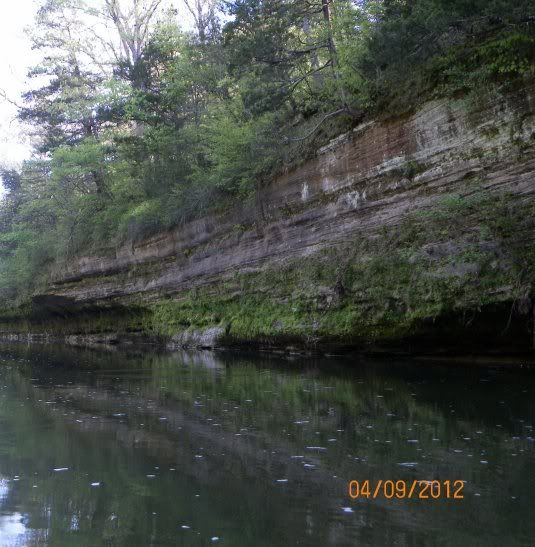 Some plants seem like they require no soil at all and just appear to grow right out of the rocks themselves.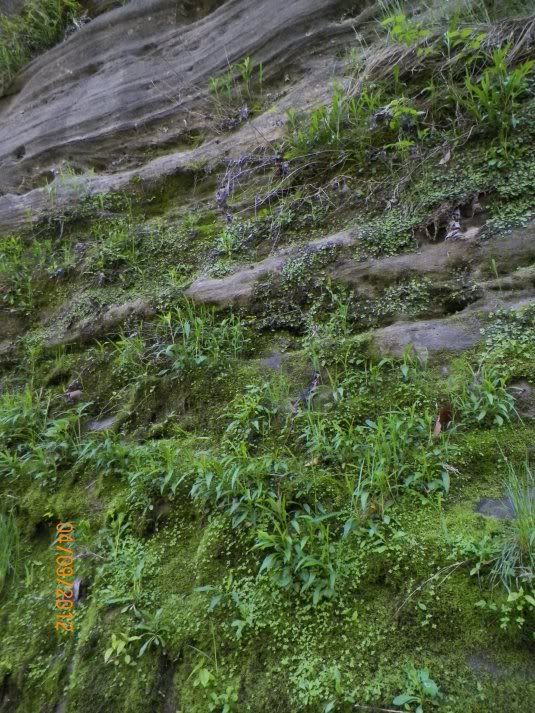 These long slow moving pools are great for just stowing your paddle for awhile, kicking back and listening to the birds while eating that PB and J.

This tree is the very definition of tenacity.

Imagine being witness when these ancient giants came crashing down the hill side.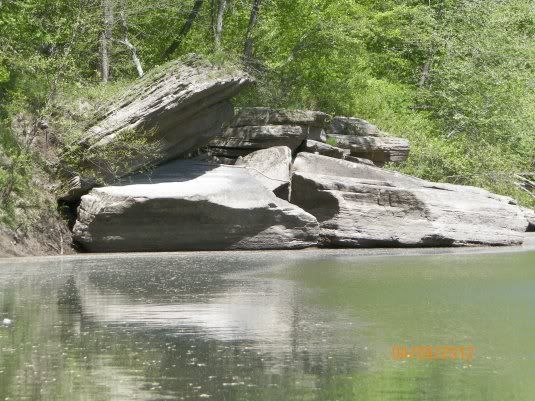 These would have made quite a splash too.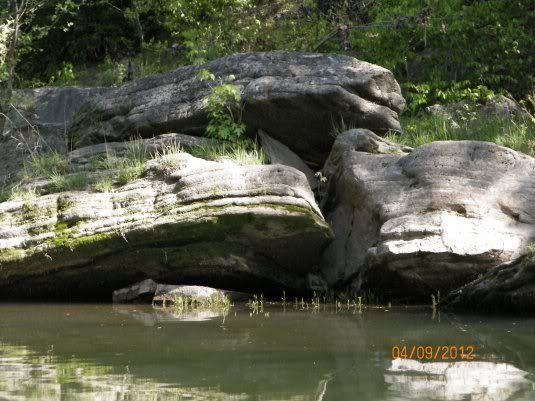 Thanks for taking the time to take a look at this little river. I hope that at least a little of the uniqueness and beauty of her came through in the pics. Looking over them when I first finished this diary I realized I hadn't accomplished what I had hoped to. After I wrote about this river in my earlier diary I thought that if I just had some pictures to go along with my words, I'd be able to pass along the sense of magic this river instills in me. I'm now realizing that probably can't be shown in pictures or described in words, at least not by me anyway. Magic and mystery have no dimensions and no physical properties. If there are words to describe them they elude me. But I'm guessing that those of you that have stuck with me on this trip already knows what I'm talking about and that you have your own magical place. And whether that be a river, desert, mountain range, swamp, deep woods, marshland, or city park, it doesn't matter as long as it speaks to your sense of wonder and gives you a feeling of peace.That's where the real magic lies.
.
I'll just leave you with this one last pic of an approaching bend and leave it to your own imagination as to what lies just around it.