The day finally came.
The day I dreaded since the first evening I shared my home with her over 15 years ago.
That night, I had picked up a ridiculous-looking puppy from friends to offer to my then-partner as a gift. "Too high-strung" he said. So I took her home with the intent to return her to her owners. She ate a meal, then walked up to where I was sitting and belched at me. In that instant I knew I was screwed, I knew my heart was going to break someday. I knew I had to keep the pup. But my heart would be shattered when she had to go.
Parody was born on a Navajo reservation 16 years ago - she was in a litter that was slated to be destroyed. But someone kicked her, that tiny puppy, and my friends took her to Flagstaff to a vet for help. When they returned to Big Mountain, the elders told my friends to take her with them - she wouldn't be taken care of there.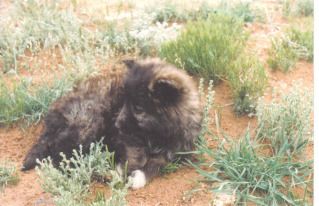 Our first days together...I was stumped as to what kind of dog she was.
She changed with the seasons, with the light, the location...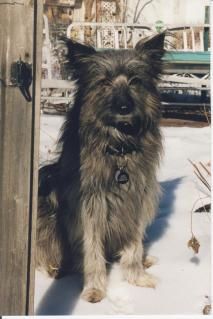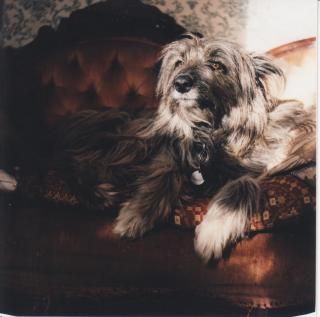 She slowly began to grow into herself; learning the job she was to have for the next 15 years, learning how to stay near off-leash, to stay on the path in the gardens, how to know when I needed a break, a laugh, how to let me know when she needed a break, a laugh, a hug and a belly rub. She had a look that evoked pity in some folks - someone once bought her a meal in a restaurant because she 'looked hungry'. I made her a tag that said 'Well Fed, Well loved'. She taught me her only but favorite game 'rouf-rouf' - throwing a stick into water for her to retrieve. I could leave my lunch on the dash while I ran in a store.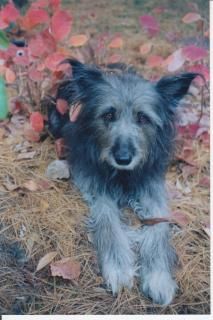 Par went everywhere with me all day, every day - I'm a landscaper and all of my clients welcomed her. Annually we crossed Lake Michigan to see family, worked together on Katrina relief all across the Gulf coast, packed containers for Haiti, protested the war in Iraq. Here she is relaxing after a day of swimming in the bayou near Slidell (I have never smelled a dog so foul). The years rolled on...Parody was elected Mayor of the Block and Best Dog in the World®. A few years ago I noticed she lagged behind a bit at the end of our run. Two years ago - 1st time ever - she wandered away. Her deep amber eyes were cloudy. Last summer she lost the hearing in one ear and her hips were hurting. I had to help her up the stairs, we didn't take the drive to Michigan, I stayed home with her feeling guilty as her world became smaller, our walks shorter and shorter. Time was running out.
The past year was a battle with her bowels. Keeping her regular and continent was a challenge I never foresaw, but we figured it out finally. She got a tooth abscess, and I knew if the antibiotics couldn't get it under control I would have to make the horrible choice. We couldn't get it under control, but that wasn't the tipping point; she tried to jump into the van and missed, slipping under the truck. I couldn't catch her in time and she got hurt. A bruised or broken rib? Something...she could hardly walk, heavy breathing, uncomfortable all night until dawn when I called a friend to help me. Help me let her go.
I had to write this a week after I let her go. Just too hard, and you know? There is too much I want to say, to tell you about her...in hopes a little more of her can stay, not be forgotten. I have left her water and food bowl out (both filled), I have felt lost not having her in the next room, next to me in the van, the excuse to take a walk, my partner at work, my reason to come home, my center and balance...I feel lost.
As long as I've shared my life with her, people have asked "what kind of dog is that?". My stock answer was "She's a good dog".
She was a gentle, kind, polite, and patient friend. Funny, deeply loyal, and she never, ever disappointed me. She was a good dog. An exquisite being.