In 2007, New Mexico State University's Speakers Series welcomed Maria Hinojosa. Ms Hinojosa hosts PBS's show One on One. I didn't attend her lecture, but I saw the video of it on the NMSU TV channel. She spoke primarily about immigration. Frankly, I can't remember much of what she said, as living so close to the Mexican border, most of it wasn't new information for me. What did stick with me was so profound, I will never forget it. She said she was in the green room at CNN with Elie Wiesel. They were speaking about immigration. He told her that no human is illegal. I found the full quote:
"You, who are so-called illegal aliens, must know that no human being is illegal. That is a contradiction in terms. Human beings can be beautiful or more beautiful, they can be fat or skinny, they can be right or wrong, but illegal? How can a human being be illegal?"
I found the quote on the website of an immigration attorney in Montana. Yeah. We have another border. His name is Shahid Haque-Hausrath. I include his name because I will quote him as well. He explains so perfectly how the term "illegal alien" is not only inaccurate, but also pejorative.
When one refers to an immigrant as an "illegal alien," they are using the term as a noun. They are effectively saying that the individual, as opposed to any actions that the individual has taken, is illegal. The term "illegal alien" implies that a person's existence is criminal. I'm not aware of any other circumstance in our common vernacular where a crime is considered to render the individual – as opposed to the individual's actions – as being illegal. We don't even refer to our most dangerous and vile criminals as being "illegal."
Elsewhere on the site he says that we would never refer to a bank robber as an "illegal citizen." When you put it like that, the words "illegal alien" sound ridiculous. But more, it sounds disrespectful. And it has the same effect as those who use terms to make President Obama seem "different." Additionally:
"Illegal alien" is not a legal term. An alien is defined as anyone who is not a citizen or national of the United States. However, "illegal alien" is not a legal term in the Immigration and Nationality Act. For some, the use of the term "illegal alien" is likely based on a misconception that an immigrant's very presence in the United States is a criminal violation of the law. While the act of entering the country without inspection is a federal misdemeanor, and for repeat offenders could be a felony, the status of being present in the United States without a visa is not an ongoing criminal violation.
It is also true that many undocumented immigrants came to this country with visas that have since expired. It would seem from this explanation that those people have never been criminals.
My purpose in writing this is simple. Please spread the word that the use of the term "illegal" is not only inaccurate, but it's a degrading way to refer to another human being. We, as progressives/liberals, can, and should do better.
Note: If you look through Mr. Haque-Hausrath's site, you can find a link to Markos' rant on Jon Tester's vote against the DREAM Act.
This is a picture of the tradition that the immigrants to this part of the country contributed. It's the Plaza en La Mesilla decorated for Christmas with the traditional luminarias. Next to the gazebo is a sign that says that it marks the spot where the Gadsden Purchase was signed. In the background is San Albino Church. The church was established by order of the Mexican government in 1851. In 1906, the present building was constructed on the foundation of the original adobe church. New Mexico became a state in 1912. We are presently celebrating our centennial.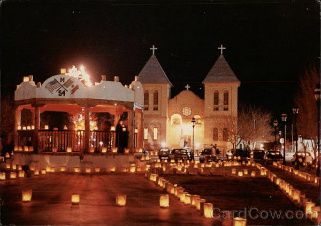 UPDATE: I wrote this diary because I believe that human beings should never be called "illegal." No more. No less. There are apparently people who visit this site who should write their own diaries where they can discuss other issues. I really don't appreciate people hijacking this diary, so please take your arguments elsewhere.