My apologies for not being around much since December, despite receiving a generous secret Santa gift of a lifetime sub. I had promised to begin a series on Geekdom and Gaming and Girls, and have since failed to follow through on that promise. As it turns out, the first half of 2012 has been crazy and busy, what with my move across the country from Orlando, FL to Portland, OR. I meant to write a nice photo diary of my journey, too, and haven't been able to do that, either. My projects are way backed up.... oiy ve!
However, I did want to post a quick diary about a temp job I picked up this weekend in Portland, because it's actually for a pretty good cause, so I wanted to give PDX Peeps a heads up. Follow me over the fold to find out more, and see some nice pictures.
So, I totally need a permanent job in Portland. I shamelessly put myself out there as I ask for some networking "ins" into potential employment in the Portland area. I spent the last 6+ years working for the same company (administrative assistant/office manager of an IT Training center), and I like it not that I don't have a permanent position right now.
But until I get some long term, I've thrown in with the temp agencies, and this weekend got a very interesting assignment. I am running a Roadshow for a non-profit called Rwanda Partners, a group that provides training and materials for women in Rwanda to make baskets and jewelry. Rwanda Partners travels to the villages and buys the baskets directly, instead of making the women walk to a center of commerce. The women get paid up front, and make a fair amount more for their work then they would if they tried to sell them in the Rwandan market. 20-25% of the ticket price has been paid to the Rwandan weaver.
So, the baskets and jewelry are shipped here to the states to be sold at Roadshows like this. From April 20 to April 29th, the Roadshow can be found at the Portland Costco (4849 Northeast 138th Avenue, near the airport). I am manning the booth for the Roadshow until Tuesday. So, if you find yourself at Costco this weekend, and want to come chat up a Kossack (and make my day a little less boring), stop by and take a look (pictures of the Rwandan baskets and jewelry below). My name is Claudia. If I am not at the booth, then either I'm on break or I've run to the back to get some fresh stock. The booth is located on the right side of the store (same side you enter), just keep walking towards the back of the store, you'll see it.
I'm only working this project until Tuesday the 24th, after which another girl is taking over. But I will be there all this weekend and Monday, and Tuesday until 3pm, so stop on by if you're in the area.
The baskets are absolutely gorgeous, all handmade of course so they are unique. I also have bracelets and necklaces made of paper beads, and some nice shoulder bags.
You do need to be a Costco member (or planning to get a membership and take advantage of their one-day shopping pass or whatever) to buy these, because I don't handle money. You just pay for them along with the rest of your Costco purchases.
As a general note, since I am just a temp peon being paid hourly, I don't gain any special benefit from selling more of these items. So, I'm not posting on Dkos about it for my own personal benefit. I get paid the same if I sell 2 or 200. But I do think the baskets are beautiful, and thought there might be some folks in the PDX area who might want to take a look, maybe get a mother's day gift or something, and give to a pretty decent cause in the process.
Alright, pictures to follow. Thanks for listening!
Baskets: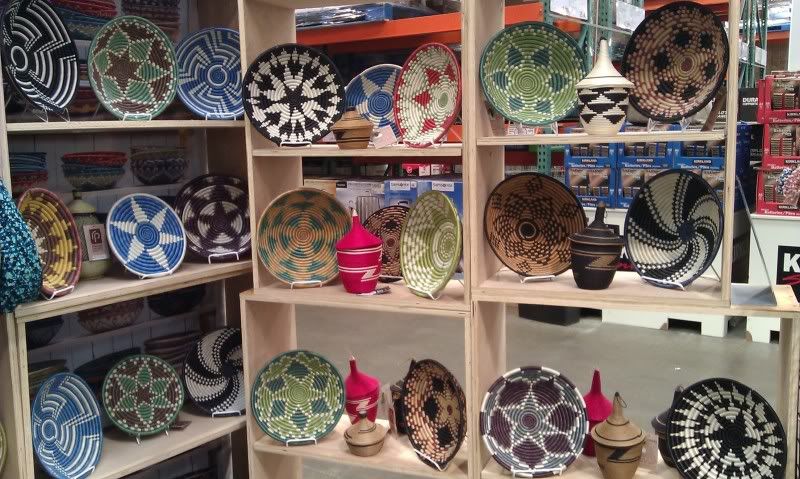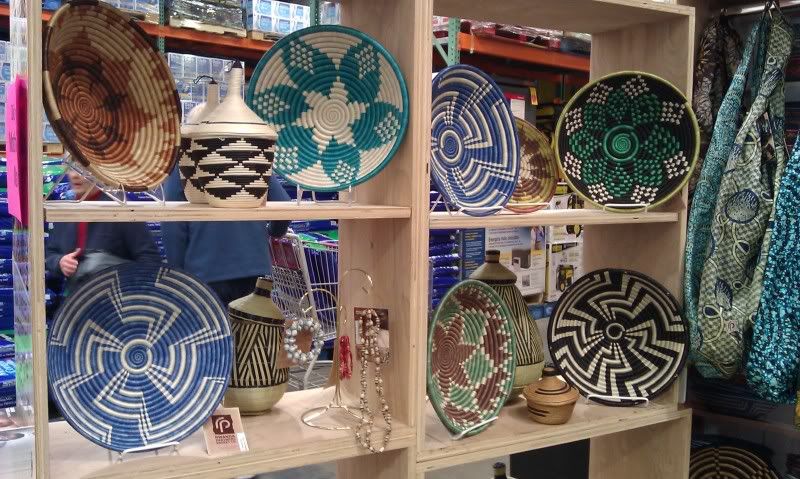 Handbags: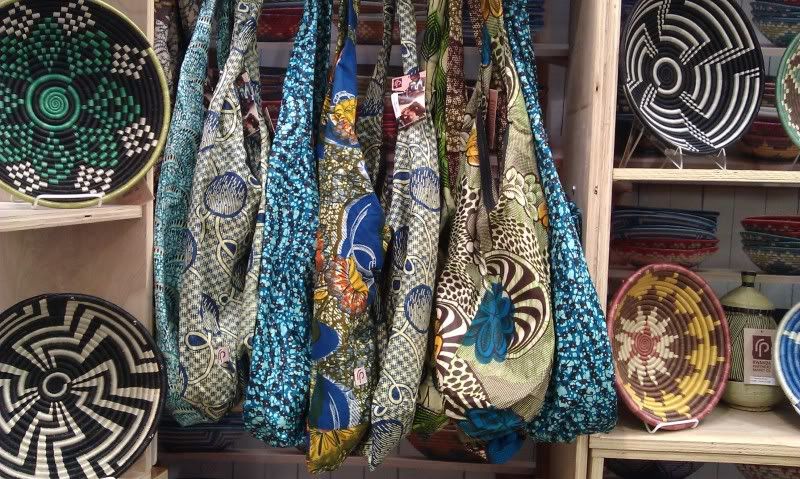 Jewelry: