I think many people have asked this question. Last night Bill Maher did a masterful job of pointing out how the GOP has simply become the Anti-Common Sense Engine that Couldn't. If Obama were to say it's Raining the GOP would say it's Sunny. If Democrats say that "Pink Slime" is a bad idea, GOP Governors will go eat some. If Dems criticize Ted Nugent's Anti-Liberal Hate Speech and point out that he is also an admitted pedophile and draft dodger they have to stand up to defend that sanctity of pedophiles and draft dodgers. If Dems and Libs say that the Trayvon Martin shooting is a tragedy and that George Zimmerman's story doesn't add up, they have to attack the unarmed dead boy.
It doesn't make any sense. Until you look at this (Which is the 2008 Results).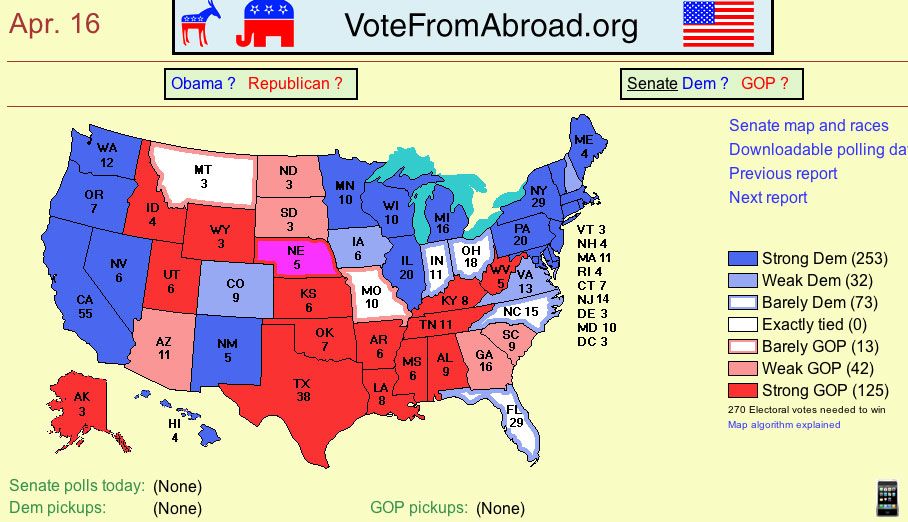 Strong Dem: 253
Weak Dem: 32
Barely Dem : 73
That comes to 358 where all that was needed to win is 270 Electoral Votes. This is of course very early, six months out with Romney still some distance from fully securing nomination but after Rick Santorum has pulled out.
Romney's numbers with Women and Latinos are absolutely atrocious. Double-Digit atrocious. He can't WIN without both of them.
Right now the amount of ground that Republicans have to recover is enormous, and the chances are high that they might not. In fact they might never get this ground back, and that's both what scares them the most and what's driving them straight to crazy town.

In their hopes to try and bridge the electoral gap, the GOP has not tried to be rational or reasonable. They've used every opportunity to double and triple down on ideas that are not just abhorrent to those on the left, but also to those crucial swing voters in the middle. And they've done it all over the country, from "Fetal Personhood" to "Emergency Financial Managers", opposing a Health Reform plan that from top to bottom was a Republican Idea, attacks on Public Sector Union Rights, and of course draconian Voter ID Laws.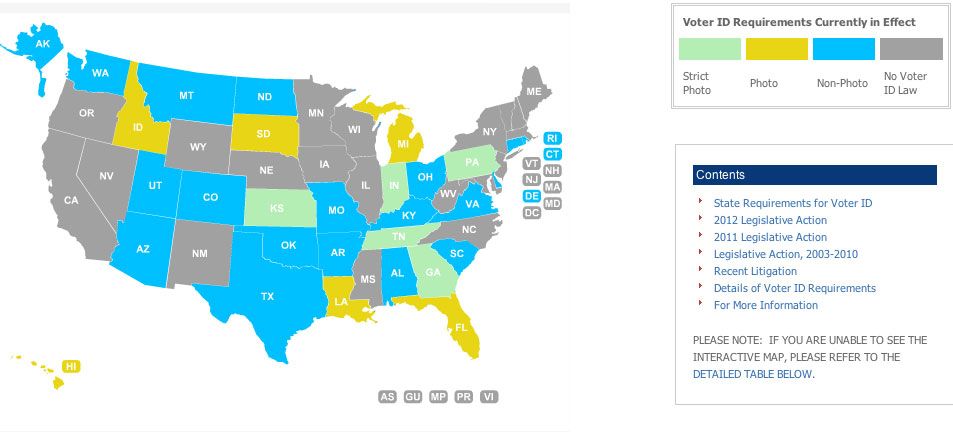 If you assume, as I'm sure the GOP with their ALEC fueled legislation hopes, that those states that have implemented stricter Voter ID rules just might give GOP candidates an extra 1% or 2% voting advantage they wouldn't otherwise get, they would still lose and lose badly.
The only State with these laws that isn't already Strong Dem in the polls is Florida and even without Florida's 29 Votes President Obama would win reelection with 59 Electoral Votes to spare.
I think they know this.
I think it's made them desperate. They've begun to panic. Heck, they started panicking as soon as Obama was elected the first time, and the reason really has nothing to do with him personally. It doesn't have to do with the fact that he's black, it doesn't even have anything to do with his policies - particularly since so many of his polices are actually Republican Policies. This isn't really a policy debate we're having with them. The only policy they have is crushing Democrats. Going after the Unions isn't about balancing state budgets, it's about defunding Democrats. Voter ID laws aren't about stopping voter fraud, it's about keeping Democrats out of the voting booth. This isn't about policy, which is why they don't put forward policies that might actually gain popular support or be GOOD FOR PEOPLE which would keep them in office on the basis of merit, it's about maintaining power by force and coercion. They're out to take as much ground as possible right now with these personhood and vaginal ultrasound laws, because they know soon - they're going to lose it. All of it.
They're afraid that if Democrats - who have the audacity to believe that Government is actually good for something manage to be successful - then people will want more of that success. The kind of success that Bill Clinton had with the economy and the budget. If people get more of that, if we actually have a efficient and effective Government, then the GOP is doomed. Permanently. They can't have that, so they've been deliberately sabotaging the country just to undermine the President.
It has to do with inevitability.
It has to do with the slow, gradual, demographic realities that the core of the GOP - middle-aged, aggrieved, white men and their sycophantic trophy wives/mistresses (and their blind willful deluded cult of lickspittle lackeys who operate and listen to Right-Wing Radio and Fox News) - are no longer the majority in this nation. They are becoming like the rest of us - a minority.
They are acting out, because they see their coming irrelevance staring them in the face.
They've said it many times. They see their America disappearing from them. The America where they call the shots. The America where their Religious Views, their business practices, and their people prosper, not the rest of us.
They're very afraid of this New America. Their very worried that once they become an electoral minority, just like everyone else already is. Once they're no longer in the drivers seat. Once their fate is in the hands of all the Women, the Latinos, the Blacks, Asians, the Gays/Transgendered, the Non-Christians and Athiests...
Once we hold control of their fate...
We just might, possibly...
Treat Them Nearly As SHITTY as they've been treating us all this Time!
This is why Conservative Bishops freak out and cry "Hitler and Stalin" when they're asked to treat their employees using the same rules as every other employer. "Whaddahamean we have to handle our Business, like a Business?" Suddenly Religious Freedom trumps Civic Responsibility? If that were true why did we make the Mormons stop Polygamy again? Also, nobody said you had a Right to operate a business, that's a privilege and a responsibility. If every business operator were a King with unlimited power and rights over his employees, clients, customers, neighbors and the local community the way that Libertards like the Kochs, Ron and Rand Paul envision - then every Boss would be the equivalent of a Feudal Lord, every Corporation would be a Criminal Gang in a free-for-all with each other that could only be stopped when the villagers and the peasants left in their wake form a Pitchfork Lynch Mob, and government steps forth only to protect these neo-criminal corporations, certainly not the people they've robbed, duped, exploited or poisoned.
That can't be how this country functions, because that's just insane.
The problem with their theory and fear of anti-patriarchal retribution is...
We're actually better than that. Aren't we? In truth, That is the change that we've all hoped for, and fought for going all the way back to 2006 when we finally took back the house.
A United States. One Nation. Indivisible. With Liberty and Justice For All.
We believe in that. They don't. And that's what makes them crazy.
Vyan
10:58 AM PT: This Commenter Pointed out the the Electoral-Vote.com map is still showing 2008 Data. So here's an update from 270-to-win.com.
These are the strong Dem/Repub States with Toss-Ups Shown in Beige.
270 to win has recent poll data, but you have to plug it in yourself - so I did and this is what happens.
Obama: 309

Republican: 229
That's were Obama and Insert Romney or other Republican Here are starting from. The President could still lose Florida and win re-election with 10 Votes to Spare.
That's the ground they have to make up. They're gonna need some really lucky breaks for this to go their way, like Dems not fighting them
Tooth and Nail
all the way to the end.