I'm betting that you are, like a very large majority of American citizens, under the impression that we actually HAVE an Equal Rights Amendment (ERA) in our Constitution. You believe that women in America have the same status, standing, and equality as do men in our land.
You would be incorrect.
But, there is a very strong push going on these days, and especially across the Progressive Southern United States, to remedy that ugly reality. Follow me just below the squggledoodlethingey fold, and find out about it.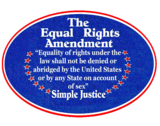 Today, April 22nd, 2012, the radio show YOU started here at the GOS is live. We at "Progressive Politics: Tennessee Style" are more than excited, and honored to have our very FIRSTspecial guest in our studios for a two hour discussion on the War FOR Women vs. The War ON Women.
Fournder and Director of the Equal Rights Amendment (ERA) Alliance Sandy Oestreich will be with us for the entire two hour show.
She will share some ERA battle stories, talk to us about why we have been given extra time to actually work to ratify the ERA now, and show us the progress being made with the SEVEN states with which she and her amazing teams are diligently, tirelessly working. Their website is chock full of useful info, and I do recommend it to you.
Interestingly enough, among Southern Progressive States, only Kentucky and Tennessee have actually ratified the Equal Rights Amendments. This was done a very long time ago, yet only 35 of the 38 states required for ratification have done so. For us Southern Progressives, there are several states which, given the climate and anger among women AND men regarding inequaltiy of women in America, I believe it can be the Southern Progressives who can accomplish this task. Currently, the map looks like this:
Sandy and her amazing teams are currently spearheading the Florida ERA initiative, while mentoring seven other States in the process. They need some help. I believe the men and women of GOS will be very interested in hearing, and speaking with this incredible woman. If you want to find out just how busy these folks are who are working for you, led by a task force chaired by my long-time friend and ally former Colorado Rep. Patricia [Schroeder] (nobody guessed it, so I put it in.), then head over to their active and busy website called 2passera.org
I hope you will join us Sunday, April 22nd, 2012 from 2:30 PM-4:30 PM (Central Time) at the radio site. You can call in to our live call-in number, or listen live online, or even jump into our already legendary chat room for questions for Sandy, or myself.
It's going to be a powerhouse presentation, and you will NOT want to miss it.