As I've noted numerous times in previous diaries and comments, I am of Volga-German descent. My Dad's parents were both born in German colonies in Russia along the lower Volga River.
I was planning to write about a different topic for my Open Thread, but never made it past the intro. I just wasn't feelin' it yet. I'll save it for another day. Instead, I've decided to hype the AHSGR (American Historical Society of Germans from Russia) National Convention. It takes place June 14th - 17th this year at Concordia University right here in beautiful Portland, Oregon.
Genealogy & Family History Community




Leave the blood feuds at home



The AHSGR is a great resource for researching German-Russian ancestry. In addition to being an organization that brings German-Russian descendants together, they have a large library of literature on German-Russian life and history. They also have translated Census lists for scores of the villages from the 1800's. Most villages have a "Village Coordinator" or two who can help you find available information if you know what village your ancestor came from. I was lucky to find the VC for my villages had recently obtained several years worth of church records from the Russian archives. A very rare find since the German villages were emptied and the people shipped off to Siberia in 1941. Not many records survived (the Russians obviously didn't care much about preserving their church records).
Concordia University in Portland, Oregon has a Center for Volga German Studies department in their university library. Here they have a copy of all the available Russian census lists as well as thousands of books, periodicals, maps, etc documenting the history of Germans in Russia. It has been an invaluable resource for me. Another lucky break for my research - having this library practically in my own back yard.
The Center for Volga German Studies at Concordia has been hosting the Oregon Chapter of AHSGR for a few years now. We meet once a month in the library. I've been a member for one year. As probably the youngest member (by far!), I really enjoy listening to the older generation talk about growing up with their German-Russian parents. Most of the AHSGR members (in Portland anyway) are first or second generation Americans.
And now, next month the university will be hosting this year's AHSGR National Convention. I haven't been to a convention previously, so I'm really excited about getting to go to this one. In addition to several interesting talks on our history, they will also be offering workshops on cooking various German-Russian foods, quilting your heritage, scrapbooking, dance lessons, and German/Russian/Ukrainian musical instruments including the Bandura, Balalaika, and of course the accordion.
I'm particularly looking forward to some of the talks, including:

Connecting with Friends & Family in Russia Today
Conveners: Tatyana Popkova-Hein, Tyumen, Russia, & Tatjana Schell, Fargo, North Dakota.
These two Russian ladies are going to try something new! They are going to "Skype" their friends and relatives who still live in Russia - along the Volga and in Siberia. Let's see if we can use modern technology to make a live connection with our long lost cousins in the "Old Country" where it will be early Sunday morning.
DNA - The Science of Tracing One's Ancestors
Presenter: Dr. Tim Janzen, Portland, Oregon.
Tim is a medical doctor and a leader in the use of DNA testing to identify ancestral lines. He will explain how it all works and the amazing conclusions that can be derived from some simple tests of one's DNA.
German Origins Project
Speaker: Dr. Dick Kraus, Leverett, Massachusetts.
The AHSGR German Origins Project is an online information exchange for uncovering the origins of the German-Russians before they immigrated to Russia. The project also includes those whose ancestors came from non-Germanic areas of Europe. Dick Kraus is the coordinator of this project.
and I won't miss:
Bruno: A Young Boy's Survival in War-Torn Europe
Speaker: Bruno Reule, Portland, Oregon.
When Russia takes over the Bessarabia region of Romania in late 1940, entire ethnic German villages depart for the Fatherland in Germany, rather than live under communism. And so begins the odyssey of six-year-old Bruno Reule's family that takes them to Yugoslavia, Sudetenland, and finally German-occupied Poland. In the final months of the war, they flee advancing Russian troops and retreating Germans only to find themselves in a cattle car on a month-long journey to a Siberian prisoner-of-war camp. In this session you'll hear from Bruno himself about this harrowing experience and how he finally made it to Portland!
As well as several others centered around genealogy research.
I don't think any of our regulars are German-Russians (other than edwardssl, right?). But thought I'd share anyway just because I couldn't think of another fallback diary to write.
So back to what this has to do with me...
Around 1905 or so, my grandmother's parents packed up the kids and set sail for America. Okay, it was a bit more complicated than that... Here is the Bischoff family shortly before leaving Russia.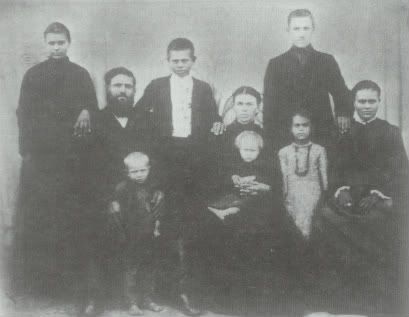 The oldest daughter, Agnes, on the far right and her husband (standing with his hand on her shoulder) stayed behind. That's my grandmother, Maria, the girl in the light colored dress.
In 1913, my grandfather left for America at the age of 23. He would make his way to Sugar City, Idaho where he worked on the Bischoff farm. This is how he met my grandmother.
Okay, that picture is old news - I've used it before. When I was back home in January, I went through my Dad's old pictures with him and found a few more I didn't realize he had.
This one is my grandmother as a young lady (maybe teenager). This was the first time I saw a picture of her in this stage of her life.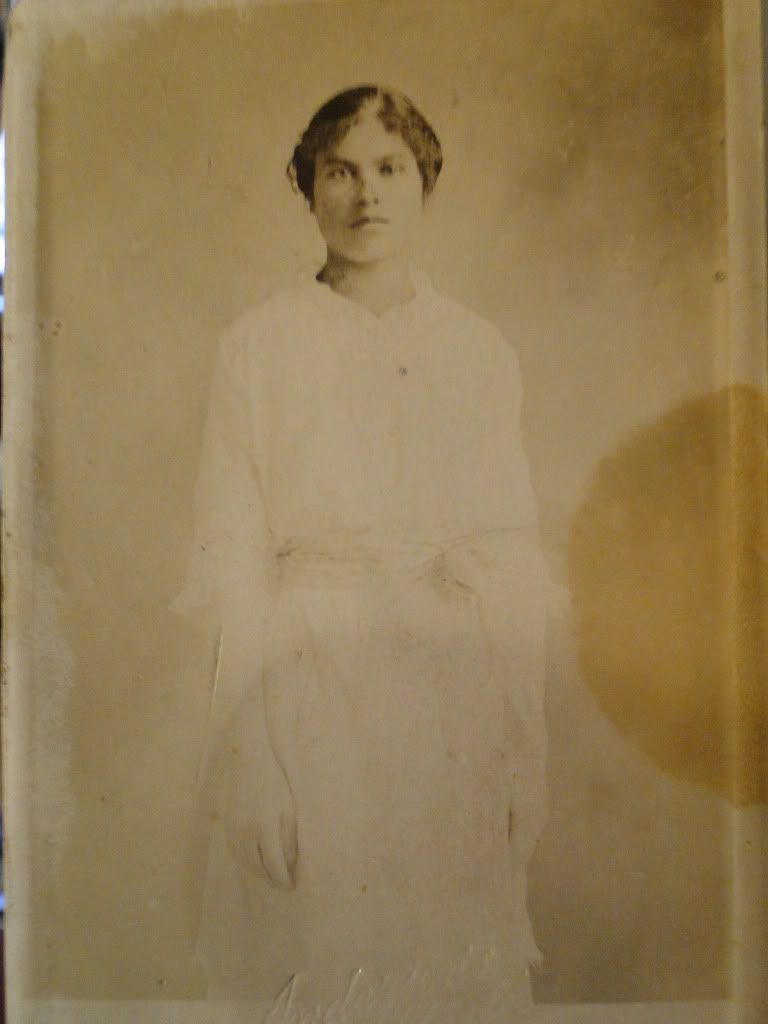 Miraculously, Grandma's family somehow kept in contact with her sister Agnes who stayed behind. Here's a picture of her several decades later still in Russia in what has to be one of the most fabulous chairs I've ever laid eyes on.
(Late Edit: Talked to my Dad again, realized I had the wrong Agnes. The two pictures below are not of his Aunt Agnes who stayed in Russia. They are pictures of his Aunt Katie's daughter Agnes and her family in Idaho. Oops. Good thing I talked to him about it again!)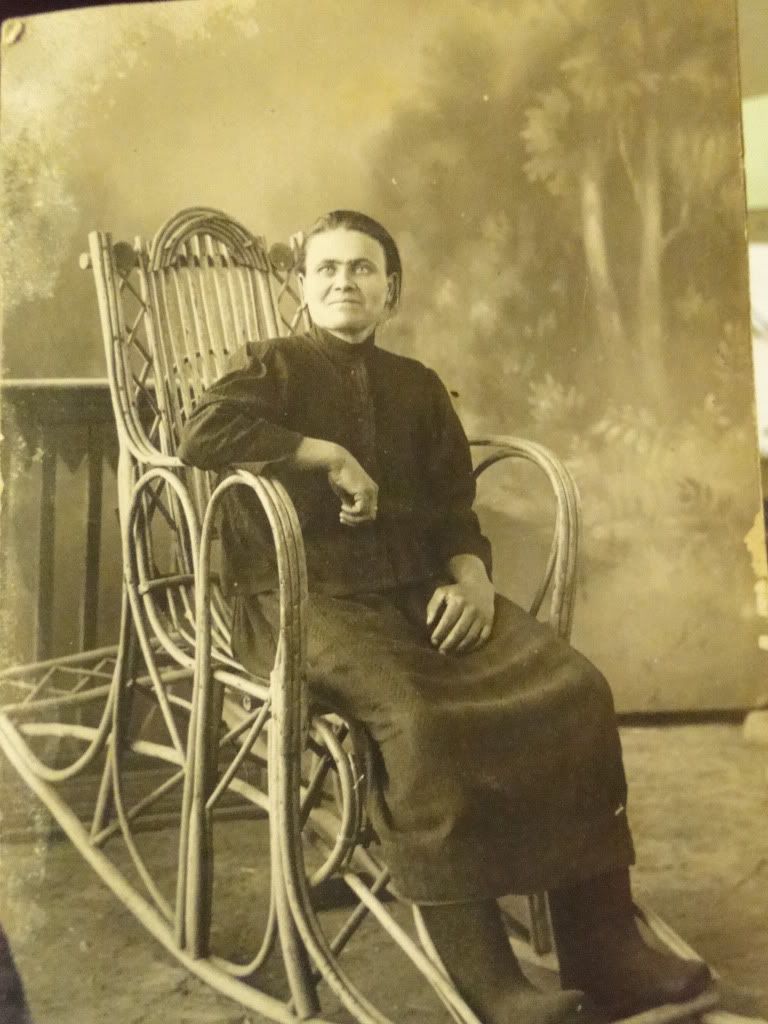 And here's another photo with her and her family.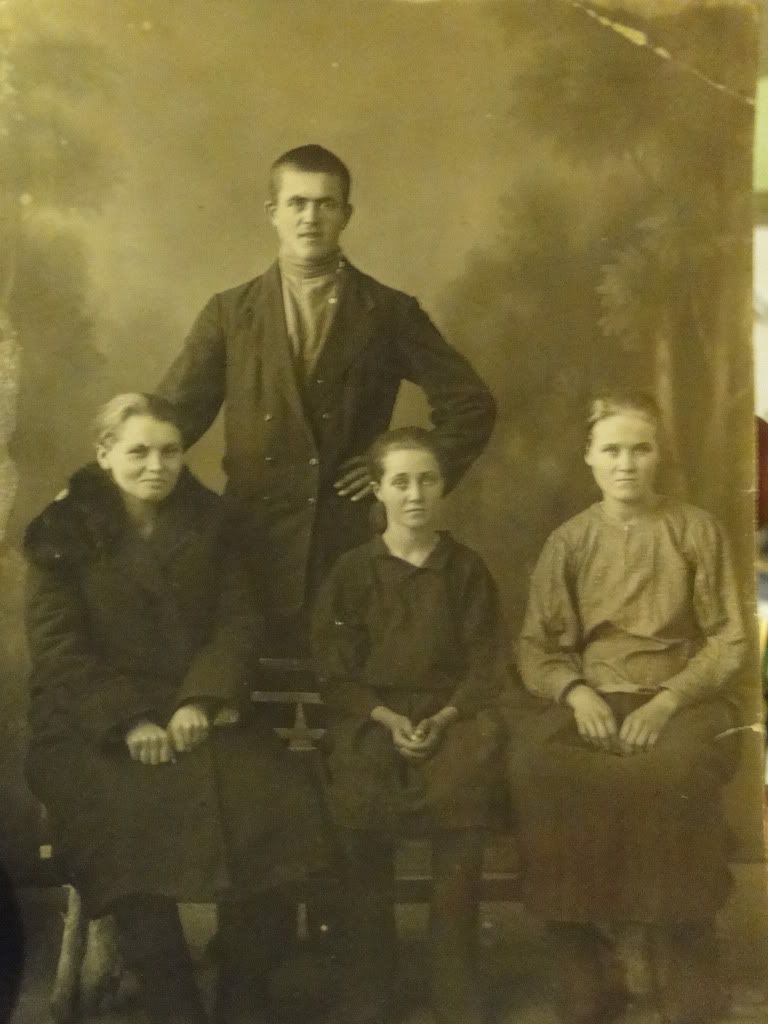 Okay, so much for my attempt at hawking the convention. What has everyone else been up to? Who has been indexing the 1940 census? I've slowed down since Montana has finished.
One main reason for the slowdown (other than having to write this diary): I listened to an old episode of the Genealogy Guys podcast where they mentioned the possibility that ancestry.com's indexing may have occasionally skipped a page. So now I've started the process of reviewing the 1850 census in 3 Maryland counties for my mysterious Harris line hoping they'll pop up. Wishing I had not listened to that particular podcast.